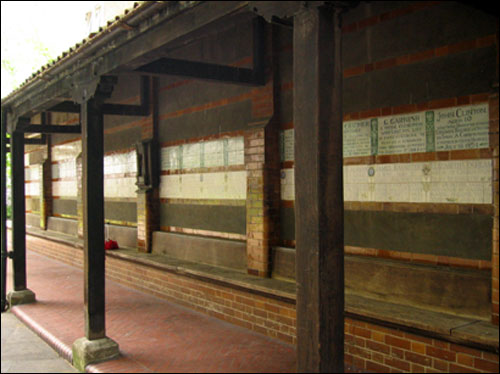 Before I arrived in London, a local friend supplied me with a list of must-sees: Buckingham Palace, Harrods, St. Paul's Cathedral. I diligently check items off the list, impressed, but uninspired. The last sight on the list is noted with two stars — Postman's Park. The trouble is, I can't find it.
I study my map, scanning street by street as if playing a word-find jumble, without luck. The persistent drizzle is wearing down my patience, so I stop a cabbie for directions. He points to a green speck on my map only a few blocks away. Then he puts his finger to his lips and drives off, and I sense that I'm about to be let in on a special secret.
The park is empty save for a woman smoking a cigarette, a black bird with a bright orange beak, and me. The bird lands at my feet and hops toward me, holding one foot up as if injured. Here, next to the noisy, crowded streets of downtown London, I finally feel I can get acquainted with the city Shakespeare called "this other Eden." Postman's Park, tucked between looming office buildings and steps from the hoards of tourists at St. Paul's, is as humble as a park could get — no life-size bronze statues, no Sound of Music hills, no majestic elms. What it has is this: tidy lawns, blooming perennials, a few koi in a small fountain, and a series of plaques.
The plaques make this rather unremarkable park remarkable. Under the eaves of a loggia where the woman and I are sitting, ceramic tiles commemorate ordinary people who died trying to save the lives of others. "Edmund Emery from Chelsea leaped from a Thames steamboat to rescue a child and drowned on July 31, 1874.""Solomon Galaman aged 11 died of his injuries September 6, 1901, after saving his little brother from being run over in a commercial street."
My first impression is to fill in the blanks in my mind. I see a cobblestone road filled with horse-drawn carriages traveling in all directions and the Galaman boy darting after a ball. Solomon pushes his brother out of the way just as a carriage overtakes him. But then I feel a little cheated because I don't really know if that was how the event transpired. There isn't enough information. I want to know more — like how Solomon's mother handled the news and if Mrs. Emery was proud of her husband's bravery. Most of all, I want to know why. Why did Robert Wright of Croydon enter a burning house on April 30, 1893, to save a woman even though he knew there was petroleum stored in the cellar? Did he recognize the woman, or did he just hear cries for help and decide to act? But I will never get more than the paltry details written here.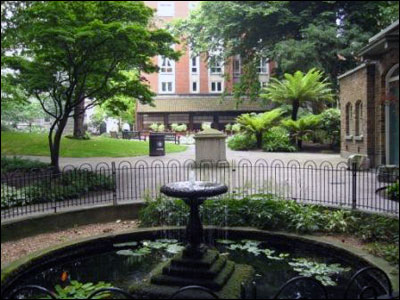 These tiles were the brainchild of painter and sculptor George F. Watts, a socially conscious Victorian rebel of sorts who disliked the upper classes. During his own time, he was very successful and was called "the English Michelangelo." In 1887, the Queen's jubilee year, Watts wrote to The Times requesting a memorial be built to record examples of everyday heroism and self-sacrifice. Nothing came of the letter, so he decided to go it alone. He paid for the first 13 plaques to be built on this wall in the former churchyard of St. Botolph's, still located at the west end of the park. After Watts' death in 1904, his widow continued working to bring the total to 53. The most recent date I can find is 1927.
The black bird flies away, maybe to find someone willing to share his lunch. Then the woman stubs out her cigarette and leaves too, and I am alone. Her heels clicking on the stone path get fainter and fainter. I have that illusive feeling of being sealed and protected from the outside world — the sounds of the double-decker buses and salesmen hawking souvenirs cannot permeate the gates of the park.
It's not hard to imagine Mark Tomlinson and Ellen Donovan and Herbert Maconoghu, each dead about 125 years from some heroic act, sitting along side of me. Theirs is an invisible weightiness, a presence here in Postman's Park that forces me to wonder if I would come to the aid of another, no questions asked. Would I have what it takes to run into a burning building to save three children like Alice Ayers did? Could I jump into a river for a boy entangled in weeds like William Donald? Without the pressure of my life on the line, it's easy to say yes, I would do the right thing. But I don't know for sure.
In The Fray is a nonprofit staffed by volunteers. If you liked this piece, could you please donate $10?