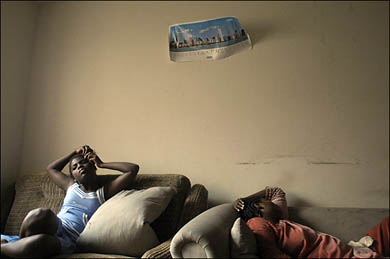 We have all heard stories about war, displaced people, and refugees throughout the world. As outsiders it is easy to think that once these people have been removed from immediate harm, all their problems are solved.
Tucked away on Chicago's far north side amid university students and professors lies a growing community of African refugees. The new residents hail from all of Africa's war-torn corners and struggle to make new and better lives in a foreign city.
The Mambo family of Burundi is representative of this growing community. Asiya Mambo, and her children, Aline, 14, Bea, 14, Vote, 5, and Lelia, 2, came to the United States in September 2005 because of the Hutu-Tutsi conflict in Burundi. Asiya's husband is still in the camps looking for a way to come to the United States.
Asyia and her family traveled for five years among refugee camps throughout Africa and ended up in Mozambique. Originally from Burundi, her two nieces, Aline and Bea, 14, now speak five different languages because of their constant moving. Each member of Asiya's family faces different challenges in their new lives in Chicago — from building a new social circle, to adjusting to a new school system, to finding a job. These images attempt to show the rebuilding of a shattered existence.
[ Click here to enter the visual essay ]
In The Fray is a nonprofit staffed by volunteers. If you liked this piece, could you please donate $10?