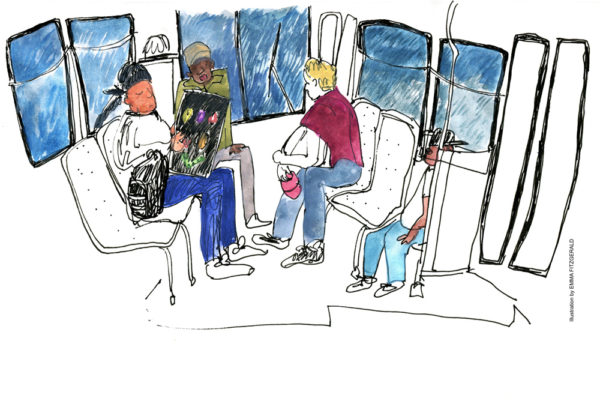 Hopewell-Mann is a predominantly Latino neighborhood in the predominantly Latino city of Santa Fe. Close enough to downtown to make it a short commute, yet a world away so that tourism doesn't quite reach it, it's a stark reminder of some of the inequalities present in this city. While the stunning adobe architecture downtown looks like it's been preserved in aspic, Hopewell-Mann's main drag is lined with big-box stores, fast-food restaurants, and cheap motels offering month-to-month leases. The neighborhood attracts a mix of the transient and the locally displaced, and not surprisingly, people downtown tend to avoid it.
Earlier in the year, I was a writer in residence at the Santa Fe Art Institute, which is located in Hopewell-Mann. One day, I asked a friend to drop me off at the mall downtown, where I needed to pick up a few essentials. From there, I planned to catch a bus and take the scenic route back home.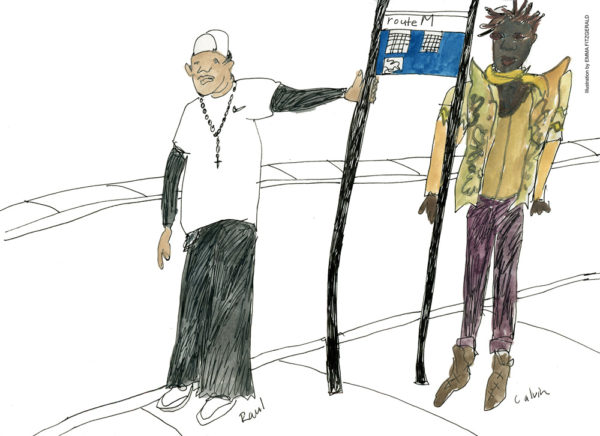 When I finished my shopping, I headed over to the bus stop—which took several minutes to locate, thanks to its inconspicuous signage. When I got there, I saw the back of a white-and-blue city bus trundling into the distance. I'd missed it by seconds. According to the timetable, the next bus wouldn't be for another hour. I was stuck. Just then, the rain began to pour.
I eventually made it home, but my experience made me wonder what it would be like to depend on the bus as my only means of transportation—as many people in Santa Fe's suburbs have to do. Over the rest of my stay, I tried to arrange my days to fit the bus schedule. For seven days, I rode the buses from morning to late afternoon. I travelled across the city, from downtown to the suburbs and back again.
I quickly learned just how limited the city's public transit system could be. All buses go to the downtown area, the city's economic hub, but few go further out into the suburban sprawl—even though it's home to those who actually clean the offices and staff the restaurants downtown. Even fewer buses operate past six in the evening or during the weekends.
After getting stranded at the mall that first time, I made sure to finish whatever I was doing in time to walk to the bus station with at least five minutes of leeway. Nevertheless, trips that would have taken me ten minutes if I had a car ended up taking over an hour. Sometimes I could have walked, but it would have meant going down roads designed for cars rather than humans. Sometimes I could have paid $10 for a cab, but I knew that wasn't something that many of the people riding the bus with me could do.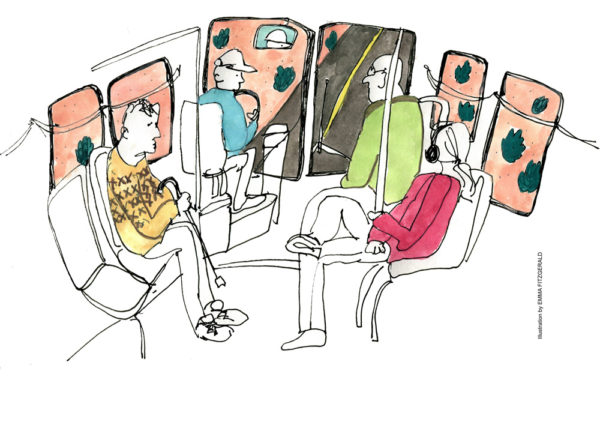 One day, I was waiting at the bus stop outside the mall when a teenager took pity on me. "Only poor people take the bus," she informed me, as if reporting the news. People who can afford cars drive them; people who can't take public transit. "That's why it's not so good," she said. "Most people have a car."
Of course, most people is not all people, and that's the problem. Just because you can't afford a vehicle of your own shouldn't mean you're condemned to an infrequent, bare-bones transit system. But that is what happens in places like Hopewell-Mann, where people often get stuck in a vicious circle of poverty. Without a job, they can't afford a car. But without a car, the options available for getting downtown—where there are actually jobs to be had—are sorely lacking.
"We have one member who walks the five miles from Airport Road to Santa Fe Community College every day, and it takes him two hours," says Tomás Rivera, founder of the Chainbreaker Collective, a group advocating for affordable transportation in Santa Fe. The buses to the college run only on certain days, Rivera notes, and when they are running, they come once an hour at most. "So he walks. It's faster than the bus."
Rivera was born and raised in Santa Fe. Generations of his family have lived in the city. But over the past decade, Rivera says, the people he grew up with have moved further and further out, unable to afford the swiftly climbing housing costs. Inequality—the economic gulf that exists between low-income Latinos living in the south of the city, and the wealthy, mainly white residents downtown—is what Rivera calls "the elephant in the room."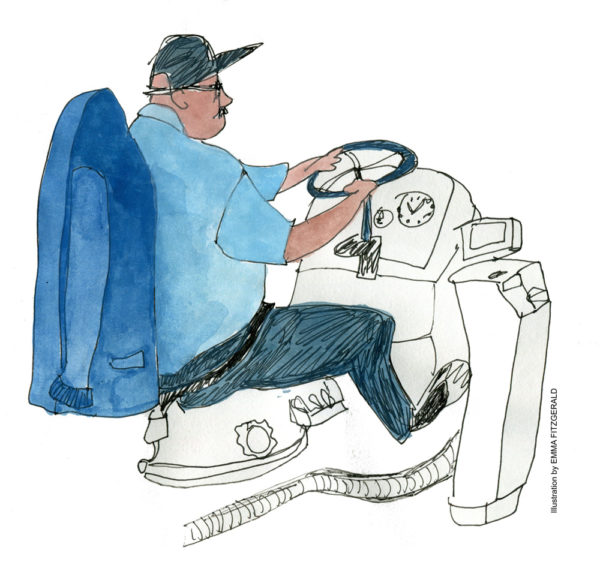 Despite its prosperous facade, Santa Fe is a city of two halves. Home to renowned art galleries and cultural institutions, it regularly features on national top-ten lists of places to visit. But while the income of the average household downtown is more than $60,000 a year, in Hopewell-Mann, it's just a third of that. Santa Fe's most affluent neighborhoods may be booming, but poor employment prospects and rising costs are prompting the less well-off to leave the city and discouraging others from coming. Since the 2010 census, New Mexico has seen the slowest overall population growth in the West. Alaska is the only state with a higher percentage of residents moving out.
When I first started riding the city bus, I'd sit as far back as possible to get the best view. Even hidden in a corner, though, I was noticed. Fellow passengers would regularly greet me. The way the vehicles are set up encourages such interaction. Almost half the seats face each other, running vertically along both sides of the bus so that you're eye-to-eye with your fellow travellers. This makes them difficult to ignore. Whenever I was on the bus, it was rare that I wasn't interacting with other people in some manner—from a cursory "Good morning" to a full-on conversation.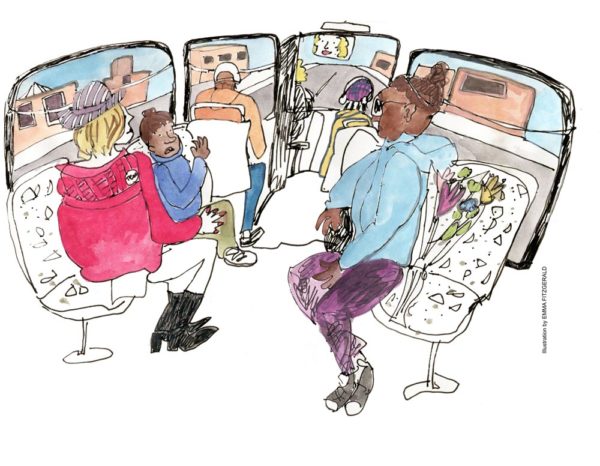 One Saturday, just after midday, I boarded a bus at the Santa Fe Mall, a key transit hub. There were about a dozen passengers on the bus headed downtown, and they all were chatting about where they'd been ("I haven't seen you in a minute!") or where they were going ("Where are you moving onto next?"). Their voices drowned out the sixties hits blaring from the driver's radio, and the atmosphere was warm and friendly, like being in someone's living room.
Midway through the journey, two men carrying beaten-up sports bags boarded the bus. On their way to the rear, they were welcomed by a series of bear hugs. One of the men pulled out a rack from his bag that displayed bright bangles and earrings. "I'm on my way to Taos, man," he said, showing off his product. "Can't make any money in Santa Fe. They always try to cut me down to half here. I only just got back from Colorado. Wanted to try my luck there."
The majority of the riders I saw on the buses tended to be men: older white males of retirement age, and young Latino men of working age. They shared a common appearance—gaunt and weathered, in clothes too big for their bodies. I assumed they'd either shrunk out of their own clothes or were making do with whatever they could get their hands on. Clearly, it wasn't just the poor who took the bus, as the teenager had insisted; it was also the destitute. The bus was a kind of meeting place for them—a social club on wheels for the socially excluded. Here, they could step out of the cold, socialize with others like them, and hear the latest buzz on how to make money or get help. In these sorts of ways, riding the bus connected them to the wider city.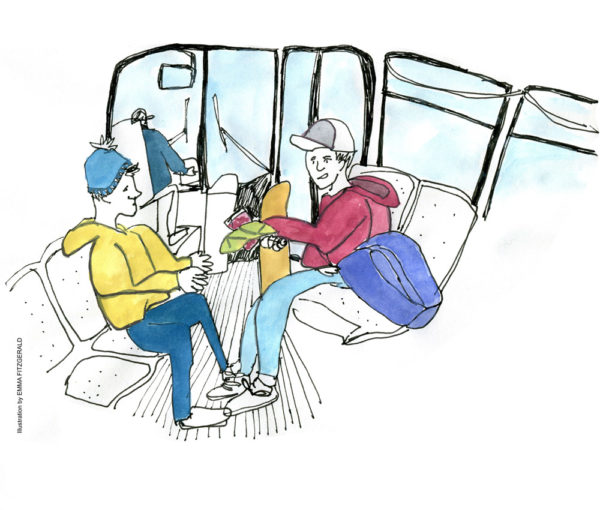 On the trip back to the suburbs, a group of five men of varying ages boarded the bus. The sleet had begun to ease, but the men, dressed in T-shirts and sneakers, looked to have caught the brunt of it. They smiled as they passed me on their way to the back. As soon as they sat down, one of the older men, who looked to be in his late fifties, launched into a monologue.
"Huh, it's tough out here, isn't it?" he said. "I'm not long back from Salt Lake City. I got a good shelter there. Was there with my brother. Marijuana is big out there. You can smoke it outside. I got off the Greyhound bus and smoked."
The other men listened closely, interrupting only to ask the odd question or chime in to agree.
"The only good thing about Salt Lake City is that it's got a lot of work," the man went on. "But you gotta have your shit together. I was in Maine. I got a job shovelling snow. I was on a good chunk of land that had three apartments. That's when it all went to shit."
As the bus pulled into a stop outside a Motel 6, the man got up and maneuvered his way past his friends.
"You have a nice day, Rich," he said to the driver. "Gotta get stuff done if I wanna smoke a joint. Can't smoke in the morning with a regular job." Saluting the driver, he stepped off.
Sylvia Arthur is a writer from London, England, working on her first narrative nonfiction book, African, & Other Curse Words. Site: sylviaarthur.wordpress.com
Emma FitzGerald was born in Lesotho to Irish parents. She now lives and works in Halifax, Nova Scotia, the subject of her first book, Hand Drawn Halifax (Formac, 2015). Site: emmafitzgerald.ca
In The Fray is a nonprofit staffed by volunteers. If you liked this piece, could you please donate $10?