New York
Part 1: Age of Isolation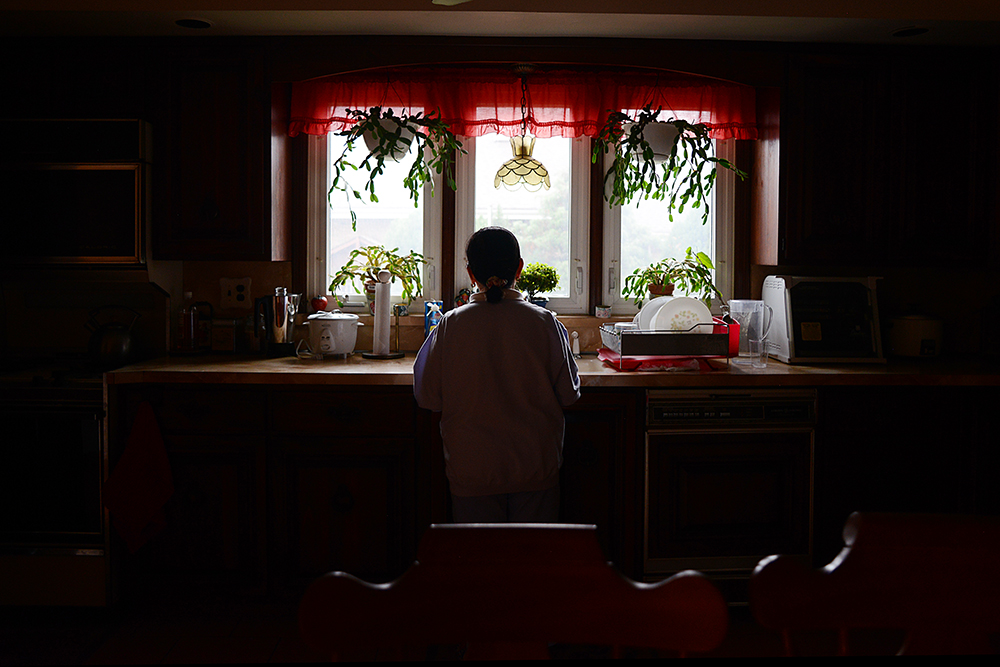 "N
ursing homes are sad places. People are abandoned there," says Gloria Murray, sixty-six, a Jamaican immigrant who worked for more than two decades as a health aide at a nursing home. Over the course of her career, Murray became close to many of her clients. It was important to her that they be shown kindness and respect. In Jamaica, she says, "we take care of our old."
Yet as Murray grew old herself, she quickly learned that no one was going to take care of her. In 2010, a fire destroyed her home in New York. Homeless for two years, she struggled to navigate the city's shelter system. Life there was unbearable, she says: "It was drugs, pimps, the whole lot. I never knew it would come to this."
As benefit checks and pensions cover a dwindling amount of the costs of post-retirement life, today's seniors are finding themselves increasingly at risk of sinking into poverty. But the situation is more complicated and arduous for older immigrants, who not only deal with barriers of culture and language, but also tend to have fewer financial resources to draw upon than native-born seniors do. Many lack health insurance and are forced to rely on a patchwork system of charitable care. Some are undocumented and are thus barred from receiving government benefits that might lessen the burdens of growing old. These sorts of hardship are particularly prevalent in New York, where older immigrants comprise about half the city's population of seniors, and 65 percent of seniors living in poverty.
In Murray's case, life after Jamaica was bittersweet from the beginning. In the 1980s, Murray left an abusive husband and placed her six children—the youngest just one year old—in the care of her family. Once in New York, she was determined to work hard and make enough money to ensure that her kids would have a better life. But her job as a live-in home-care attendant paid just $3 an hour, almost all of which she sent to her three sons and three daughters in Jamaica. "It was a rough time," Murray remembers. "You cry night and day. While you're eating, you're crying. While you're working, you're crying. But God saw me through."
Through an employment agency, Murray found a job at a nursing home. Even after she lost her home, she, like many of the homeless, continued to work. Most of her coworkers at the nursing home were immigrants like her. (Nationally, two-thirds of domestic workers—a category that includes caregivers of the elderly as well as nannies and housekeepers—are foreign-born.) "Americans don't seem to want those jobs," she says.
Murray finally found a home with the help of Safe Horizon, an organization that assists victims of violent crime and domestic abuse. In 2012, she moved into a multifamily residence in East New York. "The room was nice, the bathroom close, but there were ten families sharing two bathrooms and one stove," she says. "People smoked all kinds of things, and it would come right up from the door bottom." One of her daughters was living the Bronx, but she was struggling herself and Murray decided against staying with her. "The problem was, if I didn't go through the system, I would not be able to get housing," Murray says. "That was my only option."
Murray eventually applied for a place at Serviam Gardens, a housing project for seniors in the Bronx. The Fordham Bedford Housing Corporation, a community-based non-profit, had built Serviam as affordable housing for low-income seniors in the borough, which has the highest rate of poverty in New York. Eighty percent of Serviam residents live on incomes that amount to less than half of the federal poverty line. The majority are immigrants.
In 2013, Murray was selected as a Serviam resident and moved into an apartment there. When I visit her one afternoon, we talk in a room lit by the glow of a television showing a CSI rerun. The sofa still has its tags. Her place is sparsely furnished, but throughout it are pictures of past clients—members of her "family," she says—all of whom have passed on.
For Murray, who was raised by her grandmother in Jamaica, caring for the elderly was more than just a job. "In their faces," she says, "I see my own grandmother. She always said, 'Give everyone 100 percent.' In this job you got to have patience and lots of love. I always said to my coworkers who were a little rough, 'We don't know what we'll be like at their age.'"
Murray was still working at the nursing home up until last year, when a work-related injury forced her into an early retirement. She is still fighting for compensation.
As their health and energy decline, it becomes tougher for older immigrants to work the low-wage jobs that are often the only opportunities available to them. For those who are undocumented, the risks are especially great. Without a safety net of government assistance to catch them if they fall, they can do little but hope they stay healthy and employable.
Myra, a seventy-two-year-old Filipina immigrant, worries about what she will do when she is finally too old to work. (She requested her name be changed to protect her identity as an undocumented immigrant.) She is a petite woman, barely five feet tall, yet she still works jobs that most people her age would have retired from years ago. Without a pension or savings, she has no choice.
Though her health has been good so far, Myra gets anxious about whether she will be able to afford medical care when she eventually needs it. She is counting on her health to hold out until she can return to the Philippines­ ("I can only pray," she says). For the time being, she pays out-of-pocket when she sees Filipina doctors recommended by friends. She does not have health insurance. In this respect, she is far from alone: of the 345,000 undocumented immigrants estimated to live in the city, two-thirds lack insurance. The assistance provided by the Affordable Care Act—the health care reforms enacted in 2010, also known as Obamacare—is not an option for them: undocumented immigrants are ineligible not just for insurance subsidies but also for Medicaid, publicly provided coverage for the poor.
Myra immigrated to the United States in her sixties, later in life than is the case for most newcomers. Her path to New York was circuitous. She first left the Philippines during the dictatorship of President Ferdinand Marcos. The country's political and economic isolation made life there tough, and Myra decided she had no choice but to find work overseas. Eventually, she joined the first wave of Filipino workers who came to Iran in the 1970s, when the two countries established diplomatic relations.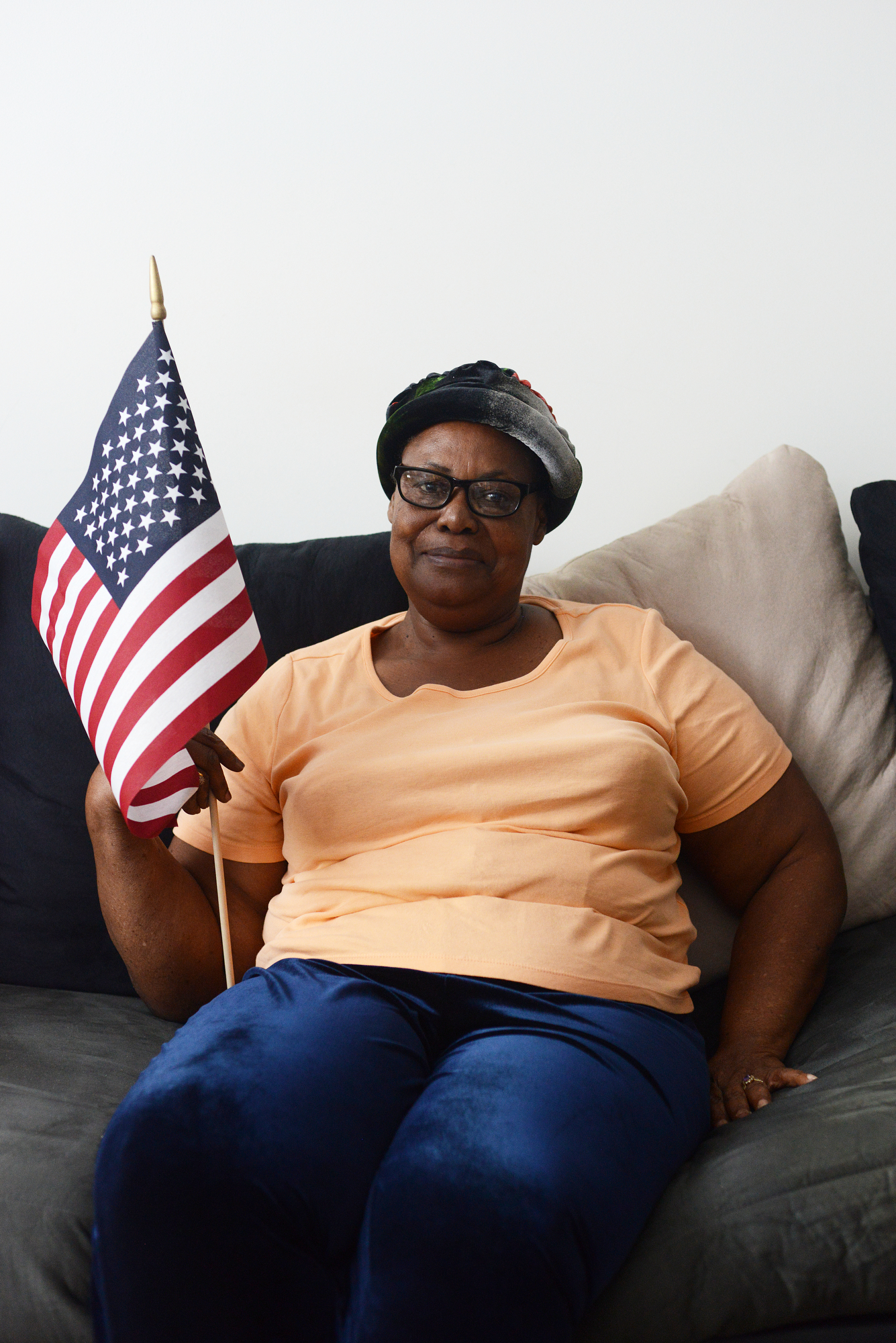 Myra spent a few years as a nanny to the children of a prominent Iranian family (the father, a gynecologist, worked for the Shah's family). Landing the well-paid job was "like winning the lottery," Myra says. But her luck did not last. The Iranian Revolution ousted the Shah in 1979, and she was forced to leave the country.
Afterward, Myra found work as a nanny in other parts of the world—first Denmark, then Austria, then Canada. When Myra's client in Canada died, leaving her without a job, she decided to go on a vacation in New York. During her stay, a friend convinced her to take a job as a live-in housekeeper in the city. Her wealthy employer promised to take care of the paperwork needed for Myra to stay and work legally in the United States.
Already nearing retirement age, Myra was planning on this job being her last. But her employer reneged on the promise made. "I thought it was 'Take care of me, I'll take care of you,'" Myra says. "I blame myself for being too trusting."
Desperate, Myra turned to Damayan, a group that advocates for Filipino migrant workers. With their help she found a lawyer and sued her former employer, who eventually settled out of court—but for a nominal sum.
Myra has lived in financial limbo ever since. Every week, she moves between boroughs, shuffling through thick crowds of commuters with her suitcase in hand. She is employed as a house cleaner in Manhattan, making around $300 a week. Unable to afford a home of her own, she stays with friends in the Bronx and on Staten Island, helping out with household chores and caring for an elderly family member in exchange for lodging.
Linda Oalican, the executive director of Damayan, points out that there are not many resources for older immigrants who are undocumented. "It takes a lot of trust to reach these people because they are scared and so isolated," she says. When they finally do return to their home country, they often have no savings. In just a few months, Oalican says, they can find themselves back in "the cycle of poverty they left behind."
If federal and state agencies in America offer them very little in the way of assistance, even the countries that the undocumented call home can be reluctant to help them. Last year, the Philippine government was embroiled in a controversy over the death of Lorna Sun, an older Filipina immigrant who lived in Queens. The breadwinner for her family in the Philippines, the sixty-five-year-old had been working over sixty hours a week as a domestic worker, up until the day a heart attack killed her. At the time of her death, Sun's bank account had only $20 in it. She had sent all the other money she had saved back to her family, whom she hadn't seen in sixteen years.
Sun's family was unable to afford the cost of sending her remains home. With the help of local advocacy groups, they appealed to the Philippine government for financial assistance under a 1995 law that protects the rights of migrant workers, regardless of status, and requires the government to repatriate the remains of overseas workers. Initially, the government dismissed the family's appeal because of Sun's undocumented status. After a public outcry, they agreed to cover some of the costs. Sun's body was cremated after being held—against the family's wishes—for over a week in the morgue.
Tragedies like this one underscore that America, for all its opportunities, can be alienating for older immigrants. And yet, amid all the hardships of her life far from home, Myra has faith in her own resilience. "I'm a rolling stone," she says with pride—even as life has tossed her from country to country, from job to job, she has continued relentlessly on her path, working hard for a better life.
Just as it was for Sun, sending money home—in Myra's case, to support her niece's education—is deeply important to her. That generosity, however, has made it harder to save up for her own future. By the time she is in her eighties, she would like to be back in the Philippines, living her last years quietly, surrounded by nature. But right now her savings are nowhere near where they need to be to make any of this dream a reality.
Myra knows she is entering what should be her golden years. But what if they turn out to be just another set of travails to endure? At times, she can't help but feel bitter. "We, the undocumented, help this economy silently," Myra says. "What's my future now?"
The Academy of Medical and Public Health Services can be found on an unassuming, industrial block in Sunset Park, tucked between an auto body shop and a Pentecostal church and underneath the Brooklyn-Queens Expressway. A community health services center, AMPHS mainly serves the neighborhood's uninsured immigrants, many of whom are undocumented.
When I drop by the center's monthly health screening, the office is packed with people chatting in Mandarin, Cantonese, Spanish, and English. The medical staff of volunteers and students offer a range of services—flu shots, eye exams, dental checkups, and tests for Hepatitis C, HIV, and mental illness—to the patients who drop in. Among them, I meet Benny Tedogn, an animated fifty-seven-year-old immigrant from Indonesia, who is at the center to have his eyes checked and talk to a clinician about a chronic health issue. "I have been saving this flyer for two months," he says, gesturing to a leaflet advertising the free screening. "My income is too high for Medicaid, but I cannot afford the premiums for health insurance." Tedogn brought a friend with him to the center. Lee Kim Soel, seventy-two, is undocumented. Speaking English on her behalf, Tedogn tells me she suffers from severe body pains. "She also needs services very badly."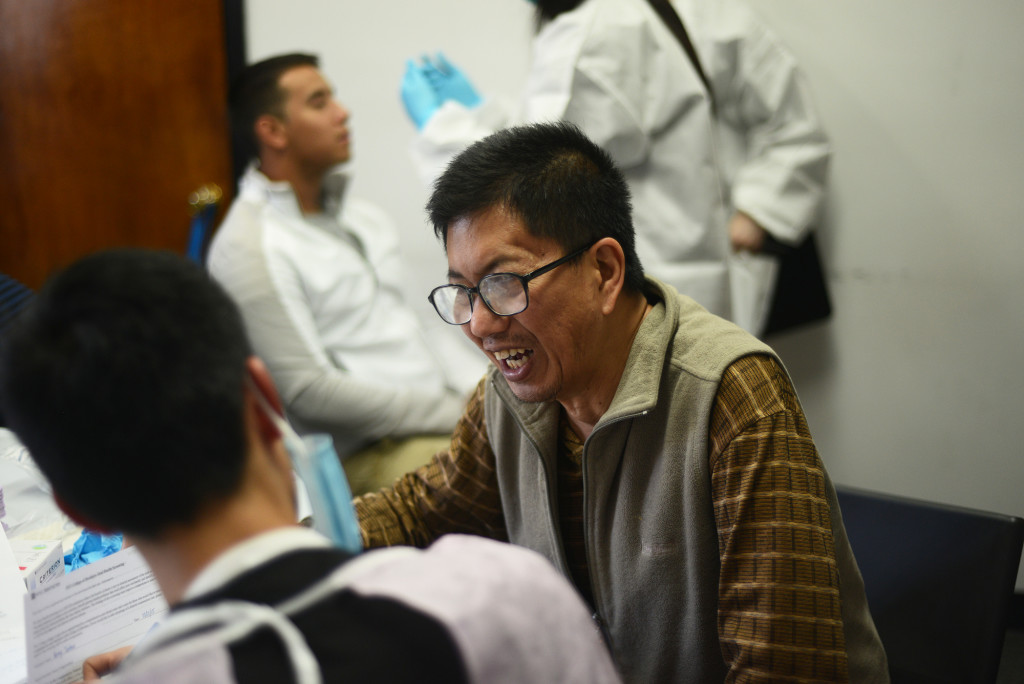 Liu Li and Johnson Ge, a Chinese married couple in their late sixties, have come to the center for dental checkups. Li tells me she has been in the United States only a year and a half, which means she is not yet eligible for Medicare. She feels daunted by the "backed-up health care system" available to the uninsured and sees the center as her only option.
Hewett Chiu, AMPHS's cofounder, says the center's staff regularly see older immigrants who cannot afford insurance premiums and each month make difficult choices between getting the health care they need and paying for rent or food. Many—the undocumented above all—do not qualify for Social Security, Medicare, and other programs specifically designed to help seniors. Public hospitals run by NYC Health + Hospitals, the city's health care system, and community health services centers like AMPHS are willing to waive fees for the uninsured. Yet these facilities often struggle with inadequate funding and resources. Community health services centers are at a particular disadvantage because they do not have the same access to specialists that hospitals do, which limits where they can send their patients for chronic conditions like diabetes and hypertension.
In working with immigrant populations, Chiu says, it is important that health professionals provide what he calls "respectful, culturally competent service"—in other words, care tailored to the community, its cultural perspectives on health and illness, and its perceived needs. Older immigrants are a special challenge, he adds, because many of them have not been able to have their health conditions diagnosed, much less treated, for so long. "Some have not seen a doctor in sixty years—that's half a lifetime," Chiu says. "Many are nervous." The center's staff needs to spend extra time with these people piecing together their medical histories, he says—but that, in turn, limits the number of patients they can see.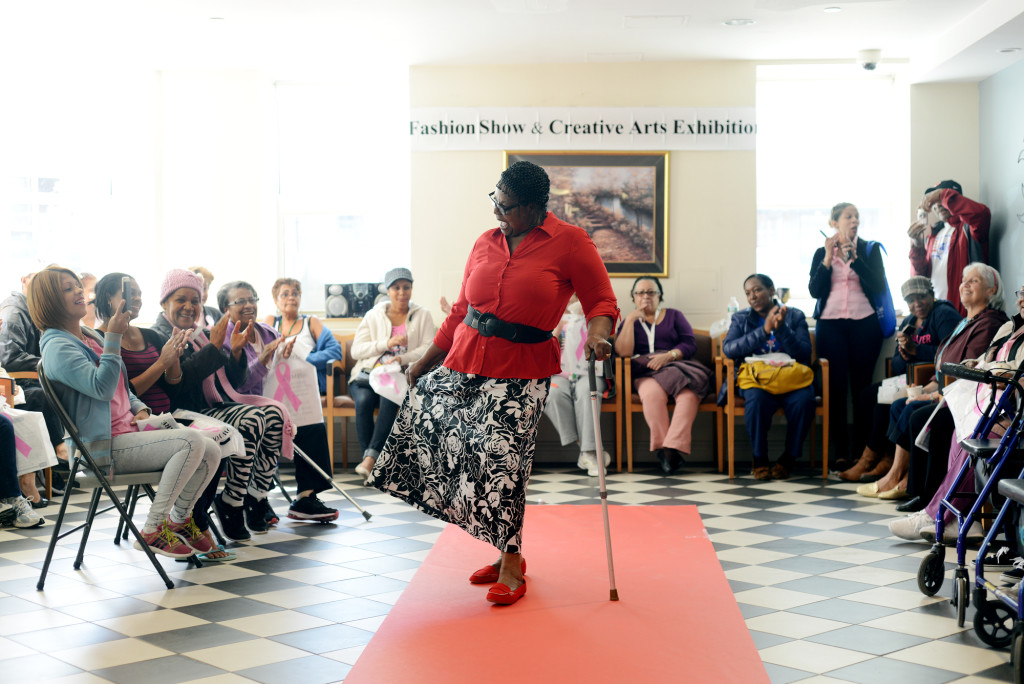 At Serviam Gardens in the Bronx, Building A's ground floor bustles with activity. Residents and staff have gathered here for a Breast Cancer Awareness Day event being put on by the senior housing project. Beneath a banner that reads "Fashion Show & Creative Arts Exhibition," the staff hand out gift bags with pink ribbons, flowers, and hugs to several women, many of them cancer survivors. Then the women are corralled into a hallway. Salsa music starts playing, and the women—models for the day's fashion show—head down the runway. When it's her turn, Gloria Murray walks out in a black-beaded headpiece, a red blouse, and a black-and-white print skirt—the last of which she made herself. Happily, she saunters past the audience, steadying herself with her cane along the way.
"I'm so blessed," Murray says afterward, her eyes sparkling with tears. Two years ago, she would have laughed if someone had told her she would be living the life she is today. Finding an affordable home and compassionate community at Serviam Gardens has turned her life around, she says.
For older immigrants, targeted public investments in communities like Serviam Gardens can make all the difference, keeping individuals from falling into poverty and isolation. Judicious policies can also help them get the health care they need—or so city officials hope. In October, Mayor Bill de Blasio announced the creation of a pilot program to provide primary and preventive care to 1,000 of New York's uninsured immigrants. The $6 million program, Direct Access, will launch next spring and, if successful, may be expanded citywide.
With more in the way of health care and housing, perhaps life will be easier for the next generation of immigrants crossing into old age. Perhaps they will avoid some of the heartbreak that Gloria Murray had to endure along the way.
"Immigrants," she says, "make big sacrifices"—and even after all this time, Murray cannot forget what she has lost. Her industriousness over the years meant that most of her children were eventually able to attend college in America. Yet bringing them to this country also led to tragedy: one of her sons was shot and killed here. "They say it was an accidental shooting," Murray says. "But, you know, it's difficult.… I pray, but everywhere I go [his death] is there."
Murray doesn't blame America for what happened to her son, she insists. "It was gun violence—you have it in Jamaica, too." Nevertheless, she thinks about some of the things she gave up by coming to America. "What I never experienced in Jamaica," she notes, "was racism."
Her other children are doing well. Her eldest daughter lives in Yonkers and stops by on Sundays to give her mother a ride to church. Two of her other children are married and live in Pittsburgh. She doesn't see them as often as she would like to. But seeing them flourish makes her feel proud—and a bit vindicated. "In Jamaica, they would not have had the opportunities they do here," she says.
As for Murray, her new sense of security has inspired her to make some changes in her life. In November, she became a US citizen. She hadn't considered applying, she says, until she came to Serviam Gardens and found out they offered citizenship classes. "It was just time," she says of her decision. "I pay my taxes. I've worked very hard.… This was for me."
Part 1: Age of Isolation
Reporting for this article was supported by a Community Health Reporting Fellowship from the International Center for Journalists.
Correction, January 11: An earlier version of this article described AMPHS as a "community health clinic." It should be described as a "community health services center," given that it is not a federally qualified health center. The text has been corrected throughout.
Dana Ullman is a contributing photographer for In The Fray.
In The Fray is a nonprofit staffed by volunteers. If you liked this piece, could you please donate $10?