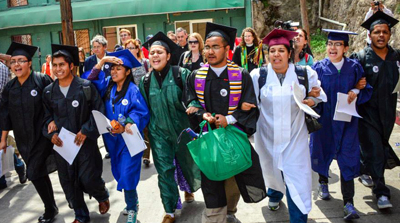 On July 21, nine Mexican nationals openly defied US immigration policy, and more than ten thousand people watched the event unfold through a live, global webcast. I held my breath as activists from the National Immigrant Youth Alliance (NIYA) — who are now known as the "Dream 9" — walked arm-in-arm through the streets of Nogales, Mexico. I felt the squeeze of anxiety in my chest as they neared the US-Mexico border. And I sent a silent wish into the universe that the gamble these young people are bravely taking won't be in vain.
The Dream 9 are all longstanding residents of the United States. Six of them — Rosie Rojas, Maria Peniche, Adriana Gil Diaz, Luis Gustavo Leon, Claudia Amaro, and Ceferino Santiago — had been deported or left of their own accord prior to last Monday's action. The other three — Marco Saavedra, Lulu Martinez, and Lizbeth Mateo — are prominent leaders of America's undocumented youth movement. Before making her way to Mexico, Mateo paid her tuition for Santa Clara Law School, where classes begin in August. Martinez also expected to return to school at the University of Illinois at Chicago, where she is majoring in gender and women's studies.
If the Dream 9's plan fails, each member will be deported. They will be separated from their families, and the lives they've built in the United States will be irrevocably changed. The danger they face is significant. Under President Barack Obama more people have been deported than any other president in US history. Still, they each chose to take the risk.
"In the United States, undocumented immigrants run the risk of being taken from their home, no matter where we are," Mateo wrote in The Huffington Post. "We have won many fights against deportation, but not all of them. It's time to take away the power deportation has over us."
NIYA is a radical, youth-led organization working to ensure justice for undocumented young people living in the United States. Its members routinely participate in acts of civil disobedience to resist threats of detention and deportation that terrorize their communities. They also take cues from past social movement successes by conceiving and executing actions that will attract national media.
Last summer NIYA made headlines when Saavedra and fellow organizer Viridiana Martinez were intentionally arrested in order to infiltrate the Broward Detention Center in Pompano Beach, Florida. Once inside, the young activists began collecting the stories of dozens of detainees who qualified for release under President Obama's 2011 prosecutorial discretionary guidelines, yet continued to be held for several months. When NIYA released their findings in a press conference, Saavedra and Martinez were swiftly released.
"My son is a warrior," Saavedra's mother, Natalia, told Colorlines. Despite her courageous words, Natalia fears the treatment her son will receive now that he has been transferred from Florence Detention Center to Arizona's notorious Eloy Detention Center.
Although the Dream 9 knew they would be detained — the US Border Patrol had informed NIYA that the young people would be arrested and deported as soon as they reached the border — they did not anticipate having their phone calls restricted. (An Eloy representative has denied restricting the activists' calls.) On Thursday, the six Dream 9 women began a hunger strike. Now, all of them are refusing food until they are released. Mateo, Amaro, Santiago, Martinez, Saavedra, and Felix have been placed in solitary confinement for refusing to eat.
NIYA's strategy for the Dream 9 is to request humanitarian parole for the detainees. According to US Citizen and Immigration Services, "humanitarian parole is used sparingly to bring someone who is otherwise inadmissible into the United States for a temporary period of time due to a compelling emergency." In an interview with NBC Latino, Kiran Savage-Sangwan, a member of the Dream 9′s policy team, explained that a humanitarian parole request is required to prevent the activists from becoming targets of kidnapping or other harmful criminal activity.
"Each will be interviewed by an asylum officer to establish each has a credible fear of persecution if they are denied admittance to the US," said Savage-Sangwan. "These young people are certainly not a threat of public danger. They are not going to flee. They knocked on the door of the US to re-enter, so they should be released pending litigation of their asylum claims."
A collective action this bold is unprecedented in the undocumented immigrant movement. If successful, it will establish a path for others who have been deported from and would like to return to the US. According to NIYA spokesperson Mohammad Abdolahi, the organization has a list of people willing to replicate this strategy. Just hours after the Dream 9 were detained, thirty people gathered at the US-Mexico border hoping to enter the country.
It's been said that this is a publicity stunt, and the Dream 9 have been called audacious, disrespectful, silly, and petulant. But the young people are responding to an immigration system to which these words could be equally applied. People who have been torn from their families undertake perilous journeys in order to be reunited with their loved ones. As a result, hundreds of migrants die every year while attempting to cross the US-Mexico border.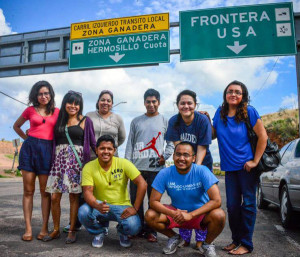 During their march through the streets of Nogales, Saavedra shouted, "When President Obama is deporting our families, what do we do?" His eight companions yelled in unison, "Stand up! Fight back!" This is what fighting back for the Dream 9 looks like. And to my eyes, it is a radical demonstration of the love they have for their community.
For the Dream 9, it's not enough that undocumented students are provided with a pathway to citizenship. They won't wait for Congress to gut and pass a toothless and elitist comprehensive immigration reform bill. Instead, they are fearlessly putting their own lives on the line to highlight the flaws of the system. They are holding the Obama administration and other politicians accountable for their unfulfilled promises.
If the Dream 9 are released, and this action is successful, it won't be because President Obama and other elected officials came to their aid. It will be because undocumented activists and their allies demanded these politicians make good on their assurances to those at risk of deportation.
As I write this, petitions are circulating that call for the Dream 9's release. Allies are sending letters to their state and national representatives. Sit-ins and vigils are cropping up across the country. The nationwide outpouring of support demonstrates the direct correlation between increased mobilization and progress. It was undocumented activists and their allies who demanded the passage of the Deferred Action for Childhood Arrivals and the DREAM Act in twelve states. Don't let politicians rob them of these victories by claiming otherwise.
As the daughter of a Mexican immigrant who was undocumented in the US for more than twenty years, I feel an overwhelming connection to the Dream 9. I've thought of them several times a day since watching their march to the border last week. I wonder if they are worried or if they are in high spirits. I wonder if they can sense the deluge of gratitude and appreciation through the walls of their confinement. Most of all, I wonder when the American government will allow them to reunite with their families.
So, let's bring them home.
UPDATE: On Tuesday, August 6, each member of the Dream 9 has successfully established the "credible fear" aspect of humanitarian parole.  Their cases now be heard by an immigration judge, who will decide whether to grant asylum.
In The Fray is a nonprofit staffed by volunteers. If you liked this piece, could you please donate $10?