OLYMPUS DIGITAL CAMERA
Workers tend to the vineyard's grapevines. Frazier plans to lease the abandoned commercial building in the background from Cleveland's land bank so that he can convert it into a facility for fish farming.
Benjamin Gottlieb
October 17, 2012
•
1:45 am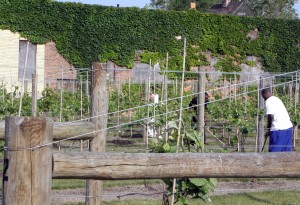 Benjamin Gottlieb was previously In The Fray's art director. Twitter: @benjamin_max
In The Fray is a nonprofit staffed by volunteers. If you liked this piece, could you please donate $10?