OLYMPUS DIGITAL CAMERA
Frazier thumbs through a copy of his magazine Reentry Advocate, which seeks to keep ex-convicts from landing back in prison. After years in prison for counterfeiting credit cards, Frazier became a successful journalist and is now embarking on a new career as an urban farmer.
Benjamin Gottlieb
October 17, 2012
•
1:40 am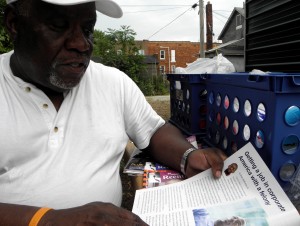 Benjamin Gottlieb was previously In The Fray's art director. Twitter: @benjamin_max
In The Fray is a nonprofit staffed by volunteers. If you liked this piece, could you please donate $10?