New York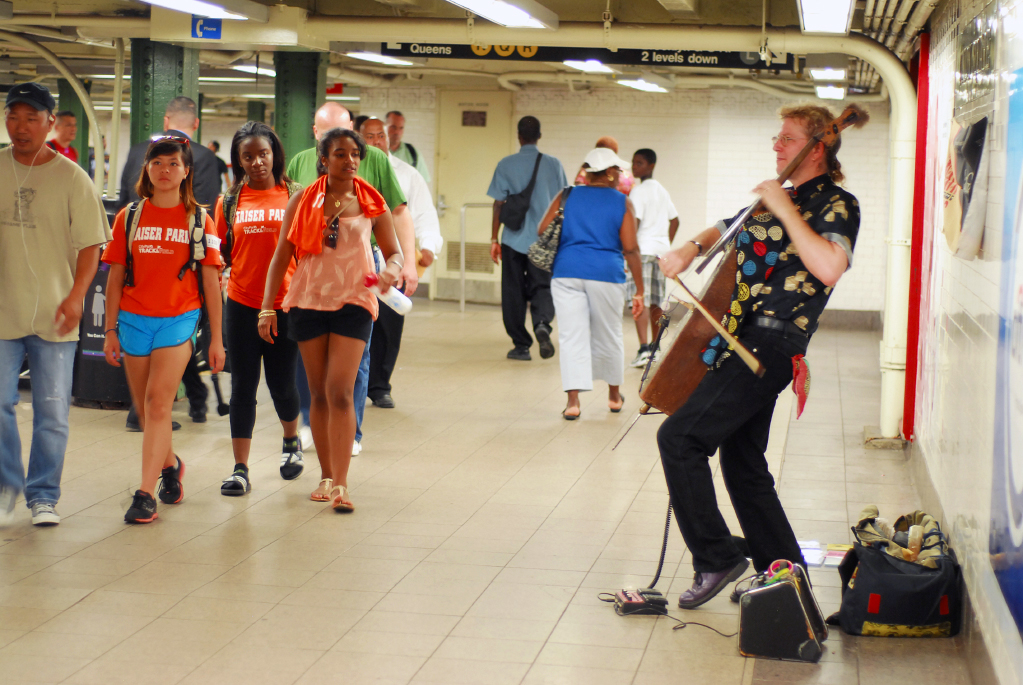 The crowds bustle by the rows of vendors that line the Lexington Avenue side of Grand Central Terminal. It is 5 p.m. on a Friday — rush hour — and most New Yorkers scurry past the upscale skincare shops and eateries with unseeing eyes. But as they pass a man on the corner, many do a double take; some stop in their tracks.
It could be his rainbow button-down shirt that draws their gaze, an abstract array of bright-colored shapes that looks like it belongs in a postmodern art museum. Maybe it's his beaming smile. Or, it could be the large wooden cello he is playing — unconventionally — with the verve and daring of the Texas fiddler he once was, bowing his way through an eclectic set of twangy zydeco numbers and sweet classical arias.
Sean Grissom is the Cajun Cellist. Over his nearly three-decade career as a musician, he's won his share of fame — invitations to play in Russia and Japan, performances at the Kennedy Center and Carnegie Hall. But Grissom maintains that none of these venues are more important to him than, say, a late afternoon set at the Staten Island Ferry Terminal, playing for the dreary but appreciative workers heading home. Most days find Grissom in the streets and subways of New York, filling the urban air with his unique mix of classical, jazz, country, swing, and Cajun rock melodies.
"It's important to be able to play for everybody," Grissom says. "Underground you're playing for nine million people in the course of a year." He has played for well-heeled crowds in the world's best concert halls, but for the price of a New York subway fare, he says, anyone can listen to him: "It's the best $2.25 show you'll see."
The Underground Scene
At Grand Central, Grissom plays under the auspices of MUNY — or, as he refers to it, "the program." MUNY, which stands for Music Under New York, was founded in 1985 by the Arts for Transit division of the Metropolitan Transportation Authority. It gives selected performers a set schedule every week (Grissom mostly plays at Grand Central, the Union Square subway station, Penn Station, and the Staten Island Ferry Terminal) and an official banner to hang above their setup, which in the subway musician community is treated like gold.
New York's subways host dozens of performers and musicians, but few of these can gain the MUNY stamp of approval. The program prefers acts that reflect "the people and culture of New York," says Lydia Bradshaw, the MTA Arts for Transit and Music Under New York manager. The selection process is rigorous. Applications and demo tapes are screened by a committee that includes veteran MUNY performers.  After whittling down the initial pool, the judges invite the remaining applicants for a five-minute audition in Grand Central — what Grissom calls "the cattle call."  Every year about 200 new acts apply to MUNY. The handful that pass the auditions are accepted into the program, where they're welcome for as long as they choose to keep playing.
Grissom constantly competes for the attention of commuters at Grand Central. As he plays his set, he must ignore the booming train announcements and the incessant clamor of cell phone chatter and scuttling feet. To respect the sound space of the neighboring vendors, Grissom points his amplifier toward the wall. (Thanks to the station's acoustics, the sound bounces off the marble and proceeds up into the arches, finding its way onto the other side of the vendors.)
Entertaining an audience underground is different than it is on any another stage — and yes, Grissom is adamant that his two- by four-foot space in Grand Central is a stage, just like Carnegie Hall. The main difference, he says, is that playing for a non-captive audience is even more challenging. "You have a ninety-second window to attract somebody — sometimes twenty seconds," he says. "If you can learn how to grab their attention and distract them for ever a brief moment, then playing for a captive audience, that wants to be entertained, is that much easier. The energy is just there."
The Cajun Cellist is approaching fifty. He wears his frizzy gray hair in a ponytail; rimless glasses are perched comfortably on his nose. But as he starts another long set at Grand Central, he attacks the strings with youthful gusto. He plays the James Bond theme song with exaggerated arm motions. With the Pink Panther theme, he shifts his torso to the "ba-dump" rhythm. Then, when he plays "America the Beautiful" a few minutes later, his shoulders sway to the same slowed pace of his bow.
Grissom's set is three hours long, and he doesn't like to repeat material.
A Cajun on a Subway, a Fiddle on a Cello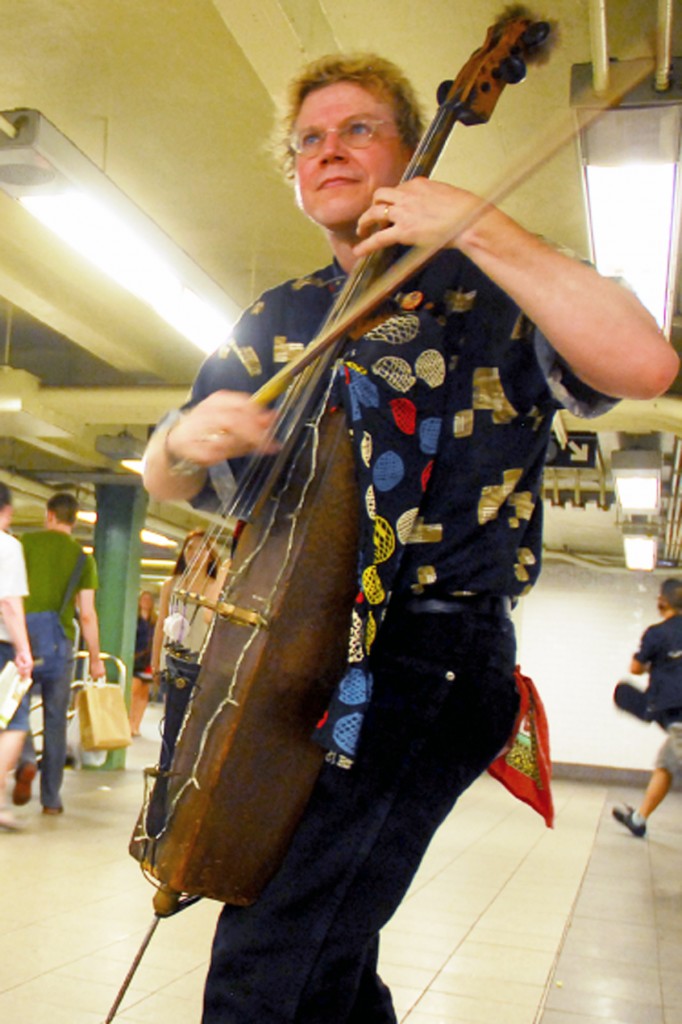 Sean Grissom was born in Texas in 1961. He grew up in a conservative household, in a particularly devout part of the state where, as he recalls, "a town wasn't a town until it had a Baptist church." When he was sixteen he moved to New York City. Grissom originally followed his cello teacher to New York, but a few years into his music studies, he began questioning his career choice. He enrolled at the Pratt Institute and earned degrees in painting, graphic design, and musicology. In college he would lug his classical cello outside Lincoln Center to play for change.
Grissom later enrolled in a graduate music program at Hunter College, part of the public City University of New York system. The program allowed him to work with teachers at other schools, and Grissom studied under Channing Robbins, a Juilliard professor. ("I got a Juilliard degree for a City price.")
During his years in school, Grissom would return home to Texas on his breaks. It was then that he melded his Cajun roots with his classical cello education. "I found a fiddle teacher and I memorized more fiddle tunes in one summer than I had classical songs in my entire life," he says. "Classical music for me was always notes on a page, whereas I had a knack for fiddle music." Grissom was playing fiddle tunes on his cello — much to the chagrin of his teachers in New York, who told him to stick to the "three Bs" — Bach, Brahms, and Beethoven.
In 1983, Grissom got his hands on an old cello from the 1920s. "I looked at that thing, and I said … 'I want to hotrod that.' So I made it electric."
Over the next two decades, Grissom played his electric cello as a member of numerous New York bands, including an Irish rock band. He did solo performances in the subways and at local hospitals. He even managed to bring his souped-up cello onto the grand stage of the New York punk scene.  "I used to lay down bass lines and solo lines at CBGB," he says, proudly.
Nearly twenty years later, Grissom still uses the same homemade instrument. Despite its sonorous qualities, his electric cello has an antique, rustic quality to it. Its oaky color has faded over years of use. Its uneven and beaten edges confirm its salvaged beginnings. But Grissom loves his instrument and even dresses it for the occasion. He adorns its belly with a large polka-dotted handkerchief — what he calls his subway shmata (Yiddish for "rag"), used to catch cello varnish before it smears his clothing. On top of the instrument's scroll he places a coonskin tip.
Many commuters have no idea that the ramshackle piece of wood and strings he is playing is actually a high-functioning electric cello. They gape at his strange instrument and his outlandish clothing. At this point in his career, Grissom is unfazed by crooked glances. In fact, he openly welcomes inquiries from passersby.
Grissom repeatedly insists that he doesn't play for the money. He likes it when his listeners put cash in his black tip cap, but he prefers when they take his business card. A pile of cards sits directly to the left of his tip hat, next to a stack of his CDs (Grissom has self-produced ten records, with a classic rock album on the way). He calls his business cards "seeds" — they are how onlookers find out how to schedule him for private shows. One time, a commuter took his business card on the subway. The man moved to San Francisco. Five years later the man returned to New York and happened to find the card, and hired Grissom to play at a friend's birthday party.
Playing on the subway makes him a better musician, Grissom adds. He says he doesn't measure his day by the content of his tip hat, but by the quality of his performance. Did he incorporate audience interactions into his set? Was his closing number as sharp as his opening piece? Did he work in new material? "If people aren't into what I'm doing, then I can just practice for myself to maintain my level of play," he says. "That's why the subway is in between a rehearsal and a performance."
This week, MUNY has assigned Grissom to play a noon to 3 p.m. set at the Union Square subway station, right above the entrance to the N, Q, and R trains. He is happy with the new venue. At Grand Central, which he likens to a more formal cocktail hour gig, Grissom prefers not to bring his electric cello, which is too noisy for the confined space and disturbs the surrounding vendors. At Union Square, though, he sees more possibilities for experimentation and funk. The greater socioeconomic diversity of Union Square subway riders makes a difference, he says. "Union Square has a rock-club environment. It's more indicative of subway travelers, with the L-train hipsters. The crowd is much more spontaneous."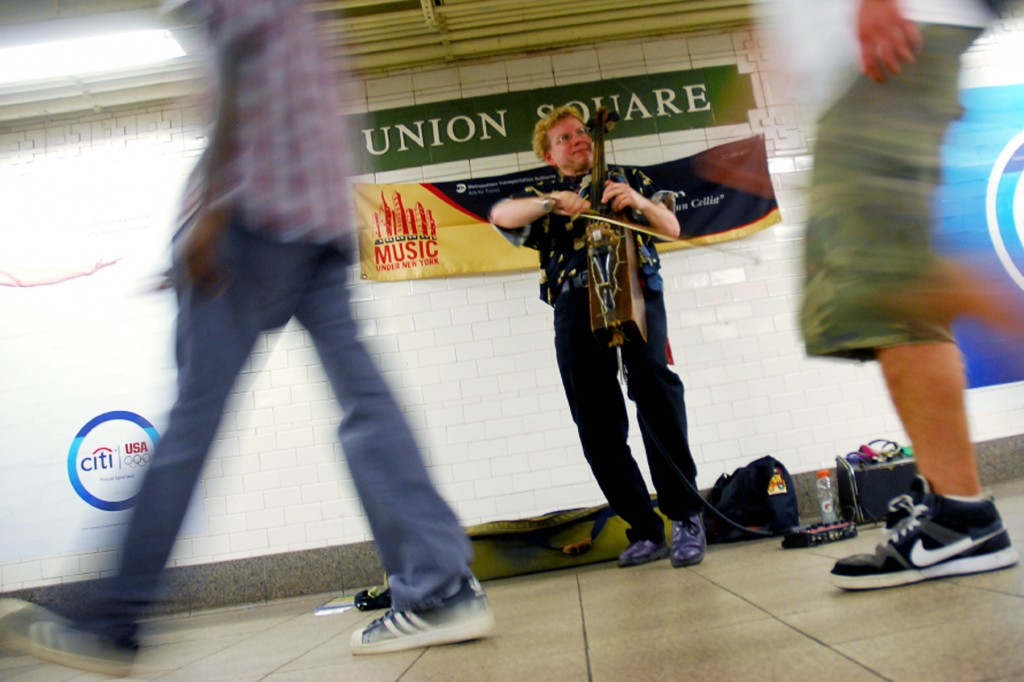 As a nod to the less conservative atmosphere, today Grissom has added shiny purple shoes and a black-and-yellow bow tie to his outfit. His set list has also taken on a markedly different shape than the one he played at Grand Central the previous Friday. Now, with his electric cello, he jams away to a veritable classic-rock hit list. There's "Baba O'Riley" by the Who, "Wish You Were Here" by Pink Floyd, and "Sweet Jane" by the Velvet Underground.  The set is lively and leans heavily on Grissom's fiddle background. At times he frantically bangs his bow against the cello's body. Throughout the performance he bobs his head up and down with the beat.
As the Cajun Cellist plays his set in the subway station, a woman walks by warily, staring at his handmade instrument with a confounded gaze.
"It's a cello!" Grissom yells out to her, over the screech of the train.
Video: Sean Grissom Plays in New York's Union Square Subway Station
Eli Epstein is a freelance writer in New York City. His work has appeared online in the Atlantic, Fortune, and Esquire.
Dana Ullman is a contributing photographer for In The Fray.
In The Fray is a nonprofit staffed by volunteers. If you liked this piece, could you please donate $10?