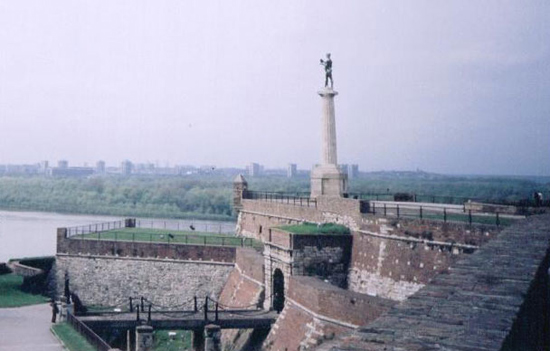 The Menorah in Flames sat on the bank of the Danube, in a district called Dor_ol in Belgrade. I walked on Jevrejska Street toward the river in search of it. The Danube was soothing and peaceful here: Boats were moored on the opposite bank, and a well-paved bicycle path ran parallel to the river. Midmorning traffic was made up of young women pushing baby buggies, old men taking leisurely strolls, and an occasional cyclist. And then there was me, a traveler from Canada, roaming the city while my husband worked as a foreign consultant.
Belgrade had to be one of the cities in the world with the most monuments. Busts, whole statues, fountains, pillars, plaques. Big ones, small ones. Marble, stone, bronze. In parks, on quiet streets, in public squares. On pedestals, in niches, on columns. Everywhere.
But where was the Menorah in Flames? In the guidebook, it looked like a tree without leaves, a trunk with brown and bare upturned branches. It was put up half a century late —1995 — in memory of Belgrade Jews who died following Hitler's invasion of Yugoslavia in the Second World War. I came upon it sooner than expected. It was about 10 feet high and 10 feet across at its widest, cast in bronze, and situated on a quiet lawn not far from a modest apartment complex. I walked up the granite steps to its marble base. The monument was deserted except for a young boy jumping on the steps, making a game of it, while his mother watched with an air of nonchalance. I was within touching distance of the monument. Then I saw objects protruding from the flames — human heads with faces contorted in agony, skeletal arms with clenched fists, feet attached to scrawny segments of lower legs. I circled the monument; every angle depicted the same disturbing protrusions of horror. Body parts in flames, a tree of death.
Popular memorials

Disconcerted, I made my way back to the old city, following the bicycle path that wound along the promontory where the Sava met the Danube. Looking away from the river, I saw the Kalemegdan Fortress, rising up above me, multi-tiered and beautiful, cross-sections of its ruined ancient Roman buttresses exposed. Dominating the fortress on the edge of its western corner was the Messenger of Victory, dubbed "The Victor" by Belgrade residents. It was erected in honor of the liberation of Belgrade in 1918 from Austria-Hungary. The Victor was a statue of a naked man, his right hand holding a sword, a bird on his left palm. He stood on a tall stone column, rising to a height of over 300 feet. He had the taut physique of an Apollo, his brawny muscles in full view, as was his unmistakable manhood.

Two middle-aged women passed me as I was taking a zoomed-in picture of Victor in all his naked glory.
"Nice. Tourists always take picture," one of the women said, her eyes following my camera.
"It commemorates Serbia's liberation at the end of the First World War." I tried to sound knowledgeable.
The woman pursed her lips, shrugged her shoulders. "Maybe. It's there long, long time. It's there when I was small girl. Enjoy Belgrade. Beautiful city."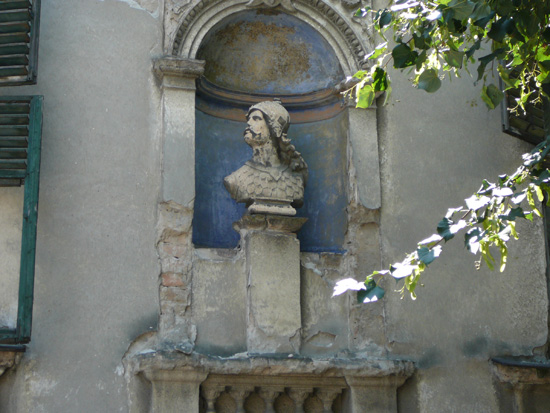 Hidden finds
Ascending a huge flight of steps, I emerged onto a quiet cobbled street in old Belgrade, Kosančićev venac. A bust of a soldier in a helmet and armor ensconced in an arch-shaped niche adorned the front façade of an old house — another important find from my guidebook! It was the bust of Ivan Kosančić , a 14th-century hero killed in 1389 in the Battle of Kosovo, in defense of Serbia against the advancing Turks. Here he was, a symbol of heroism and patriotism, tucked away in an unfrequented and humble street, neglected by local residents, yet posing proudly for an occasional tourist like myself.

I soon came to a wider and busier street where the Orthodox Cathedral stood, its steeple towering over the surrounding 19th-century buildings. Across the cathedral was a rustic white two-story house with black window frames and a slanted red-tiled roof. An old gas lampshade bearing a big question mark on each of its four opaque glass panels was perched on a swirled wrought iron support, which protruded above the humble wooden front door. Tourists called the place the Question Mark Café. It was the oldest café in Belgrade, built in 1823.
Some monuments were not intended to be

The interior of the café, or kafana, resembled a 17th-century Dutch painting. Daylight streaked in through dark tinted glass-paned windows to give it a grey and gloomy atmosphere. A couple of dim lamps with milky-white glass shades hung from the wood-beamed ceiling over low, rugged wooden tables and matching stools.

I sat down at a table and ordered tea. Two men sat not far from me, talking in English. The younger one sounded North American, possibly Canadian. His companion looked 50-ish and had a distinct accent. I shot a glance at the two fellows. The one who was possibly Canadian looked over.

"Where're you from?" he asked pleasantly.
"Toronto."
"A fellow Canuck! I'm from Calgary. Care to join us?" He made a motion with his hand at the extra stool at their table.

I got up from my seat and walked over to them.

"I'm Terry, and my friend's Zarko. He's from here. So, what brings you to Belgrade?"

"I'm Louise. My husband's here on business. I'm making use of the chance to do some sightseeing. Actually, I'm taking a walking tour of the monuments in Belgrade, with the help of my guidebook."
"This café is a real monument," said Zarko. "The Serbian Prince Milo_ had it built in the nineteenth century. The church officials from the cathedral across the street objected to its name, The Cathedral Café, so the owner put up a question sign until he could find another name. He never gave it another name. The question mark became the café's name. I tell you, this café has survived numerous wars and atrocities. If it could speak, it would tell terror tales of foreign dominations and domestic unrest. It's a testament to Balkan history of the last two centuries. To me, this is a monument in the truest sense."
"It sure is. And it's still serving its original purpose after all these years," I said. "I'm on this monument walk because I want to have a feeling for the place and learn about its history and its people. But I'm afraid these days, local people don't always know why a certain monument's there or what it commemorates." I was wondering just how many local residents knew of the reason behind the Menorah in Flames, or The Victor, or the bust of Ivan Kosančić.

"No matter what, monuments are here to stay. I wish you luck in your walk," Zarko said. "And remember, some unforgettable monuments were not intended to be."

"Like this kafana," I said.
"Like this kafana," echoed Zarko, nodding.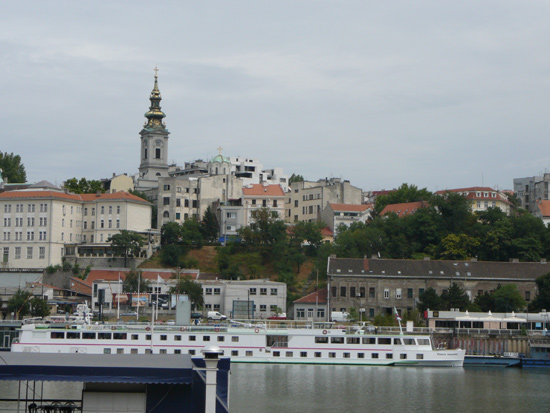 An undeniable, assertive presence
I soon continued my way and combed the main streets of Belgrade. Kralja Petra, with its Renaissance-styled architecture, was the scene of 19th-century elegance. It ran into the busy pedestrian street Knez Mihailova, lined with turn-of-the-century buildings, many of which housed shops selling designer merchandise. The street was crowded with serious and window shoppers alike, as well as tourists heading briskly toward Kalemegdan Park and Fortress at its north end. Lucky for me, Belgrade was a city easily accessible by foot. I became a part of the city crowd, but what distinguished me was that I walked at a much slower pace than most. I soon learned that the only way to survive crossing one of the city's wide streets was to take a subterranean walkway, usually lined with stalls selling sundry merchandise, and re-emerge on the opposite side. Yet even in the midst of the hustle and bustle of Belgrade's administrative and commercial hub, the monuments remained an undeniable, assertive presence.

I balked at the sight of a little dog desecrating the Monument of Gratitude to France — a bronze female figure in a flowing robe, brandishing a sword, situated on a high pedestal at the entrance to Kalemegdan Park. It symbolized France rushing to the aid of Serbia in the First World War. I cringed in disgust at the garbage and litter stuffed into the hollow center of a life-sized bronze figure of Serbian Romantic writer Djura Jak_i_, seated in a leisurely pose in front of his house in the pretty Bohemian district of old Belgrade. And what about the bronze statue of Vasa Čarapić, a hero and martyr of the First Serbian Uprising against the Turks? One of the statue's pointed peasant shoes had become a convenient hanger for a road worker's jacket.
Sobering reminders, new beginnings
Finally, I was ready to call it a day. As I headed toward our apartment, I chanced to pass what was left of the transmission center of the Belgrade Television complex. Its bombed-out ruins showed a cross-section of the floors, loose bricks, twisted metal, exposed pipes, torn roofing, caved-in walls, shards of building materials, and possibly human ashes.

"NATO did it," a local passerby said to me as I took aim with my camera. "Bombed so many places." He was referring to the NATO bombings of Belgrade and other cities in Serbia in 1999, over ethnic issues in Kosovo.

Regardless of the who, to whom, and why, the ruined transmission center was itself a monument too disturbing to ignore. The ruins, left as they were the day after the bombing, was not a monument erected long after the event. Rather, it was a real, sad, and sobering reminder of the casualties of war. Some unforgettable monuments were not intended to be.
And my mind returned to the Menorah in Flames, whose image was too painful to recall, too mind-shattering to forget, whose poignant message not only chronicled one of Belgrade's darkest hours, but also touched the very soul of humanity.

Do monuments, whether unintended or purposely erected, signify closure of events past, be they glorious or infamous, uplifting or horrifying? Or do they serve as proud and sometimes cruel testaments of what has gone before? Lessons that can be learned? If so, monuments are not the end, but simply the beginning of a new chapter.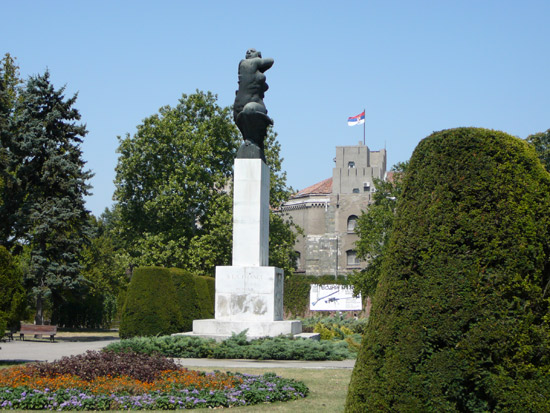 In The Fray is a nonprofit staffed by volunteers. If you liked this piece, could you please donate $10?