Running a dairy farm has never been an easy job for farmers in Maine. The extreme weather conditions alone make the task of raising, breeding, and milking cows a challenge. Mother Nature aside, it is a serious struggle for dairies to stay afloat in today's world of economic unrest and the push and pull of supply and demand. Without bailout from the dwindling fund of state subsidies, small dairy farms may not be able to keep up with their larger, commercial competitors.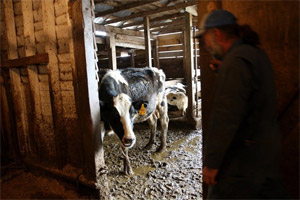 Kate Hassett documents the independent Cunningham Farm, in Waldoboro, Maine.
[Click here to view the slideshow.]
In The Fray is a nonprofit staffed by volunteers. If you liked this piece, could you please donate $10?