Undercurrent
Lean over: there is something I must tell you.
To the current there is a hook, an undercurrent of darkness braided with light.
The bustle you are, somber & vivid.
The little receipt which is old fashioned like the tall laced boot of our town.
The name sticker "Margaret N. Cutt" to whom the used book belonged.
Your language, "O dear," and "quite the town,"
Vivid lipstick out of the forties.
The overwrought city, the muscled imagination.
The bustle in a dress. Free-floating angst in ceiling chandeliers, & the purple sweater I have taken to sleeping in with wool circles like those a child draws on a blackboard, a child of ten:
Filmed
Marcella Goldsmith would understand.
Preparing for the stone city of age, myself I am slowing, never leveling
See in dream
Steps washed over by water,
The thin air of antiquity's room
I reach for every twig for the nest
The storyteller with leukemia habits our planet still
unlike the poet who grieved his wife's death it was years before he habited his own skin.
Landscape tonight fades into Federal gray as I turn out lamps on reading
Knowing I can never have you,
Knowing John Donne's words, "If I dream I have you, I have you,"
Are true & untrue like a bird flying with one wing.
Not bogged down in sateen daughter
Chylde
Sister
But rising
To surge above the plains of rainy Tuesday.
Now will become later         like after the anguish of an infusion
Meantime Lindt Fioretto assorted chocolates
Stand in a round hatbox on my desk
& I start trying chocolate, moka doll hats on
With plumes
The plumes are "chocolat croquant" Caramel & hazelnut
we are two long-legged children in the attic on a dark day
Making lights
Revolve like at the planetarium:
A peacock & his hen:
I am the little drab one
Bringing up the rear
Bustle rustling
Am I the dark one serving the blonde one or are you the dark one serving me?
Roxbury Hall, Mass this would bow me to sateens:
Lady  Robe
I do not often rove but rove now
For whom I leave / for whom I love.
Duvet sale
A four season 550 loft power goosedown
Blowout                        Price-Slasher
"Sweet Dreams"
Dare I imagine us under it? How do I write? I open a vein.
Ink barely dry on the death certificate
Sharp as a tack if I'd sat on you in life I'd have bled:
This way it's an uproar, an otherworldly bed:
Dream up a pillow fight, Paul Bunyan daughter
Feathers aglow an albino snow blown in a fan: I'm yours. You're down:
Four posts, gold maple bedsteads:
Cold polishes lenses & silver pen nib
From swan.
No swan, tall woman, yet egret feathers would look good upon
A hat you wore tearing at drabness like a lion with roar:
Cape
Flung over shoulder with that bravado of a very large woman.
Just a touch of mascara
Diminishing such mirth would be
Like cutting off the hands with a blowtorch.
That touch
Is over the top
Too little
& too much
The way Sappho's odes
Were unbearable
Yet not enough.
My shower restores me
Between bouts of loneliness
(Which strike now I am laid off work with a broken ankle)
Its colours sepia, silver salts, gelatins like an old photograph turned liquid
But its script is virginity: non stop
Vocal chords closing down.
Only two globes back
(Two "Globe & Mails" that is)
I received accolades:
Now, although I trace the alphabet faithfully with my wounded foot as the doctor tells me to, there is no full telling this thing, this loss.
Now in this gray convening
I pleaded with the covenanters
To move be in a New York moment
So I can be held with the wild language again.
The Lord of Diminuendo
Has come
Those small footsteps
Insistent
As the rain
Colours sweet
But so saturated
With the approach of spring
Like Leonardo's Adam & God almost touching hands.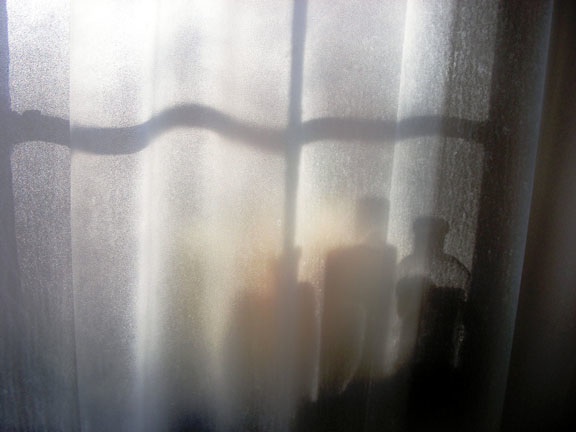 In The Fray is a nonprofit staffed by volunteers. If you liked this piece, could you please donate $10?