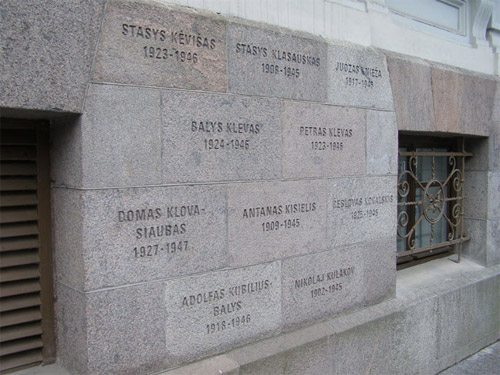 In the nights before, fear moves in like a heavy blanket. I sweat through the insomnia, become aware of surges of blood, a banging in my heart.
I will go alone with a backpack, crammed with clothes that can be layered in unpredictable weather, notebooks of various sizes, an iPod with audio books, and one pair of carefully selected shoes.
On the way to the airport, my hands shake. I will them into stillness by shutting out thought. I am all body, moving through space and time, strong with my pack riding behind with everything I imagined I would need, to a place I know almost nothing about. I go on impulse.
Morning in Frankfurt I half-sleep on an airport bench, with my head on the pack and Tolstoy's sentences unwinding through my earphones, my eyes pulsing with exhaustion. Two men stand in the hot light coming in through large windows, and they light cigarettes. I watch smoke leave their mouths as they speak in a language I don't know, and the smoke becomes the image of unfamiliar words — sound, sight, and smell curling and rising.
On the plane I let the sound of Lithuanian come over me, like drapes, I think. I am closed inside and it is dark, and when I peek out I am seeing Lithuania for the first time. Trees at twilight. They are pines. Will I learn what they are called? Will I know their name in Lithuanian?
How did my friend say it when I said where I was going? Searching for a mystical genealogical connection, he said, and we laughed, though in different words that may be what I want.
The darkening city, the black silhouette of the TV tower. Grayness seems to rise out of the streets. Graffitied walls. Factories and smokestacks. Corner gas stations lit like bright rooms in an otherwise darkened house. I want to be invisible, to put myself in a place I have never been, to be far from America. Hitchhikers at night on highway AI outside the city wear open jackets, small backpacks hung over hunching shoulders. They seem a sign of my restlessness, my desire to be out under the actual sky. I want beauty. I want difficulty. At roadside cafés under yellow awnings, night travelers tip back in their chairs or lean in close at small tables. I want to know what they speak of. To know the look and the smell of them. To ask questions. To get close to Lithuania, the Lithuanians, their language.
Midnight on the north side of Klaipėda I go to bed in the rented flat, through double doors with stubborn locks, in a room where the air holds still, silence filling the space like water in glass. I lie there and begin a sleep that will last through the night and into the next midday, my sleep deepened by the other sleepers, hundreds of us inside these old gray Soviet buildings, shoulder to shoulder, almost near enough to hear the waves of the Baltic Sea and inside an old soul of Lithuania.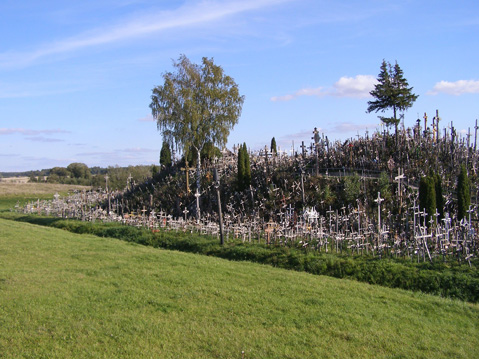 The peninsula dangles from the Lithuanian coast, curving out as if fluttering in wind, narrowing at its bottom, enclosing to the east the waters of a lagoon, while on the west the Baltic washes its white sand. This is where I begin. Not inner-country, the map I had studied again and again, the highlands in the east and lowlands in the west, the rivers draining down into the big valley of the Neman.
Out here is an in-between place made of wind, moving sand, and reforested hills, a place for the sunrise and sunset, of solstice celebrations. On Witches' Hill, near an oak sculpture called Egle, Queen of the Grass-snakes, my daughter, who has been absent from my mind, suddenly fills it. Will she ever see Lithuania? Will it matter to her as it has to me that generations ago our family came from here? She is so small still. She misses me, I can feel it.
Here is the hill where Thomas Mann stayed in his summer cottage, looking over the lagoon, writing Joseph and His Brothers. How tall were these pines then? Could the great writer see into the water?
I can be the nobody I can't be at home. No one speaks in English. Words tickle across my hair, my neck. Get what I would like and need by pointing and gesturing — the glass of Švyturys beer and cepelinai, a zeppelin-shaped dumpling stuffed with meat. Small words of an in-between language form in my throat. I am making sound but not language.
I didn't quite expect to be a wife. Never a mother. I became those things as they met me, inventing as I go. Teacher, yes, I expected because of the familiar, what people in my family did, how they made their living. An American Midwest family staying in one place. Had we been there forever? There were whispers of travelers, stories not wanting to be told, counterpoints to sunlight and rich farmland, sports, church, and savings bonds, fixing up the house you were to stay in always. But there were leavings, darker places. Travelers on the forested margins.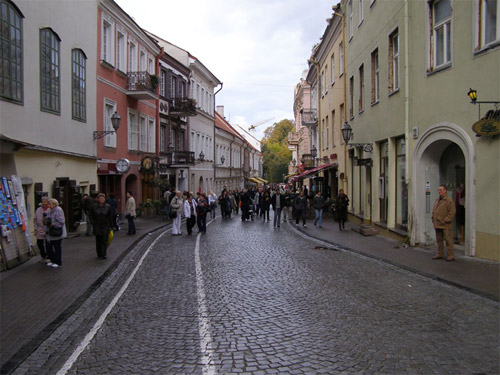 On Parnidzio Dune on the peninsula, a panorama: the lagoon, pine forests, and the moving dunes rolling down to the south, toward Kaliningrad, a piece of Russia retained on the Baltic. I trade watching with the Russian watchtower that rises from a dune on an equal high point. A historical sign in poor English tells the story of the Valley of Death below, where French prisoners died in the sand.
When the eye takes in this much, the mind slows to one frame at a time. Sundial at hilltop, scrubby bushes held secure by mesh frames placed for reforestation, the villageness of Nida, salmon-colored rooftops. What could be seen from the watchtower? Would a sustained focus see the sand re-form, the borders shift? Over there, the moon lifts up. It is half with the light of a full.
First look at the countryside outside Klaipėda. First thought, familiar. Any Midwesterner would know this place, its fields, its wooded patches along small creeks, its farmhouses or small settlements of family homes. But what is this? An enormous gray building with broken windows? Is this where Russia used to live?
Church of the Annunciation in Kretinga — I am seeing from a distance, seeing the church building as Renaissance art, seeing the friary that had been closed by the Soviets and not so long ago returned to the Franciscans. I am giving money to the beggar woman with her knees bent on old Styrofoam. I am buying a rosary from the stout vendor shaped like my grandmother. I am dipping my hand in the holy water, sign of the cross, genuflect, sit in a pew and can't see, go to the front, I am showing off. I am at Mass in Lithuania and I feel at home — I know this church. Moment of boldness. The little Catholic girl in me goes down on her knees in front of the altar, having a religious experience. As the priest comes up the aisle, I quickly move to side-facing pews in the transept and kneel a long time, wooden kneeler, like penance. The Mass grows packed, people coming in late — they are sitting on the floor, on the back of the altar. Little kids, running around. Someone answers a cell phone. It is a free-for-all. I follow along, at the Our Father turning my palms up with everyone else and praying in English quietly beneath their Lithuanian. People leave before communion or stay in lines, moving quickly, flat screen TVs fixed above the outer aisles. In bed that night I will think of the Franciscan monks, their smooth skin, their movie star way of running the Mass.
In the countryside of Lithuania, farming is 50 years behind western practices, maybe a hundred years too old. Wooden wagons, old single seat tractors. Fields sparely planted, as though a hand lightly sprinkled seeds, unlike my homeland with machined furrowing and overflowing crops. No fences. Cows are tied one at a time, grazing a circle around themselves. Open fields transition to dead and dying Soviet imagery, villages organized with blocky complexes for living, working, and farming. Here and there, a watchtower.
At Šiauliai, the Hill of Crosses is a small mound overlooking the Kulpe River, a creek really weedy, shadowed by hundreds of thousands of wooden crosses and rosaries — a tribute to people killed and deported, a pilgrimage, a folk art nature installation, crosses for everything, all reasons, people fall to their knees. The Soviets razed everything but the crosses kept coming back. On the wooden altar where the Pope said Mass, I trip on a rotting plank. Sun, voices in different languages — it is a roadside attraction. Car licenses from Estonia, Latvia, Sweden.
When you would want language to say something literal, you would want to be able to say what this hill looks like. A photo maybe … I take 20 and they all look the same — spiky, weathered, gray, same shapedness, crosses and rosaries. Metaphor maybe, like stars picked out, and shaken up and compressed in an empyrean hand, then spilled on a hill in Lithuania.
It was not so long ago the Lithuanians of my family lived here, emigrating to the American Midwest and living among other Lithuanians, speaking the language, going to Mass at St. Casimer Church. Stanislovas and Agata Uselis, in the South Bottoms of Sioux City, Iowa, work up the dirt of the backyard, plant fruits and vegetables, raise chickens. Open a boarding house, a tavern. Three children. Is this a fulfillment of the dream? Is this what they expected to find? They work in dust and dirt 5,000 miles from home, among people of many languages.  Nearing retirement, they move to Omaha, Stan's mind weakening, body giving out. They say it is hardening of the arteries, and then he is impossible to live with, running away, fighting, not making sense. Committed to Lincoln State Hospital, dies there. Agata, now Agnes, moves in with her middle child, Anne, a young widow with a son. These women remain strong, earning money, keeping their yard, fixing their house. Alone they raise the little boy who will become my father, teaching him to pray in Latin and feeding him cabbage.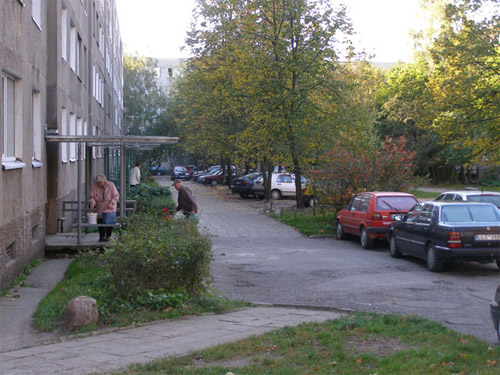 Palanga, coastal resort. Black-clad Euro boys are so drunk it is frightening, their skinny legs wobbling and their feet in fancy narrow shoes, going every which way as they try to navigate sand. Old couples hold hands. People my age walk their children around, happy — this is how to vacation. I have done it myself. I have owned this kind of happiness. My husband, a hemisphere away. My love poem would name global parallels, measure our distance. Our patterns repeat. The surf freezes my feet and ankles, soaks the bottoms of my rolled-up jeans. In a hidden spot in a dune, I unroll the pants to let them dry, arrange around me a barricade of my belongings: map, shoes, notebook, and jacket. Far away, the barricade of my house, job, friends, family. I shake beach glass in my hand, picked to add to my daughter's collection.
What am I looking for? And the next question comes like water. Am I looking for the father? Am I looking for God?  Something has known all my exteriors. The Baltic Sea, with its small persistent waves, today looks smooth as if it skims a submerged, flat surface.  The sun is searing and hurts my eyes.
At sunset, a hundred of us gather on the pier and do not look away until the red orb of sun is gone. I will walk the streets to the Café Cuba and eat a bowl of tomato soup with a coil of soft sour cream. I will eat a salad made of carrots. I will drink one glass of wine and eavesdrop on the English-speaking tourists at the next table.
In morning, as I wait for the Klaipėda bus, an elderly man, cane, overcoat, tweed hat. Speaking all the time, he lowers his 6-plus foot frame into the seat across from me and removes his hat to show thin wisps of hair combed over. When he notices my silence, I speak my memorized phrase, nekalbu lietuviškai, saying in Lithuanian I don't speak Lithuanian. He smiles and leads me with sound so we speak of the sea, my glass of water, his snack of a peeled potato with thin sour cream like skim milk. His name is Stanislovas. When we leave the café, he accompanies me to the bus station, and I could take his arm, gentleman of Palanga. He is a man of language as old as the sea.
Grandmother, why did your parents leave Lithuania? She answers right away, turning angry eyes on me. Well, why do people come from Ireland? In a gentler tone, she adds, They were looking for a better life, and they found it. That's all. She was stern about looking into the past.
The question never comes up between me and my father, hangs unspoken between us. I would not know how to ask, and for him, the few words he has offered of where he came from have already been said. He is a man of present day, of raising kids, of working. Don't use words if you can avoid using them.
Photo albums and history books. I stare at pictures of family women and other Lithuanians, looking for signs of my own face. I seem to be there, especially in the bodies — the big shoulders, the chests that widen.
Always good with maps, but here the scope is confusing, time and shape seeming to contain impossible juxtaposition. Am I here already? Old Town in Vilnius. Senamiestis. Extravagantly beautiful and dense with churches, ideas, art, history — too much for me, my first large European city, my first try at touring a place this old. The medieval streets make no sense, too narrow to see beyond, their pattern all a series of curves and angles. At the tower of the Higher Castle on a hill at city center, a headache pounds my eyelids, my mind grasping at everything and nothing.
Think river. Confluence of the Vilnia and Neris. I walk to the riverside, collecting the waters, the look and the sound, as I have collected waters of many places. There is a man on the banks of the Neris, working a wire in his teeth, bending or straightening it as a fishhook. His tackle box is open at his feet, spilling out his equipment. There I am looking at the smallest possible thing, a fishing line, almost invisible, staring until it is all that I see.
In the big city, I am timid. Give me farms, fields, woods. Give me a beach town with taverns. Give me a quiet city like Klaipėda, where lights go out at midnight. But be here, be present. Bring me alive, Vilnius. I won't be afraid.
My rented room like magic behind the solid gray wall and graffitied door, with stained glass windows, heated tile, a large space with bed, couch, and coffee table. Open a window and sit in the easement. The street below is narrow, lined with small cars. A car alarm goes. Another. The car alarm is the national anthem of Lithuania.
A voice in the distance, the voice of a crazy person, roaming the streets. I had seen him out there, grizzled and bent, shouting, "America! America!" like a deranged Walt Whitman.
The days go hour to hour and I mark them with tasks. Wake, coffee, read, buy a belt, buy a trinket for my daughter. Food, read maps. Walk. Figure out transportation. Follow myself on a map. Where now on the roadway? On the train line? Basement of the train station, I stand in line for the stinky closets with their ugly pissing holes.
Tourist train up Gediminas Hill, over Old Town's gentle descent to the river. Soviet barracks perch on the horizon. The Vilnius TV tower needles the sky, the symbol of independence. The Singing Revolution, with people out in the streets singing folk songs and hymns. Two million holding hands across the Baltics. Under the tower, Soviet tanks rolled over unarmed Lithuanians, a dozen dead and hundreds injured. The world would finally see, a station in Kaunas broadcasting all night, the Soviet era ending, and a new life for Lithuania.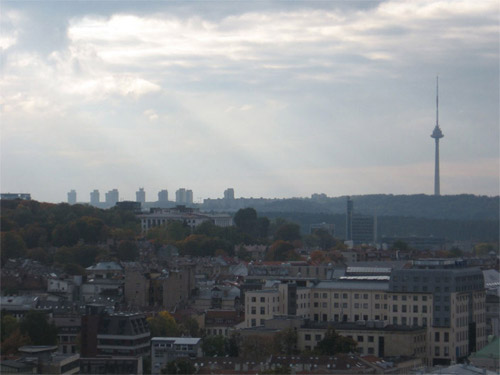 Arrests and deportations, dying or coming back home, met with suspicion. The farmers deported, the intellectuals, the poets. After Stalin, the KGB. These things I am looking at, lingering over, this space the space of those Soviet men, I am breathing their air, I am letting my mind go toward their minds, the long hallways and rooms, an easy place to hide, all the recording equipment. Listening to tapes. Red, so much red color. The Cheka. For the glory of the Cheka.  Looking at the faces of the KGB leaders, arranged on one of their walls, every size and shape, so much sameness in their unsparing expressions. Still, a smile here, a smile there. Did this smiling one act as executioner down below, in the remote killing room? Perhaps he was the one to straitjacket a priest and take him to the water torture room, to stand on a steel circle the size of a frying pan, hours above icy water. Maybe he ordered in another to the whipping cell, unspeakable horrors breathing from its padded walls. In the pissing chamber you can still smell what passed from the bodies.
The Jewish since the 14th century, and by the 20th, the art, the literature, the business and politics, the presence in Vilnius, one-third of the city, the Great Synagogue of Vilna, tens of thousands of Jews, bustling, trading, creating on a Zemaitijos street.
Nearly total annihilation. Two ghettos. Deportation to camps. The killing pits at Paneriai. Over in Kaunas, the Ninth Fort, killing Lithuanians and others from all over Europe. We are 900 Frenchmen, carved into a cell wall.
Now only a small population, the fort, the memorial plaques. In Vilnius, a map of the ghetto. Two Yiddish signs. Hard to find.
I go outside, walk the perimeter. There are low windows above the cells, the imagined person trying to see out into the light. How do we imagine the suffering of others? What voices make it possible to say what we see, to honor what has been lost? What language? I will take words into this moment, and I will tell you that Lithuania is passionate and strong. At the revolution, its anthem said,
There in the city of Vilnius
You will find three trumpets
When you sound the first
Your mother, father, will weep
When you sound the second
The city of Vilnius will rise
When you sound the third
The entire earth will tremble.
It is good to be out driving. It is good to be on a minibus and reading highway signs. Trakai Castle, pretty tourism. Crowds at the turnstile, bodies compressed. In the castle courtyard, sunlight pours like liquid inside the dark walls. The rooms with their exhibits across time, coin treasures next to a computer touch screen, the king's goblet near photos of Lithuanians who play in the National Basketball Association.
There are days when home feels close. Internet café, exchanging ideas with my husband about our jobs, our house. Checking on the girl. What did she wear to preschool today?
Go into a record store. This clerk speaks English, he is my age, smiling so the sides of his eyes wrinkle. An hour I stand at the counter, listening in headphones to the music he brings, the alternative, the ska. I want something Lithuanian. "I have just the thing," he says, and smiles while I smile inside the headphones, listening to an '80s band called Antis, with syncopated rhythm and saxophones. Cool 20-somethings in the alleys of Vilnius still try to sound like Antis.
American Midwest '70s status quo, don't make waves, work ethic, self-reliance but you'd better watch out, don't get above yourself. Oh Lord, I am heartily sorry for all my sins. Cold War kids — what is it we are afraid of? Protected by parents, school, and church. The world beyond our borders feels incomprehensible, is unknowable. When the Wall comes down in my early adulthood, I will hardly understand.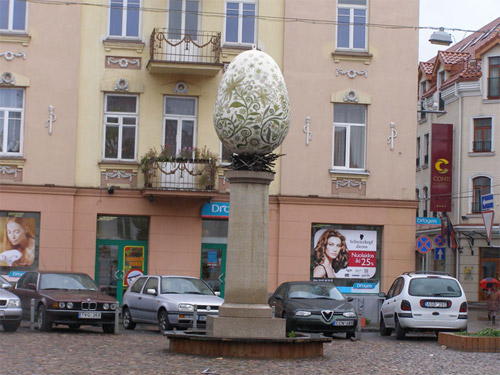 In the street below, Our Lady of the Gate of Dawn — people weep, say the rosary. She is world famous, full of grace, transcendent. The Poles come to see her. There are churches worldwide devoted to her. Mother of God, with hands crossed at her chest, eyes half closed, without the child, with a serenity and understanding for each of us, sinners who need prayer. She has survived wars and occupations, remaining on the chapel balcony inside the city gate, on view for all. She is a miracle.
I go up the chapel steps, kneel before the holy icon of Mary crowned with silver and gold, carved out to show the original paint of her face and hands. Go ahead and pray, but my mind sizzles into stillness. She is so beautiful, I can't find words. Starstruck.
Užupis, neighborhood of artists. Monument to Frank Zappa. Statue of an egg hatched into a trumpeting angel. They have declared independence, have their own constitution. I eat and drink wine. I write in my little notebook, girl scout notes. This spicy lamb soup and Sangiovese.  So good. Geria.
Outside for smoke. Man with bald head, light fur of gray around the sides, ponytail in back. Small glasses with rectangular frames. He smokes with me, moves in on me, hip to hip.  Sizing me up. I don't turn away as he speaks into my ear.
His English is slow, he is Audrius, he is a picture framer. Inside, a friend, Tomasz, the prime minister of the breakaway Republic of Užupis, carries inside his black overcoat the decrees of freedom of his people: the right to have many cats, the right of every dog to be a dog. Tomasz at 6 feet tall, with shoulder-length stringy hair turning under at his collar and cobalt blue eyes.
We talk Whitman and Brodsky, the cousins Milosz. The Beats, they are important here, Tomasz says of his neighborhood. I want to spend days here. Who are the poets of Vilnius? What are their languages? But in the cavina, it is getting late. My wedding ring. Tomasz studies it. Outside on the street we meet young musicians, and girls bounce on their toes and sing.  Tomasz and I lean, backs against brick, as we look up through the narrow lane between buildings to the moon that has just made its appearance. A gibbous. We are talking about life and death, he is speaking of his boyhood in Moscow, he is speaking of time as a continuum, saying he believes in many lives, and the one we are living now is a time among other times. What is unsaid is the suffering that makes his words true. He is a preacher, an inspirer. His hands are soft, a man of ideas.
I believe these ideas. I believe in other lives. Heaven, I believe in that. I have spoken and prayed to people in the afterlife, I see them in my dreams and I believe it is because they are alive in heaven that they can visit my dreams. I believe too that we must listen for other voices, we should be present in the darkness. The moon is a hole in the sky. Pass through the dome to the brightness of the empyrean. I believe the universe pulses with searing white light.
A Czech piano soloist plays Chopin, and he is charming, taking time with the audience, looking up and smiling. At the national philharmonic hall, I am drinking a white wine at intermission, lingering by a pillar, wishing for a companion. Then the symphony, Bohuslav Martinů. I take it in eyes closed, letting it fill me — strings, they have always affected my fingers, music of an orchestra so tactile.
All afternoon on Vokieciu Street the leaves of October detach from urban birches. They brush my arms, land on my Russian notebook like individual ideas. I press them down and trace an outline, like a small child. Like my daughter.
Lietuva, the place I am. This table beneath a gold tent saying "Utenos," a beer of Vilnius.  This cold, creamed beetroot soup, the one spoonful of sour cream blended in not dulling its color, bright pink. I am used to Lithuanian. Euphonious. Its trilled r's and all its vowels, I can hear each one. I can whisper the sounds and imagine speaking this beautiful language. This table, the voices, a baby crying. Gold leaves. Lithuania is a golden place.
I take my trinkets — a rosary, an icon, amber bracelets — take the small words I learned — prašau (please), geria (good), labas (hi), ačiū (thank you). Eat a large meal, drink wine and eat meat. The server is sweet — she looks just like my student Angie, big curious brown eyes. I leave a large tip, getting rid of last litas, my banquet complete.  I will go back to the room with nothing to read, my books left on a table in Vilnius for someone to find, and I will open the yellow Russian notebook and have nothing to say. I go sleepless, my leg muscles in a siege of cramps.
In morning my heart hammers in a long line for my flight, and taking off I look out into the gray start of day, my heart churning now, my mind gorged. I will sleep until Amsterdam, and going back to America watch simple American movies, eat snacks, and move out of my seat only once in eight hours, until the last connection when I transform. I am wife, mother, and teacher. Language boxes my days. I will go on the last flight into Columbus, Ohio, where husband and child wait, little girl clutching the rag doll I had given her the day I left, with her orange shoes and brown yarn hair and hat with a flower. We named her Agata.
The train had arced through the countryside. It left Klaipėda to go east toward the highlands, stopping now and again in a village, letting off and picking up. I followed on my large map, folding and refolding, checking the town names etched in the old stone of the stations.
The pine fields thicken. Coming down from Šiauliai to Ukmerge, little houses keep backs to the train tracks, their yards loaded with fruit and vegetables, vines, flowers still in bloom even now in October. When I pass the ancestral fields of my family, my great grandmother slowly rises. She is a tall woman. Stout. Her face is rounded in every way, ball cheeks, puffy nose, the eyes behind the glasses beneath a thick ridge of brow.
She is holding a large jar filled with cut flowers. She does not hold them weakly, more like a man would, with a bent elbow and grip on the jar's rim, her other hand hanging at her side.  Her scowl means life has been hard, but she is uncomplaining. She loves flowers and colors, and she knows what it means to work. When I look away she goes to her knees and scoops soil into her hands, lifts it to her face, breathes it in.
If I were to feel gratitude, it would be falsified by a lack of understanding. If I were to feel regret, it would come from a craving based on greed. In my family, what I have been taught is the real experience of work and earth, as if always in a field or garden, putting hands into the dirt, making it better, going forward. The parts I can't know, the grandfather's final descent into illness and the grandmother's longing for home, they are like stubborn rocks, erratics in the field.
Stanislovas and Agata, they visit my dreams, real as people I saw in Lithuania, floating past me and speaking an ancient language. Usalis. Usailis. You sail, I think. We sail.
In The Fray is a nonprofit staffed by volunteers. If you liked this piece, could you please donate $10?