Page 1 of 3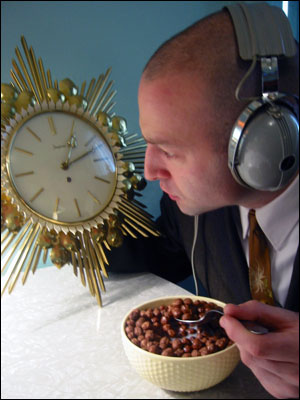 Click above to hear "Eleanor Rigby."
If ever there was someone in need of a time machine, it's Jonathan Jacobs.

Amid the buzz of bar talk and acid-tripping hipsters, Jacobs leans over two Audiotronics Classroom record players, circa 1950. His shaved head and crisp grey suit — and his bulky headphones — stand in stark contrast to the increasingly raucous crowd, which doesn't quite seem to notice him as he moves, trance-like, over the magic machines. It's a Valentine's Day-themed bash in a drafty, multi-level Brooklyn warehouse, and people are warming themselves with $3 Pabst Blue Ribbon and pot brownies. A huddle of especially enthusiastic partygoers plays a pickup game of spin-the-bottle opposite from the corner where Jacobs intently filters through boxes and boxes of weathered albums.

Jacobs, for his part, doesn't appear to notice the crowd either, the blurring eyes and spilling beers and occasional loss of footing. Not even the drag queen in a pink tutu and six-inch platforms or the girl so drunk she's fallen head-first into the spin-the-bottle table can shake his focus. He's utterly entranced by his records, and the world that he's creating. Like many DJs, Jacobs loves what he does but supplements his income with a day job to make ends meet. He takes requests when he spins, because his goal is to understand the vibe of the crowd wherever he manages to line up gigs: bars, cocktail parties, weddings, benefit shows, and most recently, the warehouse rager. But unlike other DJs, Jacobs aims to transport listeners into a totally separate universe. If Jacobs had his way, the year would be 1963, not 2007.
Jacobs, AKA The Vintage DJ, spins an eclectic mix of tunes from the 1930's, 40's, 50's, 60's, and early 70's, all from the original 78's, 45's, and 33's. Sometimes he's accompanied by his dance team, the The Salesmen — two male dancers (actor friends of Jacobs) wearing sharpie suits and carrying brown suitcases. Sometimes he projects montages of old films or live feed of the audience. His goal: to immerse listeners in a dreamlike world, an "audio time warp" that transports them to a prohibition era speakeasy, a roadside juke-joint, a mod London hotspot, or an explosive Afro-Cuban nightclub.
In other words, to take them away from here.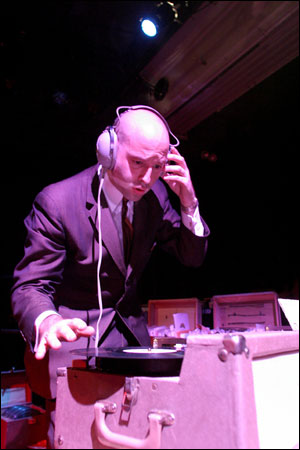 Not just a mac-and-cheese kind of comfort
So who is The Vintage DJ, and what makes him tick? Up until five years ago, even The Vintage DJ himself didn't know. Like any other thirtysomething with a 9-to-5, the former theater major didn't have much time to spend on his predilection for old jazz and AM radio stations.

Then he bought an old record player for his friend James as a birthday gift. The sound in a small room was so amazing that Jacobs began to wonder what would happen if you could have more of the same: preserving the song, but amplifying it. From thrift stores, he bought himself two record players, then four more. Not having any older, wiser Vintage DJs to act as muses or guides, Jacobs forged ahead into uncharted territory, creating The Vintage DJ persona as he went along.

He did know one thing: when he laid the needle to vinyl, "there was a weird nostalgia, and with the nostalgia came warmth, and with the warmth came an emotional response — not just a mac-and-cheese kind of comfort, but something more complete."

Jacobs kicked off his career in 2003 by working a small benefit where he connected the headphone jack into the mixer and played directly off the records. The crowd responded, and The Vintage DJ was born. He hit the streets of New York City on the weekends, when he wasn't working his day job, hunting down gigs. It was summertime, and that made for a lot of sweat, because Jacobs had decided that The Vintage DJ must be properly suited (and hatted, when out on the street). Plus, he had to lug around a record player and a suitcase full of albums. He made a list of the top ten most interesting bars in Manhattan — not because he liked the nightlife, but because that's where DJs do their thing — and went to every single one looking for a chance to show his stuff. But not everyone opened their doors.

"When you create as an artist, you really have no clue how odd your work is," Jacobs says. "People wanted to know if I had a following, which I didn't at the time. It wasn't only risky musically for them, but inconvenient because of all the special equipment and hookups." While there aren't that many technical logistics associated with his craft, Jacobs has had to figure out how to work with different systems. "When you hear a song on vinyl, you're hearing it in a different way," he says. "The sound quality, and the fact that you can see and hold the record jacket, it's authentic, and it is a porthole to the past. I'm playing an object that is 40 years old and has a life. It's a vestige and a relic. And a relic is something that will eventually be extinct, so I'm trying to keep this thing alive, to share it with people in a special way."

The path to fame for The Vintage DJ isn't always easy, although Jacobs is quick to point out that he makes more money as The Vintage DJ than at any of his day jobs. "I'm making a living following my passion, getting paid to be who I really am," he says. This week, however, he's being paid in pizza for a gig he put on for a pizza parlor-owning friend.