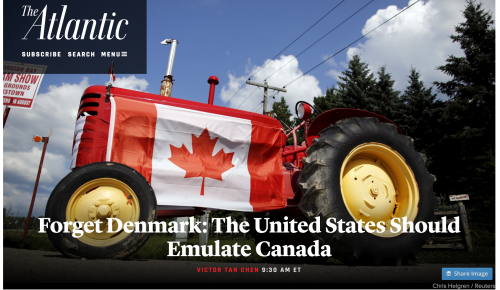 I wrote an essay that appeared in the Atlantic yesterday. Based on the research for my book on unemployment, the piece talks about the debate over Denmark in last week's Democratic presidential debate—and how the real debate should be over Canada:
Clearly, America won't expand its social safety net to anywhere near the scale of Denmark's over the next president's time in office. Judging from their rhetoric in the debate, though, Clinton and Sanders both agree that government can and should play an important role in extending economic opportunities more broadly. Canada's approach to policy shows us some of the practical ways a country can do that—without having to go far from our roots as a New World society of dreamers and strivers.
Today's federal election in Canada should be interesting: will Canada move in the direction of America, or vice versa? (That said, as my friend Barry Eidlin reminded me, the provinces have a lot of say in putting forward policies of their own—to help the employed and unemployed alike—and so some things probably won't change, regardless of the outcome.)
Unfortunately, writing the headline for this post put the South Park song "Blame Canada" in my head. Here is the video, so that you can share in my pain (NSFW, obviously):
https://www.youtube.com/watch?v=bOR38552MJA
Victor Tan Chen is In The Fray's editor in chief and the author of Cut Loose: Jobless and Hopeless in an Unfair Economy. Site: victortanchen.com | Facebook | Twitter: @victortanchen
In The Fray is a nonprofit staffed by volunteers. If you liked this piece, could you please donate $10?