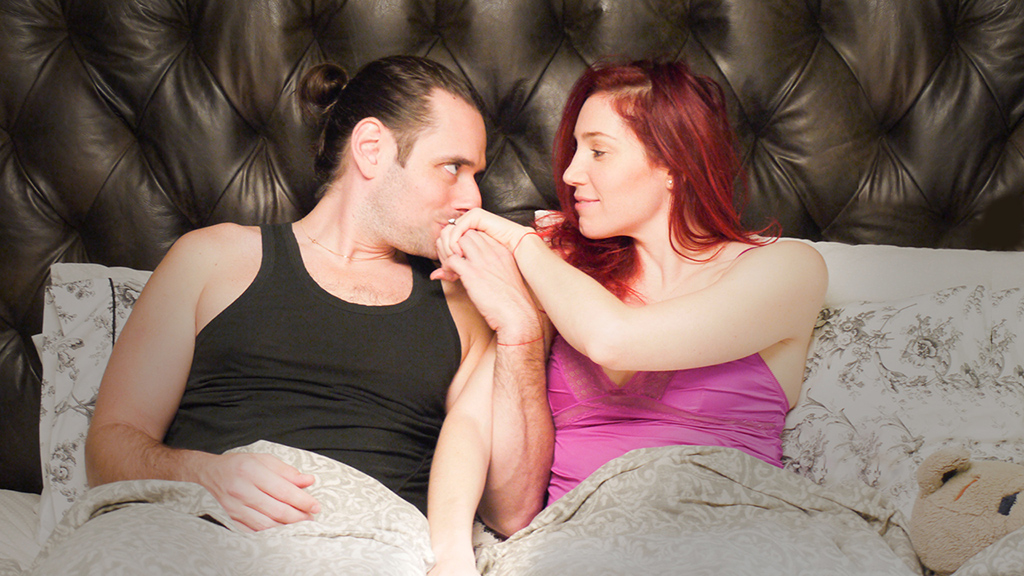 Part of the sweetness and intimacy of
Americans in Bed
, an HBO documentary that airs tonight, is the subtle things you learn when the couples who are interviewed are not talking. It is the silent gestures that matter: the wordless looks, the casual caresses.
In this way, similar documentaries in past years (such as the HBO series Real Sex) are simpler and more simplistic. Rather than focus on the physicality of the bedroom, director Philippa Robinson offers a nuanced perspective on what really keeps people together.
Robinson used the same approach for an earlier BBC documentary called The British in Bed, but it doesn't feel stale. For context, viewers first see a few short lines about the state of our American unions: we have the highest rate of marriage in the world and the third-highest rate of divorce.
Through interviews with a handful of couples at various states of intimacy — boyfriend and girlfriend, domestic partners, married couples — Robinson captures the yin and yang of relationships: the affection and the bickering, the romance and the infidelities. Regardless of their racial, ethnic, class, or gender expression, these couples bring to their love lives a splendid assortment of baggage. Through all these pairings runs a common thread of early passion, too, and yet less certain is whether they each have the commitment to repair bonds broken over time. On one extreme is the polyamorous Leo, a 6'6"-tall man with the looks of a Disney prince, who has broken up with his 4'10"girlfriend Blanca twenty-six times in two years. On the other is Helen and Red, a couple that has been married for seventy-one years.
When couples are talking about how they fell in love and how they negotiate — or fail to negotiate — long-term commitment, the documentary is at its most interesting. The two same-sex couples express the most vulnerability, and their stories end up resonating the most as a result. Linda and Margie hold hands the whole time they're interviewed. Linda describes having a hole in her heart that was filled by Margie, who was married when they first met and subsequently divorced. Her face turns red as she starts to tear up, yet she beams with pride and love the whole time. George and Farid are more subdued. Their love life started with lackluster sex, but as their level of intimacy grew that improved. And then they became parents to twins. This time, it's Farid who ends up weeping, overcome with the love he has for his babies.
While there are moments of genuinely inspiring candor in their interviews, the African American and Latino couples in the film come across as tragically one-sided. The women are faithful martyrs; the men are unfaithful and lack remorse. One couple spends more time on screen bickering than anything else.
But what the film leaves unsaid is more compelling. Robinson turns the couples' beds into background characters — sometimes hosting lovers along with the family dog or cat, and sometimes (tellingly) not. Each couple's body language, too, is instructive. The ones who truly seem to love one another touch while they talk. They stare into each other's faces.
Newlyweds Yasmin and Mohamed are the exception. Shy and reserved, they keep their hands to themselves. But as they open up on camera, she lovingly describes a marriage proposal that took her breath away. At another point in the interview, he speaks, with tears in his eyes, about the meaning of their love. "This is my person now and I am her person. I always wanted a person."
That is the essence of Americans in Bed: we are all trying to find our person. Like the couples in the documentary, some of us have to try multiple marriages to get it right. And others of us are still trying, with varying degrees of success, to love, and be loved.
In The Fray is a nonprofit staffed by volunteers. If you liked this piece, could you please donate $10?