Determined to Find Paradise
A prominent British travel writer advised me several weeks ago to never begin any travel narrative with the destination's airport. But in Sanya, a city in China's Hainan province, its Phoenix International Airport announces the city's aspirations to all its guests. Renovations in 2004 replaced concrete walls with teak paneling, a steamed bun diner with an al fresco cafe, and fluorescent lighting with a Plexiglas roof. Intricately carved details in the airport's design suggest Balinese handiwork, like the carved wood pineapple, twice the airport's height, which looms over the arrivals area. Natural light that shines through the roof's glass slabs illuminates the eager faces of the mostly Russian and Chinese tourists waiting. I sympathize with their impatience. One weekend is all I have to soak up the sun in my bikini while sipping on a tropical cocktail, as a warm sea breeze plays with my hair. Armed with straw hats and sunglasses, my fellow travelers and I are determined to get a taste of tropical paradise.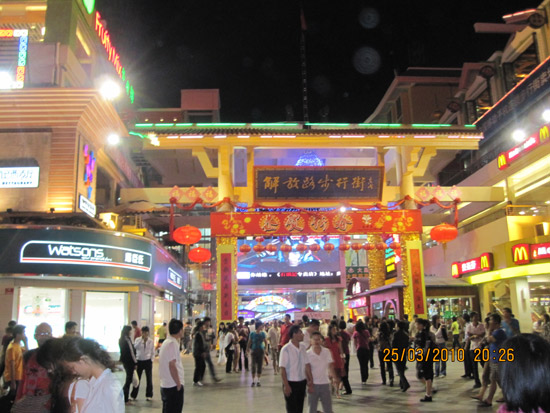 Tail of the Dragon
It is ironic then that Hainan was considered a backwater province during various dynasties in Chinese history. Previously known as the "tail of the dragon," Hainan was a secluded region to which subversive poets like the Song dynasty's Su Dongpo and ousted officials like Tang dynasty prime minister Lin Deyu were banished. Lin once dubbed Hainan "the gate of hell." Away from cities and trading centers, the island was populated by aborigines and ethnic minority tribes who most Han Chinese distrusted and considered primitive. Dense, snake-infested forests, humid weather, and scorching heat made it a nightmare to live in, in an age before bulldozers, air-conditioning, and hygienic precautions helped ward off communicable tropical diseases like malaria. Standing on a beach whose name translates to "the end of the sky and ocean," it is easy to imagine early settlers thinking of this place as the edge of the earth.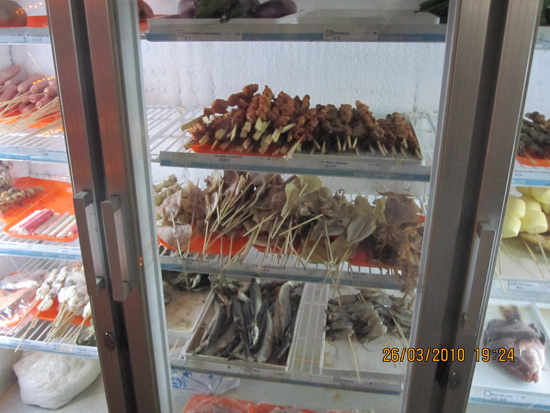 There Is Always Room for More
The Chinese government saw potential in the island as early as 1955, when a Communist Party Committee member called the island "a treasure island." Today, billboard after billboard of glamorous real estate advertisements line the roads from the airport to downtown. The developments have names like Palmera, Twilight Lagoon, Sanya Peninsula Town, South Bay — "Hainan" literally translates to South Sea. Chinese actress and international star Zhang Ziyi adorns one such billboard. "It's my choice," reads the caption under her smiling, sun-kissed face. Closer to the city, shiny residential apartment blocks sprout from the concrete. Most of their units look empty. I ask my cab driver, Sun (pronounced "soon"), if there are more apartments than buyers.
He is quick to respond, "There are always many buyers." Sun is thinking of investing in some real estate himself when he has saved enough. "But it's difficult," he says, "prices keep going up… Where are locals supposed to stay?"
When we reach the Sheraton, he gives my companion, Ray, a card with a list of tourist attractions and his number on it. He says to call him if we leave Yalong Bay to go sightseeing. He can give us a "special rate". We nod.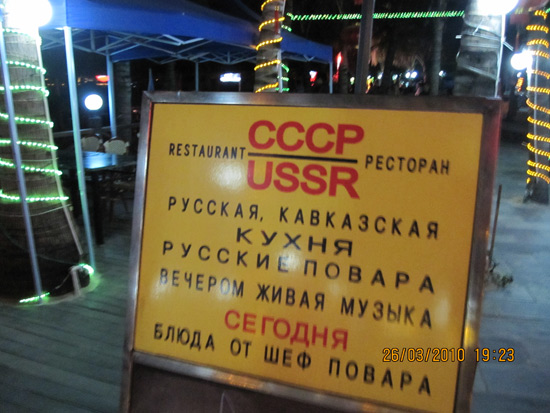 Fitting In
The overcast sky looks unpromising, and the weather is colder than we expected, but we are intent on lounging by the beach as soon as possible. On our way to our suite, we pass a fair-skinned mother and daughter in identical floppy sun hats speaking Uighur to each other. The suite's tiled floor and generous sitting area reminds me of our Westin room in Macao nine months ago. The Chinese flag across from our window flaps in the breeze. Yalong bay's private beaches are exquisite in the way most private beaches are exquisite: clean sand, clear water, designated lounging areas that suggest the hotel guest need do nothing but relax and be pampered.
The Sheraton's stretch of sand is dotted with cushioned deck chairs under umbrellas, and the waitstaff serves cocktails, fresh coconut juice, and a variety of snacks like nachos and Buffalo wings. A Russian couple, one in a black bikini and the other in trunks, are whistled out of the water for swimming in an unrestricted zone. Upon entering the water and walking to knee-level twice, Ray holds his breath and charges into the cold waves. We could be on any beach, anywhere, I think to myself, before a woman with a northern accent rolls her r's at a man trying to take her photograph, adjusting the collar of her pink polo shirt. A Chinese toddler a few chairs down from me leaps from beach chair to beach chair, punctuating each jump with a war cry, to the delight of his grandmother. A family glides past on electric Segways. I wave at Ray and take another sip of coconut juice before continuing to read, curled up in sweat pants and a leather jacket under a beach blanket, a T-shirt over my bikini top. The wind blowing my hair back feels more like a chilly monsoon heralding rain than my much-hoped for warm sea breeze. This is not how I'd imagined my tropical getaway from Hong Kong. My reading is interrupted by a tanned woman dangling a long string of pearls in front of me. She wears black trousers, a black vest over her printed button-down shirt, and a scarf in her hair, unlike the T-shirt and capris-clad tourists around me. She seems to be an ethnic minority; I can't identify her accent. She walks up and down the beach hawking her pearls to supine tourists, exchanging glares with the Sheraton staff, who tell her to leave the area.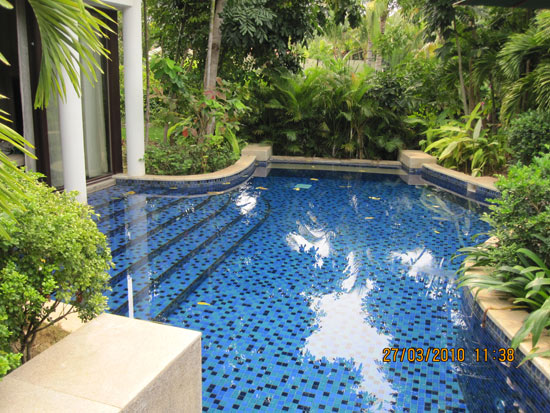 Amalgamation
For dinner, we decide to venture downtown, exiting our tourist safe haven. The city is half an hour from Yalong Bay by cab. We are advised to walk down the pedestrian street off Jie Fang Lu, or Liberation Road. The pedestrian street is busy and neon sign-lined, like Beijing's Wang Fu Jing and Shanghai's Nan Jing Lu. I didn't expect Sanya to resemble other Chinese cities in this regard. Impressed by the number of Uighur Muslim food options available, we feast on lamb skewers, sauteed vegetables, and papaya juice. We ask our tired-looking waitress about Hainanese chicken rice, and she says immediately we are thinking of Wenchang chicken, named after a city in Hainan. According to her, the version of Hainanese chicken rice Ray and I are familiar with, which is from Singapore and Malaysia, also has elements of Cantonese cooking. It seems she has answered this question before. She speaks to us in the same accented Chinese the peddler of pearls used, and talks to another waitress in another language.
After poking around a store selling Hangzhou merchandise, Ray and I decide to call it a night and get a cab. We wait five minutes at the bustling entrance to Jie Fang Lu for a cab. Five minutes turns to ten, ten to fifteen. We walk down the main road with our arms out. We wait at the entrance of a pink and orange Bahama Hotel.
Where have all the taxis gone? It seems China's rising middle class. that celebrated target market discussed in business publications around the world, becomes a running joke between Ray and me. China's rising middle class is to blame for the disappointing weather, the greasy food, the noisy construction. We finally grab a taxi dropping passengers off downtown and hurry back into the embrace of our five-star hotel suite, sorry to have ever left.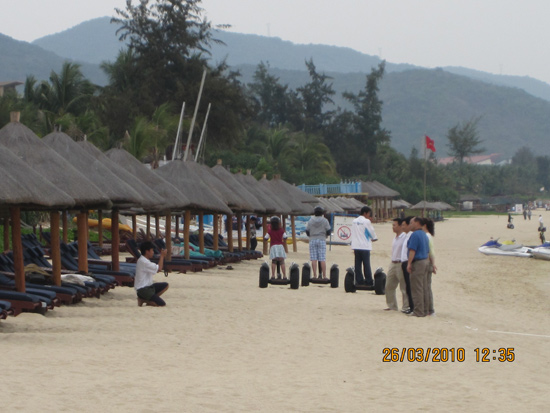 Another Try
The next day, we lunch at the nearby Ritz, where we are given fortune cookies. Having never eaten fortune cookies on the mainland, I break mine open to read the paper strip: "Celebrate a special occasion at Sophia." We find out from a waiter Sophia is a restaurant in the Ritz That night, we stay at the Banyan Tree. Our pool villa's layout makes it even easier than before to spend all day within the hotel's confines, away from the Sanya we encountered last night, the local Sanya with its local businesses and local consumers. We ask the concierge about restaurants and dining nearby. We're told Da Dong Hai has candlelit restaurants by the beach and is good for barbecued food. It sounds romantic. On the way there, we see a green and yellow Subwave Deli sign, an ostentatious building with Roman pillars called Royal International Club, and a surprising number of Cyrillic signs. We step out of the cab to hear a blasting mix of European techno, Backstreet Boys, and Chinese karaoke. "Everybody, rock your body…" Music emanates from a fun fair, which consists of a Viking ship, a reverse catapult,and apprehensive tourists lining up to try a ride called "Crazy Wave" that looks nauseating. The announcer's voice drowns out the screams of roller coaster riders. I can't tell if he is speaking Chinese or English. He sounds like a Chinese rapper.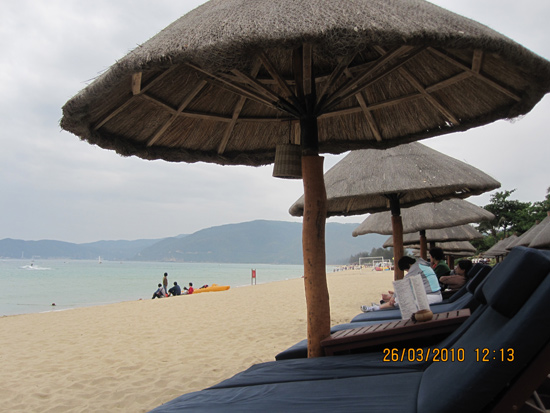 Where Two Roads Meet
We pick the restaurant playing European techno music over the one with a karaoke bar. CCCP/USSR is one of the many businesses in Sanya that caters to Russian tourists. Its signboard and menu is in Cyrillic; its menu includes Russian borscht, skewered meat on sticks, and standard Chinese fare. Its unfriendly waitress gets impatient with our indecision. As we vacillate between barbecued lamb and hot plate egg tofu, mosquitoes feast on my legs—I should not have worn dark colors. A series of peddlers wander by. One of them tries to persuade Ray to buy me a bouquet of red cellophane roses wrapped in pink and green tissue paper. "Buy a bouquet for your lady."
When Ray says, "No thank you," she turns to me smiling sweetly and offers the bouquet.
"Pretty flowers for a pretty girl."
I smile back, but it takes a while to shake her off. When she thinks we're not looking, she makes a face. I watch her saunter into the dark. As we tuck into the hot plate egg tofu, a man belts out a Mandarin power ballad from the '90s in the nearby karaoke bar. His tour group applauds at the end of the song. Here, it seems, is where the two Sanyas meet.
The sun comes out on our last day. Sapphire skies remind us why we were excited about our trip to begin with. Instead of deck chairs, the Banyan Tree has beach beds—full mattresses on bamboo frames and gauze curtains. Across the way, in place of buildings or another forested bay, is the horizon, kissing the blue water. The tide comes in. We could be on any beach anywhere, I think to myself. It recedes.
Making a Choice
As Ray and I wait to board our afternoon flight home, a strange melody makes its way through the departures hall. It comes from a store selling remote control cars, bikes, and other memorabilia not specific to Sanya. While speaking to a father and son, the store's sales assistant gestures absently at a Barbie doll seated behind a Ken doll in matching white-and-lime green track suits. They are on an indigo bike with training wheels, which is playing the eerie, chiming melody in a minor key. Round and round they go. The dolls' smiles remind me of Zhang Ziyi in the real estate advertisement, but without the caption that reads, It's my choice.
In The Fray is a nonprofit staffed by volunteers. If you liked this piece, could you please donate $10?