I admit my instinct was to say no when two friends urged me to take a free trip to Israel my senior year of college. I had known for years that even as a half-Jew I qualified for Birthright, a program that uses a combination of funds from wealthy donors and the Israeli government to send young American Jews on a free trip to Israel. But I never thought I would actually go. Raised as a Unitarian Universalist by a Jewish father and lapsed-Catholic mother, I wasn't sure that my self-prescribed brand of Judaism (Passover in spring, Yom Kippur in fall, little prayer in between) made me qualified to claim a trip to Israel as my "birthright." And I was squeamish, to say the least, about Israel's less-than-savory policies regarding the Palestinians. As I explained to my father, "I don't really know if I agree with all of Israel's … foreign relations."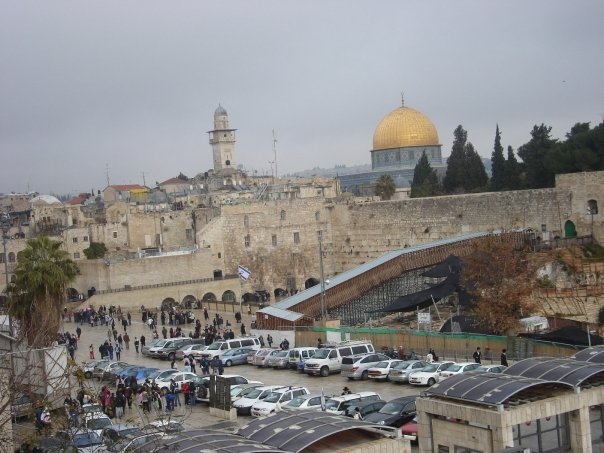 "I think you'll find a lot of Israelis agree with you," he said. "Look, not every American agrees with what the government is doing here, right?"
I tried again. "But I'm not … very observant."
He shrugged. "Neither are they, for the most part." I confirmed this with Thomas Friedman's From Beirut to Jerusalem, a guidebook to the 1980s Middle East that became my pre-trip primer on Israel. Friedman reported that Israelis tend to be more secular than American Jews, conceiving Judaism as a nationality besides a religion. "[The sense] in Israel," Friedman writes, "[is that] the sky is Jewish, basketball is Jewish, the state is Jewish, and the airport is Jewish, so who needs to go to synagogue?"
Somewhat convinced, I signed up for Birthright. I pretended I would play reporter rather than pilgrim, picturing myself as a young, female Thomas Friedman who would jot dispassionate notes on the natives. Friedman, though objective in his coverage of Israel and its neighbors, is also Jewish, and, as it becomes clear in his book, viewed Israel as a possible prism through which to understand his own background. I wanted this too.
The much-feared test of my Jewishness came right at the beginning of my trip, when an Arkia flight attendant asked me for my Hebrew name at check-in. "I … I don't have one," I stammered.
She raised an eyebrow and asked softly, "And why is that?"
"Because … I didn't make bat mitzvah," I bumbled, unwittingly compounding my sin, as Hebrew names are given at birth. She scribbled something in Hebrew on a sticker and slapped it on my passport, then gestured me toward security. I stalked off, flushed and wondering if my passport now bore the Hebrew for "stupid goy."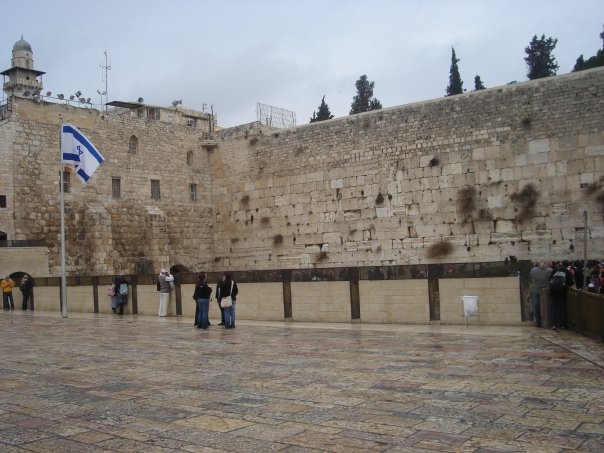 I was even more determined to "catch up" with the "real" Jews. During a stretch of insomnia somewhere over the Atlantic, I spent a few hours learning the alefbet from my friend Jordan. By the time we landed in Israel, I was sounding out written Hebrew left and right, decrypting words letter by letter to anyone who would listen. "Yi-teuh-zu-ah!" I read off a sign as we stumbled sleepily off our red-eye into the Israeli morning.
"Almost. Yetzi'ah," said Jordan, smiling.
"Exit."
"Good!"
Our big orange tour bus was waiting for us at Ben Gurion Airport. We met our guide, Saar, a towering, camel-faced man who sported a full beard and a gnarled ponytail of dreadlocks. The Birthright itinerary wastes no time — our bus whisked us from the airport straight to Jerusalem for a day of touring. On the bus ride, I asked my friend Joelle to teach me the Hebrew numbers from one to ten. We didn't have a pen or paper, so she taught me aloud, repeating the numbers again and again. Outside the windows, a brown land of pomelo and date trees faded into sparse desert and then finally gathered into a low ridge of hills concealing Jerusalem.
"Echad, shtayim, shalosh …" One, two, three … I frowned, not knowing how to say four in Hebrew. .
"Arba," said Joelle, dozing against a window pane.
Just outside the city center, we stopped at an outlook to take pictures. Blocky white buildings crowded the misty hills. The black and gray shapes of squat domes and pointed arches dotted panorama of stone. In the distance, we could see the golden crown of the Temple Mount. It looked exactly like the pictures I had seen painted on plates at my father's cousin's house: biblical. It was the place to which all Jews vowed to return every Passover: "Next year in Jerusalem!"
Then we headed straight for the most sacred part of Jerusalem, the Old City. Its tiny quarters — 0.35 square miles — house five ethnic neighborhoods, a few shopping arcades peddling trinkets, countless archeological digs, and some of the holiest sites in monotheism. Inside its massive, 500-year-old walls, sand-colored arches frame the maze of alleys and stairwells that spill down Jerusalem's steep face, funneling visitors from the modern to the ancient. Feral cats stalk courtyards. Arab merchants hawk T-shirts and pomegranates from tiny shops and stalls.
Saar led us between museums and falafel stands, stopping every 10 minutes to point out this historic tower or that holy monument, punctuating his words with wild gestures from his plate-size hands. "Yeh-ruh-sheh-lai-uhm," I slowly whispered aloud, squinting at the inscription on a Roman-era frieze and realizing, with a tingle of pleasure, that I was reading the Hebrew word for Jerusalem.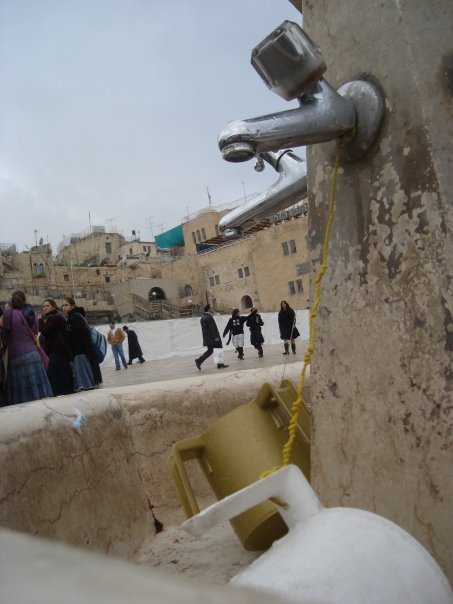 Then we arrived at the Kotel, the Western Wall. The Kotel is all that remains of the Second Temple, the last Holy House where Jews worshipped together as a nation in the days of David. At 62 feet high, it towers above visiting pilgrims, but its 187-foot length is a mere fraction of its original span. The temple was built in 515 B.C. and stood for six centuries until the Romans destroyed it, save its western wall, in 70 A.D. This is why the Kotel is also known as the Wailing Wall: Jews are meant to bemoan the ruin of Judaism's holiest place of worship. Ancient Jewish law decrees, in fact, that Jews should rend their clothing upon sight of the Wall.
Today, only the ultra-orthodox haredim wail and moan at the Kotel, but their long black skirts, hats, and suits go unrent. But ritual still dictates the movement of everyone who visits. The face of the wall is divided in two by a long fence — men go one way, women, the other. I stood at the entrance to the women's side for a long time, staring at the scrap of paper on which I was supposed to write a prayer. Watching the tide of black-robed, plain-clothed, and long-skirted pilgrims ebb and swell around the foot of the wall, I couldn't help but picture the millions of Jews who had bowed, sobbed, and prayed here, whispering prayers in the language still inscribed on the rocks at my feet. Some of those pilgrims, I realized, must have carried the very genes that had gone on to battle their way through pogroms and purges, escaping eastern Europe onto a boat carrying people to America, including my 14-year-old great-grandmother, who never saw her parents again, whose lineage was passed down to my grandmother, who passed it to my father, who passed it to me. They were once here. And now I had returned.
I wrote a prayer on my paper and folded it into a tiny square. I squeezed through the masses and reached the wall itself. The stones were huge, massive, each block as tall as I could reach. I slipped the prayer into a crack, a white speck joining thousands, then touched my fingers to the wall and kissed it, as one kisses a prayer book after touching it to the Torah. I stood for a long time. Then I walked away backward, as one must, keeping my eyes on the Kotel for as long as I could.
I am an atheist. But here, I prayed.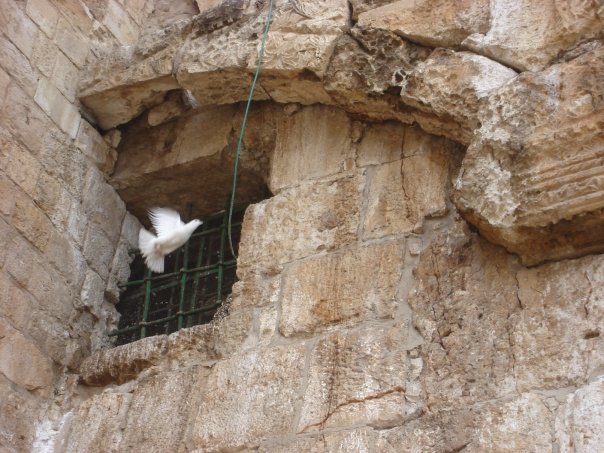 Chelsea Rudman is an international development professional and freelance writer who lives in Washington, DC. Her writing has previously been published in the NY Press and Matador Travel.
In The Fray is a nonprofit staffed by volunteers. If you liked this piece, could you please donate $10?