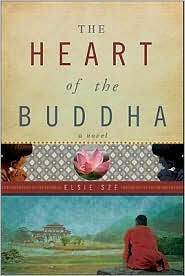 The Heart of the Buddha is a moving novel about a woman who travels to the remote Asian country of Bhutan in search of her beloved twin sister. Author Elsie Sze uses the journey of Ruth Souza to shed light not only on a country that is fascinatingly different from the western world, but also on the Buddhist religion and the relationship between two very different women. Call it, perhaps, "chick lit" Bhutan style.
Ruth's sister Marian is a librarian from Toronto (like Sze herself). She writes regularly to Ruth while working in Bhutan, but disappears after completing her six-month contract. Concerned about not hearing from Marian in over two months, Ruth embarks on her journey. The novel interweaves Ruth's first-person account of her experiences with a "memoir" Marian had written about her life in Bhutan, which is Ruth's "only key to the mystery of her disappearance."
In the memoir, Marian reveals herself as impulsive (maybe an alter ego for Sze herself) and more in touch with her sensuality than the more straight-laced Ruth. She has gone to Bhutan to have "an experience few will ever have" and, on an excursion into the Himalayas, ambles by a naked man preparing an outdoor steam bath. "He had an athletic form, with broad shoulders, brawny arms, a well-proportioned torso: an Apollo in action," she writes in the memoir. She is interested yet embarrassed when she realizes he is a Buddhist monk.
Six days later, they bump into each other under ordinary circumstances (dressed), and while conversing, seem to find themselves falling head over heels for each other. Unfortunately, Buddhist monks aren't allowed to experience carnal love (reminiscent of Catholic taboos), but since the librarian and the monk cannot ignore their passion, they take a secret and dangerous journey into Chinese-occupied Tibet to retrieve lost Bhutanese religious writings in order to atone for the sin that will be committed when he leaves monkhood. The countryside and religion of Bhutan are revealed to us as the memoir unfolds.
For her part, Ruth finds herself attracted to her Bhutanese travel guide. She too tries to deny these feelings, but passion, again, is hard to resist. "At last we were no longer (just) sending signals with looks and touches like high school boys and girls," she says. Marian, who is usually guided by her feelings, becomes more rational, while Ruth, the logical one, becomes more passionate. Sister stories are often tales of integration of conflicting aspects of oneself. As Ruth says, "Perhaps, like the yin-yang circle, we complement each other, and our differences make us whole."
Sze is Chinese-Canadian herself and identifies the sisters as Chinese-Portuguese. She lived in Bhutan while researching the book and lovingly evokes the atmosphere and landscape of the country. Ruth visits a small town to attend a religious event, and she describes the scenery as "golden terraced mustard fields, scattered with farmhouses and prayer flags, sloped down to a river valley. In the further distance were hazy layered foothills ranged across the sky like a blushing dream. A majestic chir pine decked with a white prayer flag at its top trembled by my balcony."
However, the focus is more on the Buddhist religion of Bhutan than its everyday culture. The use of phallic symbols and statues to portray sex in the Buddhist tradition is depicted humorously. Ruth listens to a loudmouthed couple from Texas who describe their experience at a special temple:
"As soon as I walked in, this young monk touched my head with an ivory phallus, then a bamboo one," Marge said, breaking into a brassy chuckle. "At my age, it will take a lot more."
"He hit me with them too. I bet they're more potent than Viagra. I feel I can carry on until I'm ninety," her husband cackled.
Sze suggests that this way of combining sexuality with religion is strange and very different for those who come from the Christian-based world in which body and spirit are separate.
What's intriguing but confusing is that the handsome young monk who Marian meets isn't allowed to indulge when he desires the librarian. Sze doesn't explain why monks can't have a relationship. Is it similar to Catholicism insofar as clergy are committed only to their service to God? Since Buddhism appears to appreciate physical love, it would be fascinating to know why the monks can't express their sexuality.
The parallel stories of the sisters are interesting, but the flow of the story seems a bit stilted. Sze says she wrote this book in English only and doesn't feel proficient in Cantonese. But the book feels like it was written by someone whose second language is English, and Sze's prose has a slight hesitancy. Or maybe the writing style just demonstrates the innocence of sheltered young women as they experience first love. Ah, charmingly shy naïvete!
In The Fray is a nonprofit staffed by volunteers. If you liked this piece, could you please donate $10?