Went hiking near Mount Rokko with the Canadians. Before we were supposed to meet up, Otousan called and I told him what I was doing. "Oh, that's really good; I used to go hiking there a lot." I felt a little surge of happiness as the ties to my father tightened and solidified a little more. It was another clue to who he was, from a source that I had never really had access to.
Near the top of the mountain, I rang a huge bell at the shrine in honor of my birthday. It pealed in a low murmuring ring that reverberated in the spring air.
*
The Bunraku play was The Love Suicides at Sonezaki. Apparently, everyone loves a classic love-and-death story — the theater was packed. The narrator sang the plotlines and the dialogue, stretching the syllables so that they almost seemed pliable. In one of the most famous scenes, Tokubei is hiding underneath the kimono of Ohatsu, his lover, to avoid being seen by his rival. To signal that he is willing to die with her, he presses his neck against her ankle and draws her foot along his neck. Their bodies move slowly, deliberately; his impassive face, white and still, leans wearily against a beautiful vermillion and purple kimono.
*
When he saw me in the café, he had that stunned "oh!" look on his face … not really sure why. It hadn't been that long. It felt weird for about two seconds, and then everything fell back into place, like nothing had happened. Like we were still just those two transplanted Canadians that had found each other.
How was it still so easy to be around him?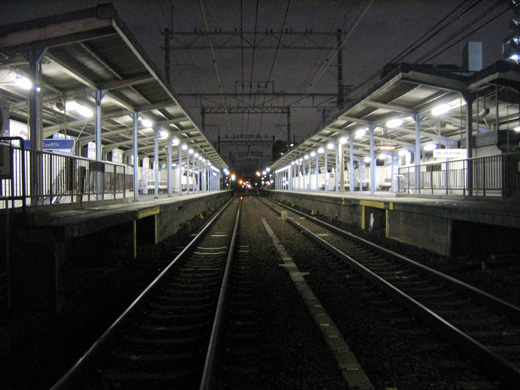 On the walk to the izakaya, he referred to our inside joke regarding my failure to siphon money from him, but in the past tense. We watched the flames kiss the skewers of chicken, cartilage, and pork, and listened to the fat drippings hiss in protest as they were turned quickly on the grill. His awkward attempt at using guidebook Japanese only won him a raised eyebrow and a confused grin from the cook, not the draft beer he wanted. He looked at me, sighed, and chuckled as I requested the beer for him.
Afterward, we walked to the Kyobashi train station. I had to go to Starbucks to use the washroom, so we stopped in the middle of the station's white-tiled walkway, conscious of the negative space and tiny pools of rainwater.
*
Post-dinner, there was lengthy debate over whether to go to the Cavern Club to see a Beatles cover band play, or to Betty's, a drag queen bar. The lads from Liverpool won out. Ni(shi)no and the vice principal, "Chuck," were giddy. I laughed at Nino's excitement, remembering a late afternoon after school when he taught me how to play "Blackbird" on the guitar in an empty classroom.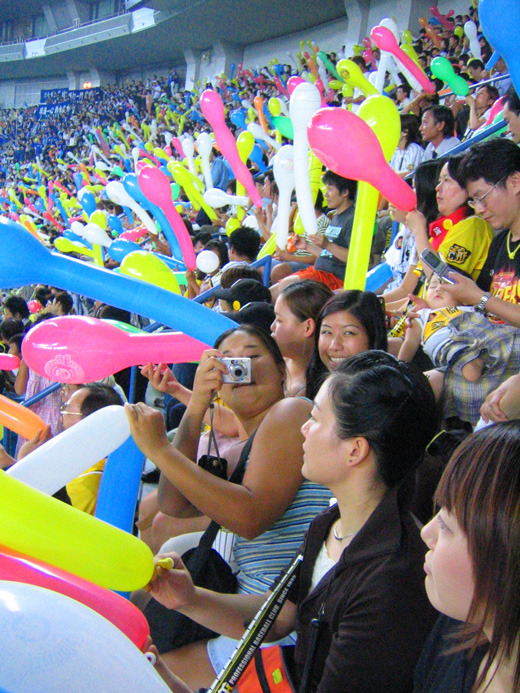 After three sets, we decided to leave, but at the point of departure, Chuck groaned and announced he wasn't going to go home that night. And thus, the all-nighter was born. Chuck and Nino first headed off to a restaurant for more food, and I went to the post office. Nino left the restaurant to find me, and then we got fantastically lost in the dark, winding alleys of a shotengai. I questioned his status as a son of Osaka, and he laughingly assured me we'd find Chuck. We found him, eventually, and he was disgruntled by our lateness. Nino was extra nice to him. Around 1:30 a.m. we left the restaurant. Inspired by the Cavern Club, the two decided they wanted to wail the night away, paying loving homage to "Strawberry Fields" and women named "Eleanor Rigby" and "Michelle," swaying and singing famous choruses in tone-deaf, katakana-ized English. I looked at Nino, his face alit and happy, as he stood with Chuck's arm slung over his shoulder, nodding for me to come with them. I smiled back, and ran to catch up with them.
*
It was loud. I looked over and saw everyone with their noisemakers and bento boxes. The players were really far away, but I could see Tani getting ready to hit. The oen leader was getting ready to start up the cheer, so I picked up my noisemakers and got ready to hit them in time to the syncopated rhythm. With a guttural yell, a voice and body seasoned by years of unwavering devotion, he swooped the enormous Hanshin Tigers' flag side to side, and we stood up, yelling, clapping, and cheering in unison in the humid summer night.
*
We drove up a long and winding road that led us to Mount Fuji's fifth station. By then it was pitch black, and I was feeling a bit sleepy. We had to park about 2 kilometers away from the station. Upon exiting the car, I immediately noticed how much cooler it already was.
At the fifth station, Wayne disappeared, sending Linda on a frantic search. While waiting to purchase a big walking stick, a bunch of guys dressed up in colorful felt dragon and monkey costumes ran into the store. A nice American man took a "before" picture of us, and we were off.
There was a part where the trail became flat ground, and we could see Yamanashi spread out in front of us in an awesome and glittering panorama. So pretty.
Onward and upward!
The rest of the climb was a big, black, windy blur. There were spots where the terrain turned traitorous and treacherous. In some parts I was worried that if I stood up straight, I would be blown off the side of the mountain and die a horrific death. We came to a tricky section of almost vertical rocky terrain, which in itself was challenging to navigate, but dim lighting conditions and a herd of descending hikers made for an even more frustrating climb.
Onward and upward?
Then it started to rain.
There were moments when I had to swallow the urge to cry because there was just no time for that. It's a wobbly feeling realizing that there is no way out. You have to keep climbing, no matter how much you just want to shut down.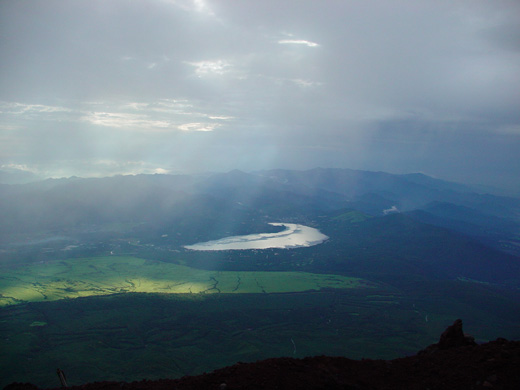 We reached the eighth station around 4 a.m., soaked, tired, cold, tired, and tired. We found Julia, who had arrived about an hour earlier and had managed to seduce most of the staff with her Drew Barrymore-like looks. "You like 'Charlie's Angels'?" "Oh! Yeah, I do …" "You look like!" "Oh. Okay, thanks …!" I fell asleep while sitting on a crate, but was still incredibly cold and dazed upon waking. At that point, I had no interest in making it up the summit. I just wanted to get off Mount Doom, I mean, Fuji …
Around 4:30 the rain stopped, and we headed out, onward and downward. My first glimpse of the view literally stopped my heart. We were above the clouds. It was amazing. I'd never seen anything like it (and probably never will again).
*
i was never good at finishing things.
my heart feels muddled and heavy.
you know those times when you must cry, for your own sake…watashi no tame ni…
but I'm at Kansai airport. waiting for my plane … home…
*
In The Fray is a nonprofit staffed by volunteers. If you liked this piece, could you please donate $10?