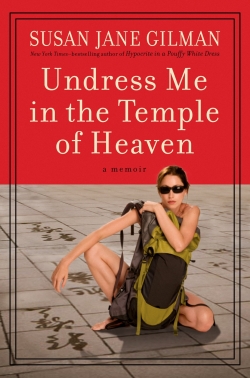 Amid the relative warmth with which China embraced the outside world during the 2008 Olympic Games, it was easy to forget what travel within that country used to be like. Just a couple of decades earlier, China was about as welcoming to foreigners as a Florida swamp full of half-starved crocodiles.
The country's impenetrability, of course, made it appealing to adventure travelers, many of whom turned their experiences into books. One online bibliography published before the Olympics lists no fewer than 14 titles, ranging from Paul Theroux's Riding the Iron Rooster to Colin Thubron's Behind the Wall: A Journey Through China. Now comes Undress Me in the Temple of Heaven, a quirky addition to the genre by a writer who, unlike a Theroux or a Peter Hessler (River Town), was neither a seasoned adventure traveler nor a Sinophile when she visited China in 1986.
In fact, Susan Jane Gilman didn't speak a word of any Chinese tongue, was armed with only a Lonely Planet guidebook, and she and her equally clueless travel companion, Claire, had dreamed up the trip during a less-than-sober 4:00 a.m. meal at an International House of Pancakes (IHOP).
"Neither of us had ever traveled independently before or been to a country where we couldn't speak the language," Gilman recalls. "The farthest west I'd ever been, in fact, was Cleveland. Nonetheless, we became convinced that we should not only embark on an epic journey, but begin someplace incredibly daunting and remote, where none of our friends had ever set foot before … At that point, Communist China had been open to independent backpackers for about all of 10 minutes."
Undress Me is a follow-up of sorts to Hypocrite in a Pouffy White Dress, Gilman's best-selling memoir about growing up with eccentric parents on Manhattan's Upper West Side in which she displayed a streak of self-deprecating, tongue-firmly-in-cheek sassiness. There's plenty of sassiness in Undress Me too, albeit tempered with a sense of the grotesque as Gilman plunges ever deeper into the chaos and unfamiliarity of China.
She gets a nosebleed — and a dose of reality — as soon as she and Claire step off the plane in Hong Kong. "The reality of how utterly alone we were was starting to hit me; the loneliness of it was sonic," Gilman writes. "We could disappear or die here — who would even care? It was, I realize, a Copernican moment. For perhaps the first time in my life, it became viscerally clear to me just how little I mattered, just how much I was not in fact the center of the universe. It was a swift kick to the gut."
The book goes on to describe menacing Communist officials, life-threatening illness and disease, lack of nutrition, a language barrier as large and imposing as the Great Wall itself ("All the signs, of course, were in Chinese … It was as if a computer glitch had converted everything into dingbats, squiggles, and glyphs … It made me feel brain damaged"), and ultimately, a Heart of Darkness-type descent into madness.
Food is always a challenge: "[I]n the poor nation of one billion, the Chinese ate things we average Americans found repulsive. At the Pujiang Restaurant, 'chicken' consisted of feet, necks, and chopped-up spinal columns; 'pork' meant bone shards with strings of fat clinging to them; 'beef' was tendons, joints, and gristle." As for sanitation, Gilman spares no details for those of us who've always wondered what it's like to use a public squat toilet.
The better travel memoirs, though, are as much about the writer's self-discovery as about the discovery of a place. And Gilman does "find" herself through the reflective, red-tinted gaze of China. She shows her inner resourcefulness in an encounter with Chinese officials who come to her hotel room after Claire, stricken with mental health problems, disappears into the Chinese wilderness.
"When a stranger arrives announced on your doorstep in the middle of the night accompanied by the military police, many people, I suspect, would get nervous and demand to contact their embassy," she writes. "I am smack in the middle of a communist country known for its human rights abuses and political torture. Amazingly, in my fatigue and disorientation, I simply wave them inside like the hostess at a Tupperware party."
There's also a hint in the book that Gilman's progression from frightened foreigner to resourceful heroine mirrors China's transition from dark and gloomy authoritarian stronghold to emerging free-market competitor. When she visited the country, reform policies were improving the standard of living, especially for urban workers and farmers. In December 1986, students, taking advantage of the political thaw, protested the slow pace of reform. The backlash that came three years later in Tiananmen Square could not stop the momentum of modernization.
In an epilogue, Gilman evokes the extraordinary pace of change. One woman named Lisa, whom she meets on her 1986 backpacking adventure, was a picture of abject misery, apparently condemned to "endlessly washing dishes for her husband, serving beer to foreigners." But 20 years later, when Gilman revisits China, the same woman "has gone from being a young waitress with a pink hair ribbon to one of Yangshuo's preeminent entrepreneurs. Today she owns and runs two guesthouses and a restaurant, and she and some American business partners are finalizing a development deal for a four-star hotel. When President Bill Clinton came to Yangshuo in the late '90s, Lisa was not only part of the delegation who welcomed him, but the proprietor who served him what he declared to be 'the best coffee in Yangshuo.'"
In The Fray is a nonprofit staffed by volunteers. If you liked this piece, could you please donate $10?