When U.S. President-elect Barack Obama accepted the Democratic Party's nomination, he explained that "we Democrats have a very different measure of what constitutes progress in this country." And that is what the Bhutanese have been working on since the 1970s, when their last king realized that the country's gross national happiness was more important than its gross national product.
It's my first time in Bhutan, but after two days here, I am captivated by the country's beauty and the civility of the people. And as I open a second bottle of Red Panda beer and gaze over the lights of Thimphu, I feel very privileged to be here. Just a few years ago, it would have been pretty unlikely for someone like me from the Organisation for Economic Co-operation and Development (OECD) to have even thought of attending a conference like this. But over the past few years, the idea of developing alternative measures of progress has become close to the OECD's heart. It is work that has been the focus of the OECD-hosted Global Project on Measuring the Progress of Societies for the past three years.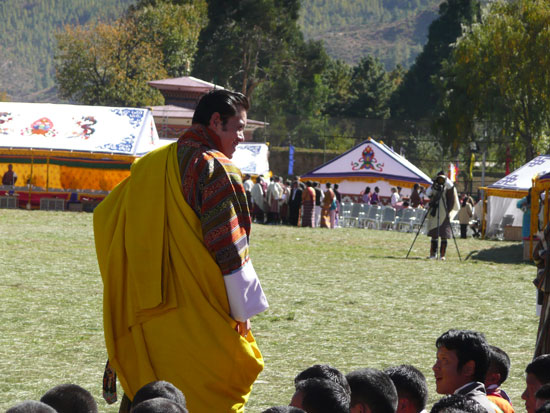 For 60 years, gross domestic product (GDP) has been the dominant way in which the world has measured and understood progress. This approach has failed to explain several factors that have the most significant impact on people's lives. During the last decade, a large amount of work has been carried out to understand and measure the world's progress. The Global Project is the first systematic global effort to "go beyond GDP" by enabling and promoting new ways to measure societal progress, one high-profile example of which is French President Nicolas Sarkozy's Commission on Measuring Economic Performance and Social Progress. The commission comprises some of the world's great thinkers and includes five Nobel laureates.
The Global Project on Measuring the Progress of Societies aims to foster the development of sets of key economic, social, and environmental indicators to provide a comprehensive picture of how the well-being of a society is evolving, and seeks to encourage each society to consider in an informed way the crucial question: Is life getting better?
The Global Project is an international network of organizations from all sectors of society. The main partners in the Global Project are the OECD, the World Bank, the United Nations Development Programme, and the European Commission. Research institutes, development banks, nongovernmental organizations, and statistical offices from both developing and developed countries are also working with us.
The project has three main goals:
What to measure? In order to measure progress, we must know what it looks like, and so we are encouraging debate about what progress means in different societies. The project is developing methods and guidelines to carry out these debates effectively.
How to measure progress? The project is developing best practices in how to measure progress and its component parts, some of which are not yet measured well using existing statistical indicators.
Ensuring that those measures are used. New information and communication technology (ICT) tools offer huge potential to turn information into knowledge among a much broader swathe of citizens than those who currently access such information. The project is developing new tools for public use.
At the heart of the Global Project is the development of Wiki-Progress, a global collaborative online platform that will serve as a hub and focal point of the many existing and nascent initiatives to measure societal progress at national and local levels.
The OECD is among those that believe that grassroots conversations around measuring progress — and the outcomes a society wants to achieve — can change the political debate: They can shift discussion from arguments over the political means to agreement on the societal ends. This also echoes U.S. President-elect Obama's Democratic nomination acceptance speech: "We may not agree on abortion, but surely we can agree on reducing the number of unwanted pregnancies in this country. … Passions fly on immigration, but I don't know anyone who benefits when a mother is separated from her infant child or an employer undercuts American wages by hiring illegal workers. This, too, is part of America's promise, the promise of a democracy where we can find the strength and grace to bridge divides and unite in common effort."
There is mounting evidence that discussions on indicators of progress can foster a sense of what the U.S. president-elect described as "our sense of common purpose, our sense of higher purpose." The OECD is working to promote this approach. And there is much we can learn from the Bhutanese.
Jon Hall is project coordinator of the Global Project on Measuring the Progress of Societies. He presented the paper "A global movement for a global challenge" at the 4th International Conference on Gross National Happiness held in November in Thimphu, Bhutan.
Additional reading:
Measuring the Progress of Societies
A global movement for a global challenge
Papers from the 4th International Conference on Gross National Happiness in Bhutan
A teacher's view on the Gross National Happiness conference
In The Fray is a nonprofit staffed by volunteers. If you liked this piece, could you please donate $10?