Type "green cleaners" into any online search engine and you'll get links to sites giving you "recipes" for do-it-yourself cleaners to brand-name environmentally-friendly cleaners.
Although buying Earth-friendly brands like Simple Green are fine for the environment and maybe a more familiar buying process, they can be much pricier than chemical cleaners.
On the other hand, making your own green cleaners is cheap and just as, or even more effective than, using harsh chemicals — and much better for your own health, too.
There are usually the same natural ingredients listed on most of the do-it-yourself sites:
1) white vinegar
2) hydrogen peroxide
3) baking soda
4) castile soap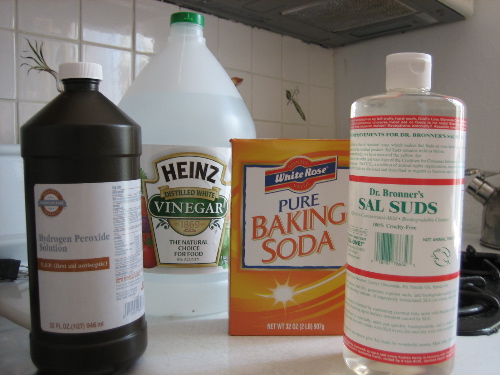 White vinegar has many different uses. Combine it in a spray bottle with water and it's a glass cleaner. It kills bacteria, so it can also be combined with the castile soap to clean countertops, floors, and toilets or to rinse dishes.
Hydrogen peroxide is a bleach alternative and non-toxic to the environment. Anything that usually takes bleach can be substituted with HP instead. HP is also an antiseptic that can clean superficial skin wounds, be used as an oral rinse to whiten your teeth, and work as a hair lightener. Combine it with baking soda and castile soap to clean and whiten the bathtub and sinks.
Baking soda is a gritty powder that can be used in places that need scrubbing. A very effective way to unclog drains is to combine one cup of baking soda and one cup of white vinegar to a pot of boiled water. It will fizz up when the ingredients are added, and that's what will purge your drains of clogs. Pour it down the plugged drain, flush with water, and voila — the drain will be miraculously unplugged. I actually used this as a last-ditch effort on a slow drain that has been backing-up for years. I had been using a chemical unclogger because it seemed so stubborn that only chemicals would unplug it.
Castile soap is a vegetable-oil-based natural soap. You can go one step further and actually make it yourself (there are lots of recipes online), but it's usually reasonably priced. Dr. Bronner's is a good brand that can be found online or at places like Trader Joe's. This soap is used in place of other soaps, like dishwashing detergent, bathroom cleaner, laundry soap, and shower gel. I've read online accounts of people even brushing their teeth with the soap.
Some other green cleaning ingredients (that I haven't tried but are also popular) are lemons and borax.
If you have chemical cleansers in the house, it's best to use them up before you go green — because if you throw them out, it's just as bad for the environment as using them.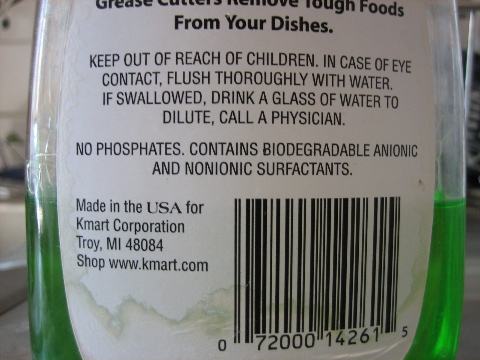 And not all your old standby cleansers are necessarily bad for the environment. Ivory Soap is pretty much natural and not bad for the Earth. Also look for words like biodegradable surfactants — and anionic and nonionic on dish and laundry soap labels.

keeping the earth ever green
In The Fray is a nonprofit staffed by volunteers. If you liked this piece, could you please donate $10?