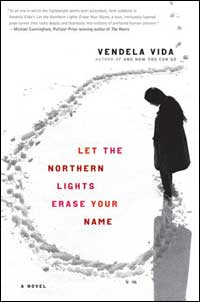 Clarissa Iverton's mother once told her she was named not after Virginia Woolf's Mrs. Dalloway, but Samuel Richardson's Clarissa: "I named you after this Clarissa, with the hope that you'd rewrite history." When that opportunity comes years later, it's up to Clarissa to decide whether or not to take it, in this third book by Vendela Vida.
At 28 years old, Clarissa earns her living editing subtitles, cleaning up poor translations of foreign language films, and fixing other people's words so that their meaning is clear. Ironically
though, nothing can fix the discovery of another man's name where she expects to see her father's listed on her birth certificate. Even more stunning, Clarissa's fiancé admits that even he and his mother had known the truth for years. Never having fully come to terms with the disappearance of her mother, Olivia, 14 years earlier, this fresh vanishing of a parent sends Clarissa into an emotional and existential tailspin.
Adrift in grief and betrayal, Clarissa takes off for Finnish Lapland in search of her real father, the Sami man whose name is on her birth certificate. Clarissa's search within the Sami community, despite her being unable to speak the language, is surprisingly fruitful, but not in the way she anticipates. In a complete reversal, the level of communication between Clarissa and the people she meets in Lapland is light years beyond the depth and breadth of the communication between the people with whom she shares a language, a home — even blood — prompting her to reexamine all she has previously believed about family, community, and identity.
Vendela Vida's spare and concise prose is more like a series of vignettes than a long, detailed narrative. Yet it makes real to the reader the desolation and isolation of Finnish Lapland's geography, of the insular Sami people, and of Clarissa's feelings of aloneness. In spending two weeks among the Sami, Clarissa isn't known as Olivia and Richard's daughter, Jeremy's sister, Pankaj's fiancé; she's half a world away from home and stripped of the identity pressed upon her by those around her.
It's only through reconciling what she's learned about her family history with what she articulates about her own personal history that she can even consider rewriting anything, balancing what her family — her mother in particular — may owe her and what she owes them. Only by fully realizing the truth of who she is and where she is from, can Clarissa transcend a legacy of secrets, betrayal, and grief.
In The Fray is a nonprofit staffed by volunteers. If you liked this piece, could you please donate $10?