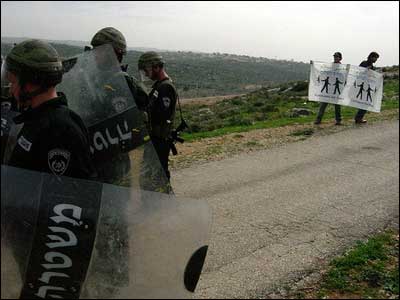 Ashraf Khader's group, Combatants for Peace, brings Israeli military veterans and former Palestinian fighters — people who have actively fought against each other — together to advocate peace.
"After brandishing weapons for so many years, and having seen one another only through weapon sights, we have decided to put down our guns and to fight for peace," reads the group's mission statement.
Combatants for Peace organizes meetings between former fighters of each side of the conflict, protects threatened communities, and presses the Palestinian and Israeli governments to stop the cycle of violence.
Khader discusses the difficulties of renouncing violence in a land plagued by armed conflict, how inciting violence led him to fight for peace, and his group's hope for a politics without militarization.
Interviewer: Anja Tranovich
Interviewee: Ashraf Khader
You've personally fought against Israelis in the struggle for Palestinian liberation. What did you do?

Like many Palestinians living in the West Bank, I threw stones and then Molotov cocktails. I also took part in organizing protests and recruiting people to resist the occupation. Once, the Israeli army caught me and forced me to clean a very long road under the threat of their guns.
But I don't want to talk about what I did in the past, because I don't believe in violence anymore.
Really, you have to understand that in the first intifada, just raising the Palestinian flag could lead to one year in prison. Despair causes many Palestinians to forget nonviolence and revert to armed conflict, with the belief that this will make their voices heard. Some are filled with hate for the Israelis as a result of a lost family member or friend to violence or prison.
Once this is understood, it is easier to analyze hatred, prejudice, and despair. These sentiments grow out of a lack of understanding that there is a real partner for peace on the ground — one that is not represented by either government.
Part of Combatants for Peace's mission statement is that "We no longer believe that the conflict can be resolved through violence." What changed your perspective — from being involved in the violence to thinking the conflict can't be resolved through violence?
Though members of Combatants for Peace paid a high price for their violent activities, both physically and emotionally, they did not witness any change on the ground. The occupation continues, the societies remain polarized, and we realized that we were a part of this cycle rather than part of the solution. Throughout the world, this may seem perfectly logical, but within the context of Israel and Palestine, it is revolutionary.

How did the group begin?
The group began when a group of Israeli soldiers, who refused to serve in the Occupied Territories (refuseniks), and a group of Palestinians, who had served prison sentences in Israel, began speaking about a peaceful solution based on nonviolence and dialogue.
It started in 2004, but remained largely underground until our public launching in March of 2006.
The organization has a membership that fluctuates between 150 and 170 members from each side, Israeli and Palestinian. These members are governed by a 14-member steering committee that is also composed of equal numbers of Israelis and Palestinians who meet in our central office in Al Ram [Israel].
There are plans right now to expand our presence on the ground by creating a number of smaller groups that are geographically distributed in the north [Tulkarm-Tel Aviv], the middle [Ramallah-Jerusalem], and the south [Beersheva-South Mount Hebron]. These smaller, more autonomous groups will meet to decide their actions on a local level before sending coordinators to the steering committee for approval. We envision these groups becoming small, tightly knit, autonomous units, able to understand and react to the particular conditions in their area.
This allows us to expand our presence and visibility, but will also make it much easier for Palestinians especially to attend events in the face of movement restrictions.

Do you work with other groups?

Ta'aeosh [coexistence] is one organization we work with, but we are hoping to expand our cooperation as well; our garden project also has many more partners.
In general, Combatants have worked with communities rather than organizations. This weekend, for example, we are assisting Palestinian farmers in Tulkarm and Hebron with the olive harvest, and protecting them from radical settlers who often attack during this time.

How will you protect them from radical settlers who might attack? Do you go armed?
We don't use violence in any way. We bring Israeli peace activists, media, and international activists with cameras to prevent the settlers and the army from [starting a] conflict.
[Abir Aramin, the 10-year-old daughter of] one of the founders of Combatants for Peace, Bassam Armin, was recently shot by Israeli solders close to her school in Anata. Combatants aligned with other groups and began a project to build a playground in Anata where children can play safely. The killing was a sad testament to the need for groups like Combatants for Peace.
How is fundraising going for the Abir Aramin's playground project?

We are making progress in our first stage of funding, but are very far off from the second, much larger stage.


What do other veterans of the conflict think of Combatants for Peace?
Combatants is a volunteer-based, grassroots organization that depends upon the commitment of our members. This commitment is continually tested by our communities and those who believe that peace is not possible. Members are accused of being naïve, collaborators, or worse, yet we choose to continue anyway. We are able to do so by the overwhelming moral support we receive from the international community that helps to reaffirm our position and assure us that we are not alone.
Is it hard for supporters of either side of the conflict to support or advance a politics without militarization?
It is hard to fight against the perception that there are no partners for peace. Yet our existence is proof that this claim is wrong. Without proving this, there is no reason to believe that peace without militarization is possible. The more our message is spread, the easier our job of convincing people otherwise becomes.

What do you hope will happen in the next five or 10 years in Israel and Palestine?

The end of the conflict based upon a just, secure, and mutually agreed upon solution that is in accordance with international laws and norms … and we hope this happens sooner than five to 10 years down the road.
In The Fray is a nonprofit staffed by volunteers. If you liked this piece, could you please donate $10?