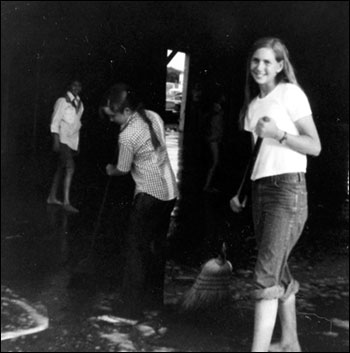 Hey Deb, didn't we love to shovel shit
from the barn, toss it
into the waiting manure spreader
just outside the door, until the barn floor
was clean down to concrete, the spreader
full beyond capacity?
And didn't we compete
over who could lift the biggest load?
The heaviest bucket of water?
The largest bale of hay?
Maybe we did have something to prove
if only to ourselves — two oldest girls
on the farm — preadolescent girls
working like ants —
lifting more than our weight
in whatever needed lifting
and almost always dressed as if
going to the beach instead of the open field.
Don't you think we were stupid?
In halter tops and shorts lifting
huge rocks, boulders really
onto the tractor bucket.
Bruises and scrapes
on our arms and legs? Ever-reddening
scratches from embedded chafe?
Was it worth the deep dark tan?
Or maybe, Deb, the real reward, was the way
dad bragged about his girls — how we could hold
our own, and stick it out till the field was clear.
How we earned a swim in the deep, cold quarry,
or dinner at the Supper Club. How, at the end of the day
we knew what we could do.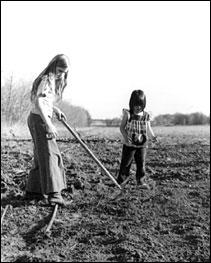 In The Fray is a nonprofit staffed by volunteers. If you liked this piece, could you please donate $10?