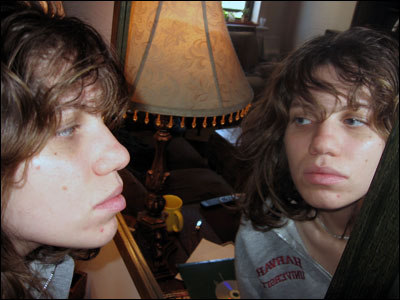 Halfway through my senior year in college, I came down with the flu twice along with pneumonia. For several weeks, I swallowed only Thai chicken soup and soy smoothies that were brought to me while I lay on my dorm room bed, coughing my lungs out. When the illness left, it had done what no amount of dieting or exercising had ever accomplished. I had lost every pound I'd gained since high school — not just the fabled "freshman 15" (okay, more like seven), but also the "sophomore four," the "study abroad six," and the "new boyfriend three."
My lack of waif-like features had been an anomaly at my perfectionist Ivy school, but I coped. A proud feminist, I made a point of carrying my extra weight confidently. I felt as though my dress size separated me from the girls who played into sexist ideals and mournfully poured vinegar over their dinner carrots. Of course, negative body image drove me to distraction in private, but I could never wholeheartedly tackle the gargantuan — and in my mind, hypocritical — task of getting more than a few pounds skinnier.
 
And now I was sure I'd never have to. Back home for the holidays, I tried on my old clothes. My red dress from "sweet 16" parties fit perfectly. My embroidered cowgirl jeans fit, with room to spare. It didn't matter that I would never have occasion to wear these ridiculous things again.
   
I was infinitely relieved. A chapter of my life spent feeling fat — and then feeling guilty for caring about my jean size when there was so much else to worry about — had melted away.
But it was naïve to think that all the emotional weight had left with the pounds. In our society, particularly in hypercompetitive niches like my college, size is crucial to our identities, reaching nearly as important a status as race and gender.
You can't just sneak from fat to thin, or thin to fat.
The first comment I got after my recovery was from a friend whom I bumped into at a late-night campus joint. I was wearing a bulky ski parka, but this girl, who was particularly diet-conscious, saw right through my winter layers. "Oh my god," she said accusingly from across the restaurant. "You got so ridiculously skinny. You must have lost 10 pounds in a week. Or was it 15?"
I was shocked. When I had been on the chubbier side, people didn't comment on my body in front of others like that. An unspoken rule says that small bodies of various degrees are okay to moan over ("I'm so fat!") and compliment ("You're so not!"). But people who aren't diminutive face a damning public silence. I was flummoxed. To revel in my friend's scrutiny would have been impossible: "Thanks, girlfriend. That mucus in my chest really helped create a new me!" But I had been psyched to fit back into that red dress. I felt unusually speechless.
The attention came in a steady parade — some positive, some envious, some suspicious. "You look emaciated," a close friend told me at a party that spring with a disapproving tone that was sounding like a familiar refrain. Again, my body — not my improving health — was being parsed in a critical way.
While once I was concerned about girth, I was now paranoid about girlfriends. I feared that my new size had thrown some secret pecking order off balance — that my friends had counted on my fuller figure and my feigned comfort with it to make them feel better.  Despite my idealistic aspiration toward a "we are all sisters" kind of feminism, my inner voice warned that I might have to get more stupid now that I was thin, or at least act more self-deprecating. I felt like a walking, talking threat to all the women I knew.
Back when other women had championed the South Beach Diet last year, I had scorned their agonizingly achieved slimness. Now their pissy attitudes about my change in size were forcing me to see that our bodies are always battlegrounds.
So I celebrated the "new me" by joining in a chorus of self-effacing comments. I would never have called attention to myself by stuffing a doughnut in my mouth and saying, "I suck," when I was 15 pounds heavier. Now I could do exactly that, and I felt like I was joining a heretofore members-only club. And yes, I felt guilty about it.
But whether my self-criticism was silent or tellingly open, it was still there. Unlike the success stories trumped by women's magazines, we women on all parts of the body-size spectrum still don't think we're good enough. And instead of turning against the society that makes us feel this way, we often turn against the woman who eats an extra slice of pizza or refuses dessert, shops one size up, or is a slave to the treadmill.
Engaging in this perverse group exercise of wailing about our waist sizes doesn't do us any favors. Until we women stop being complicit in our obsession with weight, our relationships will be strained by the relentless need to measure ourselves, literally, against each other.
In The Fray is a nonprofit staffed by volunteers. If you liked this piece, could you please donate $10?