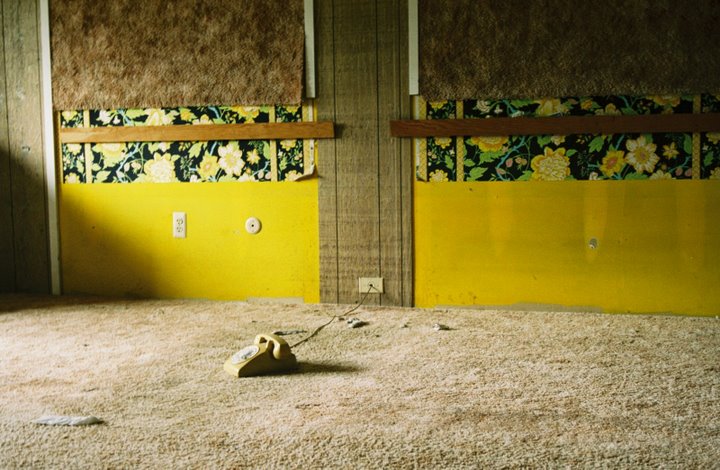 I became interested in these old hotels and resorts last summer, when I visited the Catskills for the first time to attend the Catskills Institute conference on the history of the area. The institute's co-founder and conference organizer, Brown University Sociology professor Phil Brown (who is also the author of Catskill Culture), took participants on a bus tour of the abandoned resorts, and we stopped for a time at the Bethel Sunshine Camp. Brown had secured permission for us all to look around (all of these spaces are "No Trespassing" zones). I was amazed by how much of the interior is intact. The kitchen pantry shelves still have neat stacks of plates, cups and saucers as if meals are still served there regularly. The camp's theater looks ready to host a new production: its stage is bare and clean, and rows of empty seats await an audience. Yet in the girls' bedrooms, peeling paint dangles from the ceiling in giant sheaves of cream or white or light blue and the rusted bed frames stand like skeletons on rotted, fragile wooden floors. In some of the rooms, objects remain, discarded or forgotten: a bouquet of now-shriveled roses, a red and white teddy bear, a track trophy. Here, as in all of the spaces, the few remaining objects make these spaces so eerie and so discomfiting — they disturb not because they are empty, but because so much was left behind.
When I went back to the Catskills this spring (which was actually more like winter — there were snow flurries in the air, and the temperatures hovered in the thirties), I returned alone to the Bethel Sunshine Camp and explored the Pines, La Minette and other abandoned resorts in the area. Near La Minette, a drive-in movie theatre stands empty, its parking lots covered with weeds, its blank screens clean, sheer white. In a La Minette bungalow, children's number and letter magnets lie scattered on a rusted refrigerator, and on front lawn of the Pines, a pillow covered with shards of hay rests on a sea of dried, overgrown grass. Telephones, many with their receivers off the hook and upturned, sit on the floor of every room of the Pines as well as in the lobby, and in the office, overgrown with mold and moss. In these silent spaces, these remains disturbed me the most. It was as if each telephone was yearning to communicate with something and someone who was long gone and could never return. And in this way they stood like stark metaphors for lost communication and time's rapid, constant fleeting. Here and elsewhere, the spaces haunt: stinging reminders of what we lose, what objects and experiences we choose to keep and which we leave behind.
[Click here to enter the visual essay.]
In The Fray is a nonprofit staffed by volunteers. If you liked this piece, could you please donate $10?