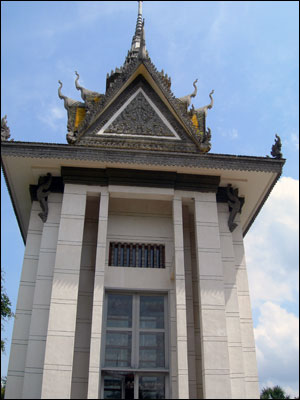 I had come to Cambodia to turn 30. My twenties were not nearly as fabulous as I had planned, and I needed a dose of perspective to shake the decade off. Nowhere is perspective so easily gained as in Cambodia, and nowhere is the Cambodian trifecta of poverty, corruption, and genocide more apparent than in the capital city of Phnom Penh.
After days of trekking around the exquisite temples of Angkor Wat in the northern countryside, Phnom Penh is a shock to my system. My husband and I see kids sniffing glue on the street, white men parading around with prostitutes, and legions of homeless people sleeping and bathing on the banks of the Ton Le Sap. Phnom Penh is a city of non-governmental organization workers, not tourists, and after two days, we are quickly running out of attractions to visit. Only two essential stops are left on our trip: S-21, the prison camp where many suspected spies were tortured by the Khmer Rouge, and the killing fields, where those same prisoners were executed and buried.
When the Khmer Rouge seized power, Phnom Penh was evacuated within two days. Khmer Rouge soldiers, some as young as 11, had the French colonial city at their disposal. They turned mansions into barracks, hospitals into weapon storehouses, and schools into torture centers. One such torture center was Toul Sleng prison, also known as S-21, a former primary school in what had been a quiet, tree-lined, upper middle-class suburb. Today, the S-21 complex is a museum. The surrounding neighborhood is full of barbed wire, stray dogs, and trash-littered gravel roads. It seems sketchy even for a city as lawless as Phnom Penh.
Our guide at S-21 is a quiet woman in her late thirties who lost most of her family during the reign of the Khmer Rouge. "First they killed my father," she says, echoing the title of Luang Ung's haunting memoir of growing up under the regime. The rest of her family was split up and sent to camps in rural areas at opposite ends of the country, she tells us. The guide and her mother were transferred to a camp near the Vietnamese border; they survived by walking to Vietnam in the middle of the night. The guide was nine at the time. She never saw her siblings again.
S-21 is a series of four four-story buildings, which, though worn and weather-stained, give no outward clues to the torture endured by 20,000 prisoners inside. One step into the first building, however, and we are immediately confronted with its grim history. The former classrooms have been divided up into cells, each with a rusty, sagging bed frame. Next to each bed lie cattle prods and other rusty instruments of torture. Fuzzy, blown-up black-and-white photographs reveal how each room looked when the Vietnamese army arrived to overthrow the Khmer Rouge: torched corpses chained to the bed frames, bodies unrecognizable. Wild pigs and rats had already eaten many of the bodies.
Our guide is surrounded by an aura of profound sorrow. She walks into each room, delivers a sentence or two about what happened there, and immediately turns and walks out into the open-air corridor to wait for us. It is as if she cannot handle an extra second inside the walls.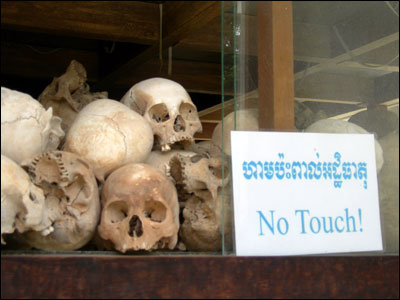 In one cell, the biggest moth I have ever seen flutters about. Its wingspan must be 12 inches, and its brown markings match the dust and rust inside S-21. The moth is eerily beautiful, the product of a warped ecosystem in which pigs scavenge for human flesh and children tote machine guns. I imagine the impossible: that this moth has been around for decades, flitting about this room, quietly watching the transformation from school to torture cell to tourist attraction. The moth reminds me that life goes on, even in the face of insanity.
Our guide leads us to the next building, where hundreds more black-and-white photos of prisoners are displayed. Like the Nazis, the Khmer Rouge kept meticulous records, photographing each prisoner with a numbered plaque upon arrival at S-21. Looking at these photos feels like staring into the eyes of ghosts, each staring back, aware of his or her rapidly approaching death. Out of the 20,000 people housed at S-21, only seven survived.
In the next building, we view an exhibit of present-day photographs of and interviews with former Khmer Rouge soldiers, most of whom are now middle-aged farmers, eking out an existence in the countryside. None of them express regret about their involvement with the Khmer Rouge. Many feel like victims themselves, having been recruited as child soldiers. No one, including these former soldiers, has ever been tried for the atrocities that took place under the regime.
When I ask my guide how she feels about the movement to bring former Khmer Rouge officers to justice, she looks at me with sad, scared eyes and says, "It's very difficult to talk about politics in my country." Apparently, more than two decades after the Khmer Rouge, the walls at S-21 still have ears.
Leaving S-21, we negotiate with a tuk-tuk driver to take us to one of the killing fields — former rice paddies where political prisoners were executed and buried in shallow mass graves. The killing fields are now a memorial, but active farms surround them on three sides. Barbed wire demarcates the farmland from the graves. Young boys stand behind the barbed wire, offering to pose as prisoners for the equivalent of $1. In Cambodia, where the average monthly salary is about $17, that is a tremendous sum of money. These kids — some as young as seven — are already master capitalists. Some tourists take them up on the offer, getting the perfect shot of Cambodian boys standing behind barbed wire.
In The Fray is a nonprofit staffed by volunteers. If you liked this piece, could you please donate $10?