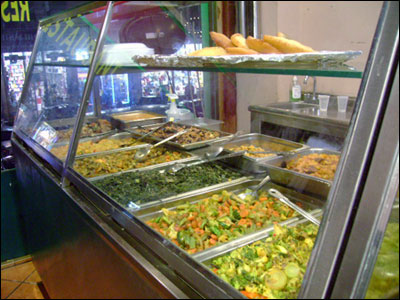 Ashfaq Khan enters Lasani, and heads directly for the restroom at the back of the restaurant, calling out "Kya haal hai?" ("How's it going?") to acquaintances.
The television is tuned to Geo TV, a local Pakistani channel, which is now showing the news, largely ignored by the drivers clustered around the tables, who look up from their conversations only for the cricket scores. In this almost exclusively male, South Asian milieu, cabbies are able to relax, chat with other drivers clustered over the tables, or speak loudly into their hands-free cell phone sets. A Hindi and Punjabi hum washes over the restaurant.
Khan returns with his slow, shambling gait. His middle-aged face is good-natured, open. He lacks the on-the-ball keenness of a veteran driver, having only been a cabbie for two years after a long stint as a parking lot attendant came to an unceremonious end. He picks up his order of chicken curry at the steam table, and settles down by himself to await his fresh naan bread. "Sometimes I call my friends and we eat together," Khan, 40, says. "But I don't want to waste their time. Time is money."
It is just after 10 p.m. on a Monday. Most shops are shuttered, and the crowd that swells the streets during the day is heading home to bed. As business slows down, cabbies begin thinking about dinner. Switching on their off-duty lights, they pull up to the curb along 29th Street between Fifth Avenue and Broadway, where Lasani has sat for a decade now. Restaurants like Lasani are havens for the city's South Asian cabbies. While other busy urbanites spend top dollar to sit at the bars while celebrity chefs ignore them, the cabbie joints clustered around Manhattan's "Curry Hill" in the East 20s, on Church Street near the World Trade Center, and on the Lower East Side opposite Katz's Deli, have cheap food and clean bathrooms — a must for busy drivers. Here, they can exchange juicy stories about goings on in the back seat, complain about the taxi medallion system, discuss the ins and outs of the U.S. immigration system, and know they will find a sympathetic ear.
Khan is no fan of the driving life, but he appreciates the fact that he can set his own pace. "See, right now, I'm hungry, so I come down to eat," he says. "You don't need to wait for a break. You are your own boss."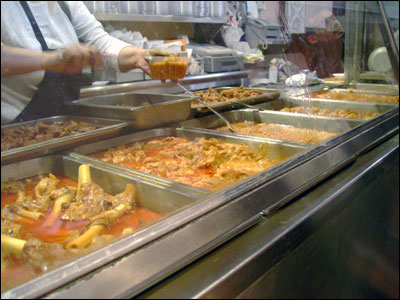 Dreams of home
According to Schaller Consulting, a New York taxi industry research firm, New York's $1.82 billion taxicab industry employed 42,900 yellow cab drivers in 2005, 91 percent of whom were immigrants. A large number of them — 39 percent — came from Bangladesh, Pakistan and India.
The immigrant driver will almost never possess his own medallion — an official permit required by New York State. This piece of aluminum is what separates ordinary cars from cabs. But at $350,000, the cost of obtaining the medallion is often too much for recent immigrants. So, instead of buying, they lease them from wealthier owners at around $700 a week.
While the security and profit potential of ownership is a distant dream for many drivers, the taxicab industry has always been a magnet for fresh-off-the-boat immigrants, offering a ready job and the prospect of take-home cash at the end of the shift for those willing to endure tedious hours behind the wheel. In the thirties, the job belonged to Irish, Italian, and Eastern European immigrants. The eighties saw a wave of South Asians taking the wheel, drawing friends and relatives into the industry in their wake.
"They are often people with dual class identities," says Vijay Prashad, professor of International Studies at Trinity College, Hartford, Connecticut, and author of The Karma of Brown Folk, a sociological study of the South Asian Diaspora in the United States. "They have aspirations." Many cabbies come over as students, hoping to put themselves through school by driving at night, but many years later, find themselves stuck behind the wheel. Then there are cases like the small-scale farmers of Indian Punjab, who had to seek greener pastures when the government's 1980s "green revolution" initiative brought in mechanization and favored wealthy farmers, Prashad says.
Many of these men leave their families behind in the hope of bringing them over when they are able to find higher paying jobs. For most, obtaining a measure of stability can take years. Until then, they drive cabs, share apartments with friends and relatives in South Asian enclaves in Jackson Heights, Richmond Hill, and Astoria in Queens, along Coney Island Avenue in Midwood, and Sheepshead Bay in Brooklyn. They try to stave off loneliness among the comforting sights of sari and gold jewelry shops and with people like themselves. This homesickness leads them to the humble, hole-in-the-wall South Asian cabbie cafes of Manhattan, with evocative names like Pak Punjab, Lahore Deli, and Chutney.
Among these restaurants, little regional touches dictate where cabbies choose to stop. Nuances like the channel playing on television, the newspapers on offer, and the language of banter make these restaurants a home-away-from-home for many drivers.
Then there's the food. Bangla Curry on Church Street at Reade Street, and the Shipa Kasturi Pavilion on Lexington Avenue at 26th Street, for instance, feature a good selection of fish curries, favorites of Bangladeshi drivers weaned on a diet of rice and fish on the Ganges-Brahmaputra River delta. Pakistani restaurants make a fine art of naan bread, and a few restaurants offer only vegetarian entrees, catering to Indian vegetarian drivers.
Some places, like Lasani and Chandni, located on either side of the A.R. Rahman Mosque, enjoy a more diverse patronage. At Lasani, a calendar from the Tayyab Brothers Grain Market in Pakistan adorns one wall. Another bears a poster advertising prayer timings at the A.R. Rahman mosque.
Several times a day, devout Muslim drivers drape their jackets on chair backs at Lasani, wash up for prayers in the restroom, and then go downstairs to the basement mosque. "Then they come upstairs to eat," says Komal Sultana, Lasani's co-owner, who employs Pakistani, Bangladeshi, and Arabic cooks to serve up regional specialties. "That's the most important thing. If they don't get good food, they won't come."
On her steam table, spicy red tandoori chicken (in the authentic style of the town of Lahore in Pakistani Punjab) and lamb gosht keep company with whole fried fish for Bangladeshis, and mild, aromatic squash and eggplant stews in the Arabic style for African drivers.
The spread is tempting, but cabbies have to watch what they eat, Ashfaq Khan says, as he carefully consumes a side of shredded lettuce that most other diners ignore. "If you're gonna be sitting a long time, you get a lot of diseases," he says, echoing the concern of a number of drivers, who, since they have to pay out-of-pocket for health insurance, often forego it altogether.
Cabbie stresses
Khan works for 10 hours on weeknights and 12 hours on weekends — Friday and Saturday nights being the most lucrative for any driver. He pays $700 a week to lease his medallion from a private owner, and an additional $50 a day for gas — a total cost of $1,050 a week. During the week, Khan can make a profit of $80 to $90 on a good day. On bad days, he may break even. Weekends are better, yielding a profit of $200 a day or more.
Even so, it takes two incomes to make ends meet. Khan's Trinidad-born wife is a travel agent, and is gone during the day when he is home. "Sometimes we'll see each other during the weekend," he says as he pops a few candied fennel seeds — an after-dinner breath freshener — into his mouth. "Sometimes I go home early, wake her up, and we talk."
On top of the bad hours, he has to deal with the Saturday night revelers. "They're drunk and spend all the money in the bars." With stresses like these, Khan is not long for the taxi industry. He plans to someday get an automobile or refrigerator mechanic's certification, and then buy a house. "A man can dream," he says, half-smiling.
It's the hard aspects of the driving life that have convinced Bangladesh-born Mamnun Ul Huq that cabbies need to band together. Ul Huq, a 44-year-old cabbie, often visits cabbie joints to get drivers to enroll in the New York Taxi Workers' Alliance. He eats most of his meals at home — he pauses to blow on his coffee at a Curry Hill Dunkin' Donuts — visiting the restaurants only to meet his cabbie brethren. "It's good food, but too much oil," he says with a grimace.
Since its inception in 1997, the NYTWA has been trying to organize yellow cab drivers. So far, it has gathered around 7,000 members, Ul Huq says, about 16 percent of his fellow drivers.
Besides visiting the restaurants, Ul Huq often uses the Bangladeshi Citizens' Band radio network to announce NYTWA's plans of action. "People need to unite to get what they want," he says, "especially in a job with unreliable working conditions, where a man can get stabbed on duty." In March 2005, a passenger plunged a knife into Ul Huq's neck, missing his aorta by centimeters. It took a 10-hour surgery to treat the wound, he says. These "crazy guys," as they are called, can strike without warning. As late as last year, two Bangladeshis — a yellow cab driver and a livery cab driver — were sent into a coma when they were attacked, victims of what are believed, from eyewitness accounts, to be hate crimes.
The difficulties of being a cabbie are so great that even Ul Huq, as involved in cabbie-welfare work as he is, may quit the industry. "After the stabbing, I can't sit for hours," he says. "I'm trying to get some business plans together. Let's see."
In The Fray is a nonprofit staffed by volunteers. If you liked this piece, could you please donate $10?