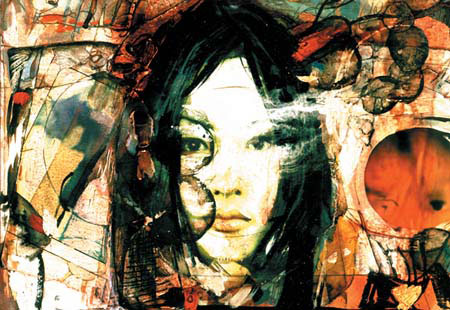 'b better in the morning' by artist David Choe
I am 11 years old, sitting in my sister's car. It is my "special day." She is applying lipstick at a red light with the expertise of someone who now goes to college. The light turns green and she sticks the lipstick tube between her front teeth and reaches to change gears. Trina drives a stick shift. She is strong. I'm going to drive a stick shift.
"Here" she says, and hands me the tube. My heart tap dances. "It's more orange-red," she says without looking at me, "you'd be better in blue-red."
Trina drives with the window down and doesn't care if her Sun-In blonde hair whips her in the face because she knows she is beautiful. When I am done smearing this wondrous substance across my lips my hands are still shaking. Trina says, "Just throw it in my purse" and I do, slowly, so I can get a good look inside. I see her powder case and study the colors of her eye shadow, imagining them on my almond shaped eyes. I ask her what the plastic pink compact is and she says, "None of your business" and grabs her purse from my hand and tosses it in the back seat. As usual, I've pushed my luck.
At the next stoplight the truck in the lane to our left revs its engine. The front seat is packed with high school boys. I know this because they have the same Hilhi Spartan's decal on their window that my older brother has on his clarinet case. They glance our way – Trina's way – and call out, "Hey, you," and I waffle between shrinking and desperately wanting to be seen 'cause I'm wearing lipstick! Trina laughs with a wide opened mouth, head tossed back, braces finally off, killer laugh, and says, "Hey what?" And I think, BRILLIANT. She always knows just what to say!
The boy leans out the window, his hand resting on the mirror. A hand that looks wide enough to cover the entire surface of my face. I imagine this briefly and think of my lips leaving a fresh mark on the palm of that boy's hand and my cheeks turn red. But I know he isn't looking at me. It's gonna take a lot more than orange-red lipstick.
The light has turned green and I am ready to have my sister back, but she has shifted slightly in their direction, both perfect breasts pointing their way. The radio is playing ROCK and I try desperately to move coolly, inhibited by the seatbelt Trina insists I wear. Her shoulder strap fits ideally between her perfect breasts and makes her t-shirt even tighter. My t-shirt is long and baggy and covers my butt when I stand, and I have pulled my shoulder strap down under my right arm so it won't rub against my neck (or accentuate the flatlands of my chest). In this moment, with that truckload of boys peeping in, I would give anything to have Trina's breasts. I sit, trying to be relaxed and tall with my black bangs cutting straight across my forehead, the sweat beginning to form at the hairline. I wish we were moving.
The boys are still trying to get Trina's number and I want to scream, "HELLO, THIS IS MY SPECIAL DAY! I GET TO DO WHAT I WANT AND I DON'T HAVE TO DO CHORES AND NO ONE CAN TALK IN CODE OR TELL ME TO SCRAM …" but I don't. Instead I fumble through the cassette tapes shoved in the glove compartment and then I study the floor. There are empty tab cans, sugar free gum wrappers, and a Shape magazine. Trina is healthy. She works out at a gym where the women walk around the locker room naked and the bulky shiny men wear yellow spandex.
Finally we drive. Trina's car smells of cigarettes and Angelfire, recently sprayed. She tries to hide her smoking habit from me because she knows somewhere deep that I will do whatever she does (and because she isn't convinced that she is a smoker).
"I think the guy in the middle was checkin' you out." she says.
I start giggling manically, "NO WAY!"
"Totally," she says, "with that lipstick you look at least 13."
While I want to believe her, I can tell she is trying to be nice because she starts biting her lip like she does when she's nervous or LYING or has to sing a solo at church.
We park at the mall and I take crazy long Trina-sized steps to keep up. It makes my calves hurt. But I can't slow down; can't let her see that I am struggling. Trina is COOL. And when I am with her, when I can keep up with her, I am COOL.
I haven't been to the mall since my mom took me bra shopping earlier in the school year and insisted on coming into the fitting room with me. Trina asks me if I want an Orange Julius and I say, "nah, I'm not hungry …" when I'm actually starving but I don't want to mess up my lipstick.
We run into Fred Meyer's (which is the kind of place where I can spend a whole summer's allowance. It's like, K-Mart meets Payless Shoes meets the Dollar Store). Trina needs nylons. I go with but veer into the make-up aisle scanning the rows of pretty plastic until I see it. Covergirl. YEAH. I am sweating and eager and breathless but cannot find a lipstick called BLUE-RED. BUT I do find the eye shadow that Trina wears and I feel so victorious I actually consider slipping it into my pocket and walking. But I don't.
In line behind my sister, I hold my breath wondering if she will stop me from making this dangerously adult purchase. The cashier rings me up and I pull out my sparkly pink plastic wallet with the little mirror in the flap and fake rhinestone closure and think, someday I'll have a red leather purse and matching high heels and credit cards and no bangs. I make eye contact with Trina and she smiles for a half a second and then she is easily distracted by Luke & Laura on the cover of Soap Opera Digest.
My hand is sticky as I hold the bag, and I tell Trina I have to go to the bathroom. "Meet me in the food court. I need caffeine," she says, and we head off in opposite directions.
I am so close.
Once situated in a stall on the far end away from the door I wipe my hands on my jeans near the spot I have been trying to work into a hole. I get my wallet/mirror and then pull out my first ever Covergirl eye shadow. I peel off the back, careful not to damage the instructions. There is a diagram and I can see that I am just three easy steps away from changing my life FOREVER.
Step one tells me to apply the lightest shade to my entire eyelid. I do this while trying to keep the soft sparkly blue from dusting my black eye brows. Niiiiiiiice. [EXHALE] On to step two. I take the skinniest side of the application wand and the darkest shade and drag it across my lash line. I do one eye and then the next. (And then I go back and forth and back and forth trying to make them look the same! Eh, close enough.)
I am ready for step three. I read. Apply contour shade to the eyelid crease.
I grip the application wand and steady my gaze in the mirror.
I bring the wand to my eye.
And then I freeze.
Only now do I see it.
I have no crease.
No crease in my eyelid for the contour shade.
No place for blending.
No place to create depth.
There is no step three for me.
I will never be beautiful.
Ever. NEVER EVER.
The stall feels crowded, the walls are pressing in and I am dizzy. I slide off the toilet seat onto the cool tiles and lift the lid, resting my chin on the edge. My head could fit in that toilet bowl, I think. I could stuff my head in there … But then I envision Trina, having finished her diet soda (and maybe small fries if she plans on going to the gym tonight) LOOKING for me, making her way toward the ladies room, FINDING ME, face down … I wipe off step one and two and hurry to the food court. I can't tell if Trina is checking me for signs of her eye shadow because I am careful not to look at her.
We start walking back toward the exit, and Trina catches her breath and says, "Wow, check him out, he's from the gym." She exhales, and I see the red rise in her cheeks, and she starts biting her lip.
Then everything goes SLO-MO.
I see, coming toward us, this amazing boy, no, this amazing MAN, with faded jeans slightly frayed at the edges, Doc Martins squeaking as he approaches. He has gorgeous guitar player hands and I nearly gasp audibly when he reaches up and pushes his thick chocolaty hair (a la Rick Springfield) away from his mile long lashes. This guy is magic and I can't feel my feet.
Trina's hips sway with each step. The GUY slides his guitar player hands deep into his pockets. Trina flips her Sun-In blonde hair over her shoulder with a carelessness that I know she does not feel.
And then, when the GUY is inches away from Trina, I see him lift his chin slightly and smile a flawless "never even needed braces" smile UP at Trina. He is now at a complete stop, body turning in towards her, an opening line poised on his stubbled, recently licked, lips.
But she doesn't slow down, doesn't smile. I slam back to reality as we speed away from the magical guy. A few seconds later Trina says "Too bad." I'm so confused. What flaw does she see in him that I can't see?
We are almost to the car when she says again, "Too bad."
I stay completely silent, hoping she will forget I am there and just keep talking.
"You're lucky you're short."
I don't answer because I am sure that she is making fun of me.
"You'll be able to date anyone you want," she says. "It totally SUCKS to be this tall."
I am surprised. And DELIGHTED. I steal a glance at her. My beautiful sister. Then I notice for the first time EVER how she slumps her shoulders when she walks, like she's apologizing for being WAY UP THERE.
And I think of the family picture we recently took. Trina is center, the edge of the shot just skimming the top of her head. I am in front of her, little and cut off at the knees. Neither of us FITS. I imagine someone pulling the camera back just slightly to accommodate both of us, so you can see ALL of me and ALL of Trina.
Trina notices me noticing her and winks.
"Yeah, they're gonna love you."
Maybe, I think. And then we walk. And I take me-sized steps all the way back to the car.
In The Fray is a nonprofit staffed by volunteers. If you liked this piece, could you please donate $10?