Rush-hour pedestrians pass Elisabeth Leonard at a peace vigil in Boston's Copley Square. Leonard and other members of United for Justice with Peace (UJP) were protesting the U.S.-led war on Iraq.
Wearing black clothes, mismatched floppy hats, and nervous, awkward smiles, the Raging Grannies form a line before an audience of twenty peace and justice activists. Their musical director, Mary Westropp, plays a stilted rhythm on a small keyboard in the corner of the room. Like a motley rebel army with more passion than practice, the Grannies begin marching in place, off time.
Gray metal folding chairs are arranged in horseshoe formation under humming fluorescent lights at the Mystic Community Center in Somerville, Massachusetts. Late arrivals at the Sunday brunch — held monthly by Boston-based United for Justice with Peace (UJP) — deposit their canvas bags and outdoor-store backpacks on a table inside the door and quietly find a seat. Elisabeth Leonard, a petite woman with a brown, boyish haircut and a gracefully wrinkled face, introduces the group.
"We are the Boston contingent of the Raging Grannies," Elisabeth says to the white, middle-aged, and mostly female audience. Behind her, the ten other Grannies ready themselves to sing, lifting their photocopied lyric sheets to their eyes. The only UJP member among them, Elisabeth booked this gig. She wanted to make the introduction, and she's enjoying her moment in the spotlight. "We have a repertoire and we're ready to travel," she adds, smiling.
Attendance for the Sunday brunch is down during the summer months, when Boston's student population dwindles. Most of the twenty or so present this July morning are what college activists refer to as the "old school" — veterans of the anti-war, civil rights, and feminist movements of the 1960s and 1970s. Younger activists, who until recently focused their angst on the International Monetary Fund and the World Bank, tend to distinguish between themselves and the "old school." To Elisabeth and the Grannies it's all just "the movement."
UJP, a loose coalition of area activist groups formed in the weeks following September 11, 2001, opposes the Iraq war and the Bush administration's "with us or against us" posturing. The organization depends on the dedication of movement lifers like Elisabeth for survival during the lean summer months and for leadership year-round. A forty-year veteran of "the movement," she has the idealism, energy, and righteous attitude of a twenty-year-old and is among the most active members of the organization. She works as a librarian twenty hours per week and spends another sixty or so doing unpaid peace work with various organizations. She does gigs with the Grannies on weekends, performing at demonstrations, conventions, and meetings like this one.
Wearing denim shorts, Elisabeth is the only Granny out of uniform. She steps back in line as they begin singing the first of three songs, "We March to Stamp Out War." The number ends with the Grannies raising two-fingered peace signs high above their heads, and elicits approving hoots, hollers, and applause from the audience.
The second tune is an original Granny rap:
Watcha gonna do with a bunch of warlords
Never spent a day in the army
Ordered your kids into harm's way
Watcha gonna do — two — three
Watcha gonna do — two — three
Watcha gonna do — two
One, two, three — go!
Watcha gonna do with a gang of imposters
Bush. Cheney. Donald. Star Wars.
Stole our election to build their empire
Watcha gonna do — two — three
Watcha gonna do — two — three
Watcha gonna do — two
One, two, three — go!
… Hey, hey, the heat is rising
Yo, yo, we're realizing
We could be vaporizing,
Ear-lay in the morning!
Throughout the song the audience reacts awkwardly, unsure how much laughter is appropriate. The Grannies are smiling — it's their intent to be silly — but there is earnestness in their delivery. If they're irrelevant and out of touch, if they're just "testifyin' to the faithful," they don't seem to care.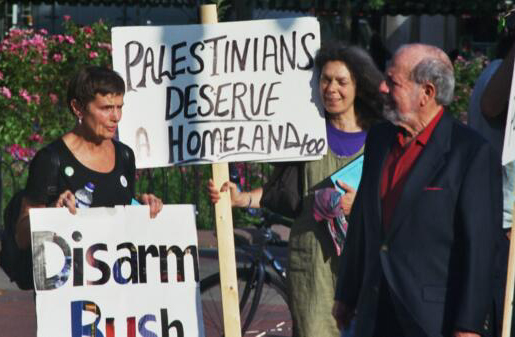 Elisabeth and a passerby discuss the Iraq War.
Age and the 'big picture'
Elisabeth, a founding member of the Boston Grannies, is a self-described Quaker, feminist, and peace and justice activist. "I think Martin Luther King's march on Washington in August of 1963 was the first thing that I did that was socially active," she says, having been a devoted full-time participant in the movement ever since. A subject of the FBI's infamous COINTELPRO domestic counterintelligence surveillance program, she once harbored anti-war priest Daniel Berrigan. Older now, Elisabeth is more active than ever, organizing, protesting, putting on workshops, and singing with the Grannies. She admits her life investment in peace and justice may never pay off, but like our born-again Christian president, she says her faith keeps her going. "It couldn't be any other way," she says.
Elisabeth is a grandmother. She plays the part well, wearing colorful dangling earrings and flowing purple skirts, and ending phone calls with a cheerful "okie-doke." She makes easy conversation with everyone, from age six to eighty-six. She won't divulge her age in part because, she says, "I know I look a lot younger than I am." She does.
Elisabeth wants to be taken seriously in what she sees as an ageist culture. If people know that you are a certain age "they just assume you're on the brink of Alzheimer's," she says. She doesn't want a triviality like age to stand in the way of dialogue. "I just feel it's important to have as much credibility as possible," she says. "And I really have a great feeling for working with young people." Her youthful zeal and her experience in the trenches of peace and justice activism allow her to bridge the pronounced generation gap between passionate collegians and the more staid "old school." It's a role that's essential to the movement's progress and longevity beyond the lifespan of the current administration. She cautions the youth of the movement not to get discouraged — to dig in for a perpetual fight. Ironically, her enthusiasm and quiet leadership is buoyed by Bush-like faith and a big-picture mentality.
Elisabeth has never owned a television. It helps her to stay hopeful. She sees the mainstream media as jingoistic, simple-minded, and, for her own purposes, irrelevant. So she consumes media selectively. She reads and often cites articles from The New Yorker and Harper's, and is on a handful of listservs. Lately, NPR has been too conservative, she complains, so she has taken to listening during her morning workout, to keep her heart rate up. Despite her partiality toward traditionally liberal media, she keeps on top of current events. "She's always really up to date," says Nancy Wrenn, her friend and fellow Granny. Elisabeth scoffs at the suggestion that she is naive or sheltered, and wonders how people who watch CNN all day get anything done.
The reinvigoration of "the movement" in the past few years, from the globalization protests of the late 1990s to the groundswell of resistance to the Bush administration, is encouraging to Elisabeth. On February 15, 2003, peace organizations staged the most coordinated and well-attended anti-war protests ever, fueled by activists' new tool – the Internet. An estimated 10 million people in over 700 cities and towns participated. The worldwide demonstrations exposed a broad, diverse vein of opposition to the Bush administration's policies, but, as we know, failed to stop the war.
President Bush was unmoved by the demonstrations. "Democracy is a beautiful thing," he said. But he added that to be swayed by protests "is like saying I'm going to decide policy based upon a focus group." He went on to mischaracterize the protesters' central argument: "Some in the world don't view Saddam Hussein as a risk to peace. I respectfully disagree." What protesters like Elisabeth were really trying to say — as she will readily tell you — is that you can't counter a "risk to peace" with a preemptive war.
Bush seemed to have made up his mind long before the "shock and awe" of the Iraq war commenced. His spiritual rebirth at age forty and subsequent ascendance to power came with an unshakable faith in Jesus Christ. He credits that faith for his recovery from alcohol abuse and his political success. "Without it I would be a different person and without it I doubt I'd be here today," he said at the National Prayer Breakfast in 2001. During his determined push toward war in Iraq, Bush was hardly mired in self-doubt. He had long concluded that Saddam Hussein was evil, and once the determination was made, in his mind, there was little else to consider. "If anyone can be at peace," he said, "I am at peace about this."
Not surprisingly, Elisabeth is reluctant to acknowledge the parallels between herself and the president. Like Bush, she has a "big-picture" mentality. "I'm not a detail person," she says. "I paint broad strokes." The common result is a tendency to be dismissive toward opposing arguments, to the point of demonizing. "I think he's evil," Elisabeth says of Bush, "and I don't usually say that." This is just one of her unconscious fibs — she says that frequently.
Defense Secretary Donald Rumsfeld echoed the president's smug indifference to February's demonstrations. "Well, isn't it a wonderful thing that we have a democracy and that [protesters] can say what they think?" he said in a March CNBC interview. Elisabeth bristles at Rumsfeld's condescension, as she played a part — however small — in his rise to power.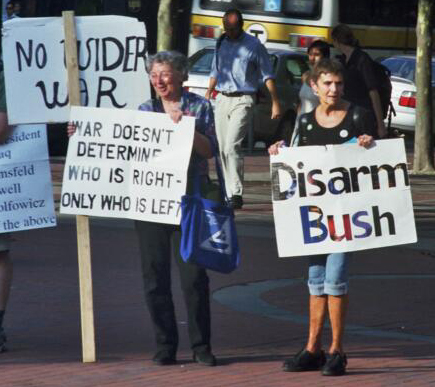 Elisabeth and a fellow UJP member at the vigil.
Conservative beginnings, fugitives, and the FBI
Elisabeth's simple two-room apartment is buried at the end of a narrow alley in her predominantly Hispanic East Boston neighborhood. On her kitchen table, her laptop sits open next to piles of computer printouts and peace organization mailings. She gets about eighty emails a day, she says. In her living room, between two windows that face the alley, a portrait of her mother painted by American impressionist Robert Vonnoh hangs on the wall.
Elisabeth sits opposite her bed, on a worn blue loveseat. "I'll tell you something terrible," she says, crossing her legs. "I went to the same high school as Donald Rumsfeld. I was one of the groupies, you know, when he first ran," she laughs. "A little thing that didn't know anything." In 1962, over a decade after they were schoolmates and only a year before her conversion to peace and justice activism, Elisabeth volunteered for Rumsfeld's congressional campaign, working the phones, stuffing envelopes, and, on one occasion, riding on a parade float. She is embarrassed by that time in her life — more by the fact of having conservative views than by abandoning them so quickly. "I thought he was just 'it,'" she says, blushing. "I sure have changed."
Elisabeth grew up in Kenilworth, Illinois, an affluent Chicago suburb. She was the first daughter of a wealthy mother and, she says, an alcoholic father. After high school, she attended the liberal Carleton College in Northfield, Minnesota. "I was glad to leave my family," she says.
At Carleton, she met her first husband, with whom she had two children. After eight years of marriage they divorced in part because, Elisabeth says, he was also an alcoholic. While working at a Presbyterian church in Minnesota, she was introduced to Harry Leonard. They married six weeks later and had a boy, Andy. From Illinois, they moved to Brooklyn Heights, New York, where Elisabeth became active in Quaker action groups.
In the late 1960s, after her second divorce, Elisabeth moved her three sons from Brooklyn Heights to Swarthmore, Pennsylvania, for the open spaces, the good schools, and because "it was a hotbed of Quakerism," she says. There, she became an active member of the American Friends Service Committee (AFSC), a high-profile anti-war group that's still active today. Elisabeth's youngest son remembers being different from his neighbors. "There weren't any other families in town like us," says Andy, who is now forty. "We had pretty long hair, and we dressed sort of funny, and not many people had divorced parents."
Elisabeth's unorthodox parenting did not end with long hair and funny clothes. "I was on the FBI list, and my kids always got a chuckle out of it," Elisabeth says. Andy recalls coming home to find that his mother was in jail. She says she has been arrested three times, but she could be fibbing again. Andy confirms the doubt. "I think it's an underestimate. I remember going to court and things like that," he says. Elisabeth says later that it was "probably more like seven [times]," but she's still not convincing. "It was all very conscientious," she adds.
Court appearances weren't the only way Elisabeth involved her family directly with "the movement." In May 1968, nine anti-war activists broke into the local draft board in Catonsville, Maryland. Among them was Father Daniel Berrigan, an anti-war priest and prolific author. Before he was convicted of conspiracy and sentenced to three years in federal prison (he served eighteen months), he hid in Elisabeth's Swarthmore home. "We had FBI cars out in the driveway, looking at us, keeping track of us, and my phone was bugged," she says.
On March 8, 1971, a group calling itself the Citizens' Commission to Investigate the FBI broke into the local FBI headquarters in Media, Pennsylvania. Photocopied files were distributed throughout the press and to documented activists. An official end to COINTELPRO followed fifty-one days later, on April 28. "One day I got all my files from the FBI mailed to me," she says. Acting as if the story has little notoriety or significance, she doesn't mention AFSC, COINTELPRO, or Media. "People had broken in and taken all the activists' files and sent them out so the government couldn't trace us," she says. Elisabeth later destroyed her file.
By all accounts, Elisabeth rarely talks about her past. She keeps a lifetime of mementos above the closet in her apartment, on a shelf she can't reach. The small red toy chest — no bigger than a breadbox — is full of pictures of her sons playing football and old birthday cards. The pictures of Elisabeth, the newspaper clippings, and the protest posters could all fit neatly in a manila envelope.
Elisabeth's disinterest in her past explains her habit of fibbing; it's less an attempt to deceive than it is an attempt to eschew what she views as extraneous details. "I don't falsify things," she says, "but I don't also put things in exact order all the time." Committed to change, she doesn't have time to celebrate old victories or rehash stinging defeats. "The big push now is to get the Bush administration out," she says. "After the Iraq war was over — I mean, it's not over — we had to have some way of talking to people about getting involved."
'They thought I was going to end up a bag lady.'
There are at least forty overlapping peace organizations in Greater Boston. In lieu of traditional leadership, Elisabeth plays an important role in coordinating their efforts. "She's a facilitator kind of person," says Shelagh Foreman, director of Massachusetts Peace Action. "She's the kind of person that tries to make things happen without pushing them in people's faces."
Elisabeth acknowledges that her strengths lie in her ability to foster dialogue across lines of race, age, and temperament. "I'm good with people," she says. Fellow Raging Granny Nancy Wrenn agrees, saying Elisabeth has a talent for listening and for engaging people in conversation.
Having taken on the responsibility of compiling a comprehensive weekly peace and justice calendar, Elisabeth is a hub for local peace and justice news. She attends as many events as she can. "Sometimes there are two or three things happening at the same time and you have to choose," she says. "It's always exciting." When she moved to Boston from Philadelphia in the mid-1990s, she sold her car. She prefers public transportation. "It's a great place to organize," she says. "You wouldn't have that if you were sitting by yourself in a car." When she's not organizing on the Blue Line of the Boston T, she's breezing past sidewalk window-shoppers on the way to a meeting or a vigil, carrying her ever-present black leather backpack. For Elisabeth, peace work has never been a hobby. "She's devoting her whole life to movement work," says Joan Ecklein, Elisabeth's co-chair at the Women's International League for Peace and Freedom. "She goes from one meeting to another, flat out."
Elisabeth's perpetual motion — which explains her reluctance to relive the past — is fueled by her faith. "I keep plowing along with what I'm doing right now and believing that it's going to make a difference," she says. It's part of the reason she doesn't consume conservative media — she doesn't want to get discouraged. "It's important to be optimistic," she says. "If you don't believe you're making a difference, you could get really depressed and dejected."
The strength of Elisabeth's faith has enabled her to persevere through years of setbacks and defeat — seldom, if ever, with the support of her family. "My whole life — until just recently, I think — they thought I was going to end up a bag lady," she says. Her faith gave her the necessary fearlessness to put her own children in harm's way, whether by inviting fugitives into her home or taking medical supplies for the Vietnamese across the Canadian border with three sons in tow.
She says she never feared for the welfare of her children, in part because the government was "less inclined to give long sentences, "especially to young mothers. But her faith in her surrogate family — her fellow Quakers — also helped. In Quaker action groups "you are all pledged to support each other in any way you possibly can," she says. It's an approach Elisabeth brings to all of her undertakings. And it helps explain why the Raging Grannies sing. Their performance is an exhibition of their solidarity, an attempt to take setbacks and defeats in stride, and a willingness to make light of an all-too-serious struggle.
Elisabeth is not alone in believing that the Bush administration and its policies are evil. "I am hell bent on getting [Bush] out of the White House," Ecklein says. "Those characters in the White House — they're evil. They have got to go." There is a temptation to ascribe to "the movement" the same "black or white" mentality that they deplore in Bush. But there is a difference.
With Bush's belief that "events aren't moved by blind change and chance" and that "behind all of life and all of history there's a dedication and purpose, set by the hand of a just and faithful God," his ascription of evil carries ultimate justification. "Bush's faith offers no speed bumps on the road to Baghdad," Joe Klein wrote in the February 18, 2003 issue of Time magazine. "The world might have more confidence in the judgment of this president if he weren't always bathed in the blinding glare of his own certainty."
Elisabeth and her "old school" colleagues believe in Bush's evil to the same degree, but for them, the triumph of freedom over oppression and terror isn't certain. It's an idealized, unrealizable end. So the means matters. "It's just going to be a fight to the end of my life, to the end of your life," Ecklein says. "It's just going to be a fight, that's all."
During rush hour on Tuesday afternoons, in the shadow of the Hancock Tower in Boston's Copley Square, UJP members hold signs opposing Bush administration policies and try — with limited success — to engage passersby in conversation. The "vigil," as they call it, began in late 1998 and continued through the Iraq war and the coldest winter in memory. Elisabeth bought a warm winter coat and attended religiously. She still does.
As for the future, if Bush is unseated in the upcoming election, student participation may wane. But it's unlikely that Elisabeth will lay down her placard and take up quilting. And she won't waste much time celebrating. She'll keep "plowing along."
It couldn't be any other way.
STORY INDEX
ORGANIZATIONS >
American Friends Service Committee
Based in Philadelphia.
URL: http://www.afsc.org

Carleton College
Based in Northfield, Minnesota.
URL: http://www.carleton.edu

FBI
Based in Washington.
URL: http://www.fbi.gov

Massachusetts Peace Action
Peace organization based in Cambridge, Massachusetts.
URL: http://www.gis.net/~masspa/

NPR
National Public Radio. Based in Washington.
URL: http://www.npr.org

Raging Grannies
Based in Boston.
URL: http://www.wilpfboston.org/raging.html

United for Justice with Peace
Boston-based peace organization.
URL: http://www.justicewithpeace.org

United for Peace and Justice
International peace organization. Headquarters in New York.
URL: http://www.unitedforpeace.org

Women's International League for Peace and Freedom
Boston-area website for the international organization.
URL: http://www.wilpfboston.org
PEOPLE > BERRIGAN, DANIEL >
Biography
Brief biography at Biography.com.
URL: http://search.biography.com/print_record.pl?id=12777
PEOPLE > BUSH, GEORGE W. >
"Remarks by the President at National Prayer Breakfast"
Official White House transcript of the National Prayer Breakfast 2001. February 1, 2001.
URL: http://www.whitehouse.gov/news/releases/2001/02/20010201.html
PEOPLE > RUMSFELD, DONALD >
"Secretary Rumsfeld Interview with CNBC"
Official Department of Defense transcript. From CNBC's Capital Report. March 6, 2003.
URL: http://www.dod.gov/news/Mar2003/t03072003_t0306sdcnbc.html
TOPICS > COINTELPRO >
COINTELPRO
Unofficial website.
URL: http://www.cointel.org
"
In The Fray is a nonprofit staffed by volunteers. If you liked this piece, could you please donate $10?